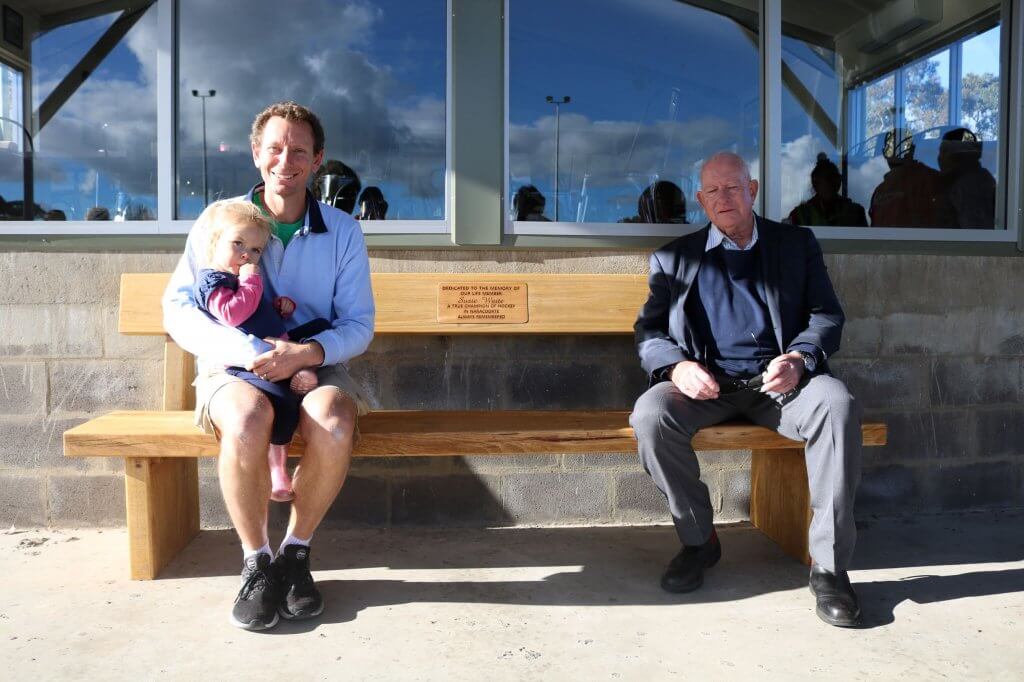 Round 10 – Season 2021
Memorial bench unveiled in memory of NDHA Life Member Susie Waite.
With all Naracoorte based teams in attendance, round 10 was dedicated to NDHA Life Member Sue Waite. A beautiful bench, built by the Naracoorte Men's Shed, was unveiled by Sue's son Michael and husband Neville and will stand as a reminder of Sue's dedication to our hockey community over many years.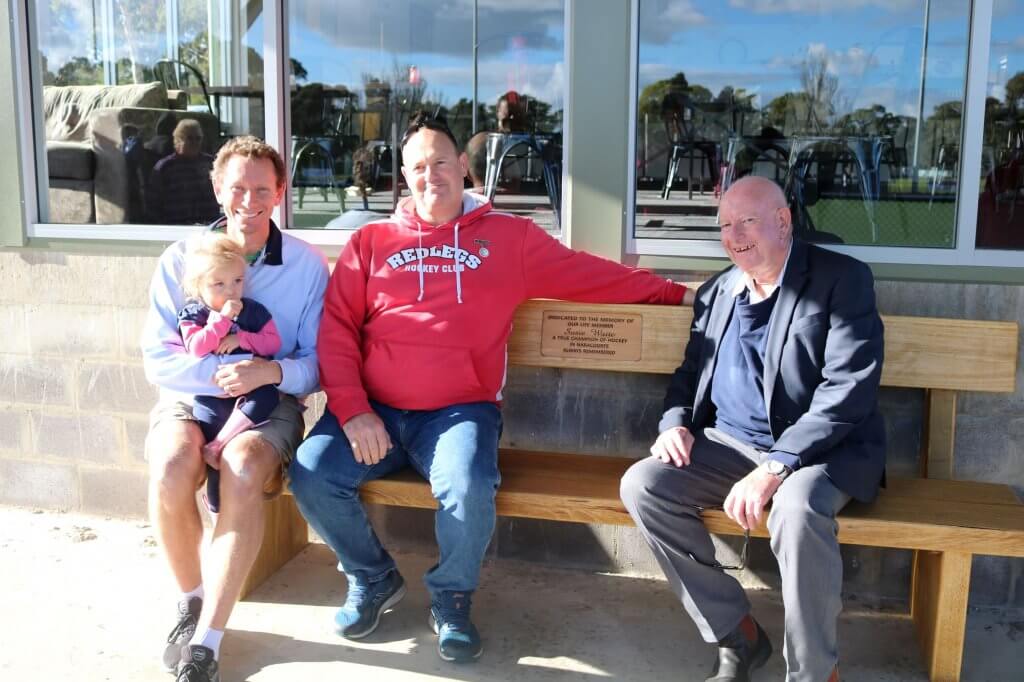 To read more about Susie Waite's history within the Naracoorte & District Hockey Association follow this link to an article published earlier this year which details some of Sue's efforts and contributions.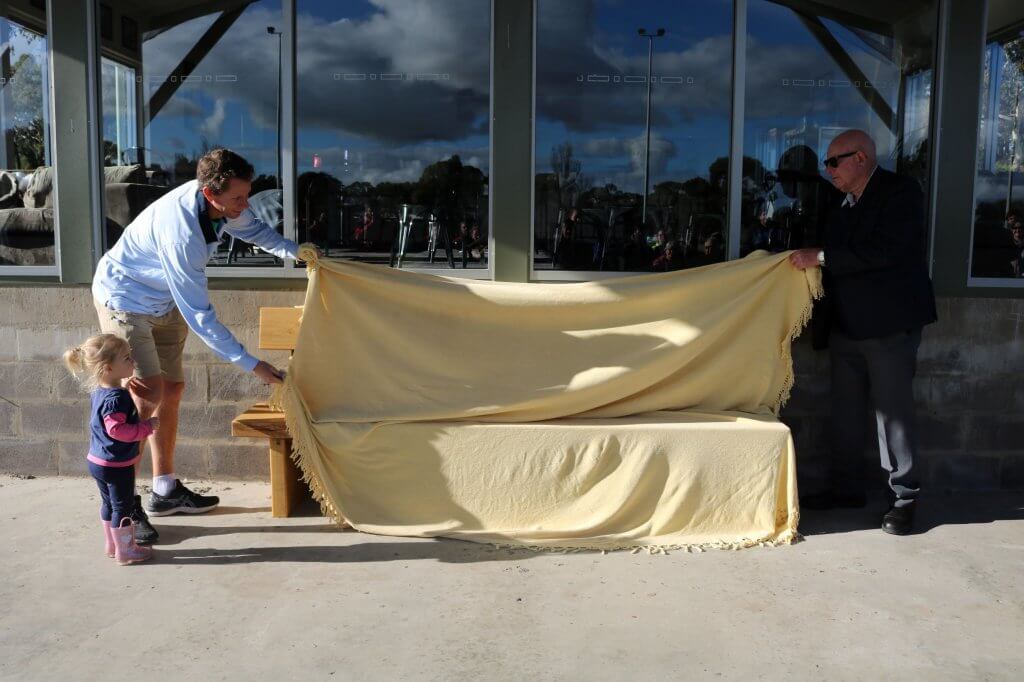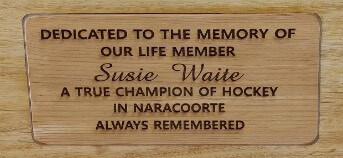 Thanks to Lis Champion for supplying all photographs for this week's write up.
Other results: Dartmoor 3 def Redlegs 0 – Goal scorers: Mason White 2 (D), Lochie Dolphin (D)
Greenbottles vs Kingston/Lucindale – Under 16
With new uniforms Greens U16s came out looking like professional hockey players.
Great attacking by KL in the first few minutes but they were unable to convert. Cameron Taylor stole the ball and ran it down to score Greens first goal.
Great teamwork from Greens Callum, Tillie and Hannah, working the ball forward. Captain Henry Boord leading the team with words of encouragement and direction. Young guns Archie, Toby and Will proving they can keep up with the big boys. Emily and Mads were strong in defending the ball, keeping it Greens way. Sophie running the ball down the wing providing some great opportunities to get the ball to Greens scoring end
A great game to watch between these two teams.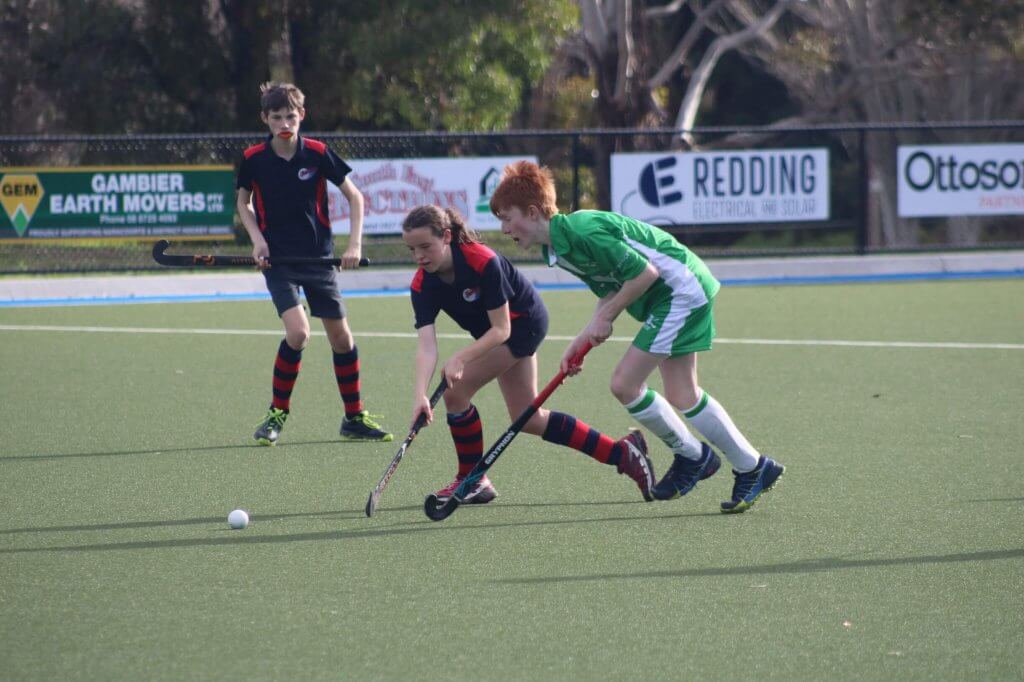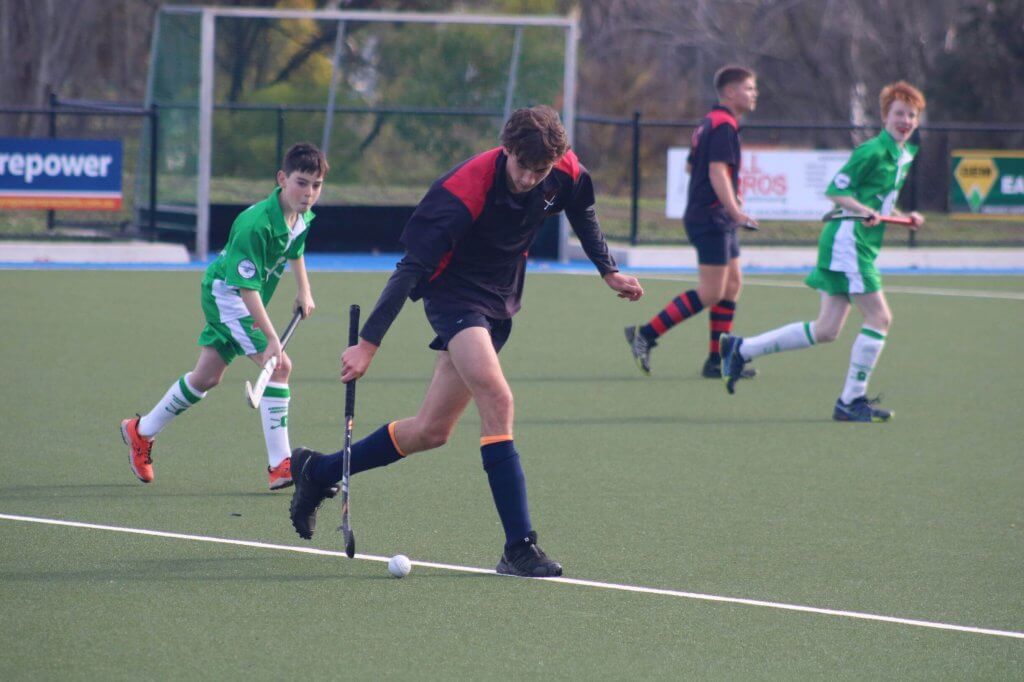 Other results:
Redlegs 1 drew Dartmoor 1 – Goal scorers: Chloe Nancarrow (R), Mason White (D)
Greenbottles vs Redlegs – Women
Greenbottles and Redlegs women had a fierce contest on a cold June evening. The Greens were hungry for goals but they were hard to gain against the Reds defence.
Greens striker Rhona McDonald was terrific to watch hammering Reds defence relentlessly, succeeding in first quarter. Madi Derrington was consistent through the middle to add to the duress, scoring the second goal. Amelie Nancarrow was a great running force for Reds, positioning herself well in the forward zone.
The second half Reds started strong taking to ball right in close to goals, great work from Kristy Boord and Emily Eastwood kept the ball out, and the invaluable goalie Mel Hutchesson.
Kelly Gale and Jorja Doecke were strong player in reds centreline turning over the ball whenever it came by. Sophie Waters was efficient in the backline, clearing ball down the sideline picked up by Kate Ellis who took it all the way down and scoring with the assistance of Sarah Fry. Reds goalie Amanda Edwards work tirelessly with the attacks from Greens, Tori Ghezzi have several attempts on goal, supported well by Tillie Derrington.
Final score Greenbottles 4-0 win.
Other results:
Dartmoor 3 def Kingston/Lucindale 2 – Goal scorers: Lochie Dolphin (D), Jen Ellis (D), Christine Foale (D), Nicola Turner (KL), Chris Hille (KL)
Greenbottles vs Redlegs – Men
Great game to watch with high intensity with Greenbottles coming out victorious 4-2.
Greens looking like pro soccer players in their new uniforms.
The highlights of the game included:
Tom Couston, Henry Boord, Scott Copping and Callum Curruthers-Murray held greens defence well
Reds Kieren Brennan had some good tackles and powerful overheads.
Jaali's deflection into goals made the game 2-1 in the first quarter
Callum Curruthers-Murray had some awesome run downs the field bring ball back into the greens forward
Greens forwards were attacking strongly
Gavin Boord missed a sitter but redeemed himself joining Gabe Cox on the scoresheet and Michael Justin scoring greens goals
Gavin failed to get low enough to receive pass from his son Henry, in his senior years, despite his experience
Trent threw his stick at ball to get in the action , followed by a beautiful ball down the line ending in a goal by Michael Justin's second goal
Other results:
Kingston/Lucindale 2 drew Dartmoor 2 – Goal scorers: Derek Butler (KL), Tom Bull (KL), Jack Thomson 2 (D)