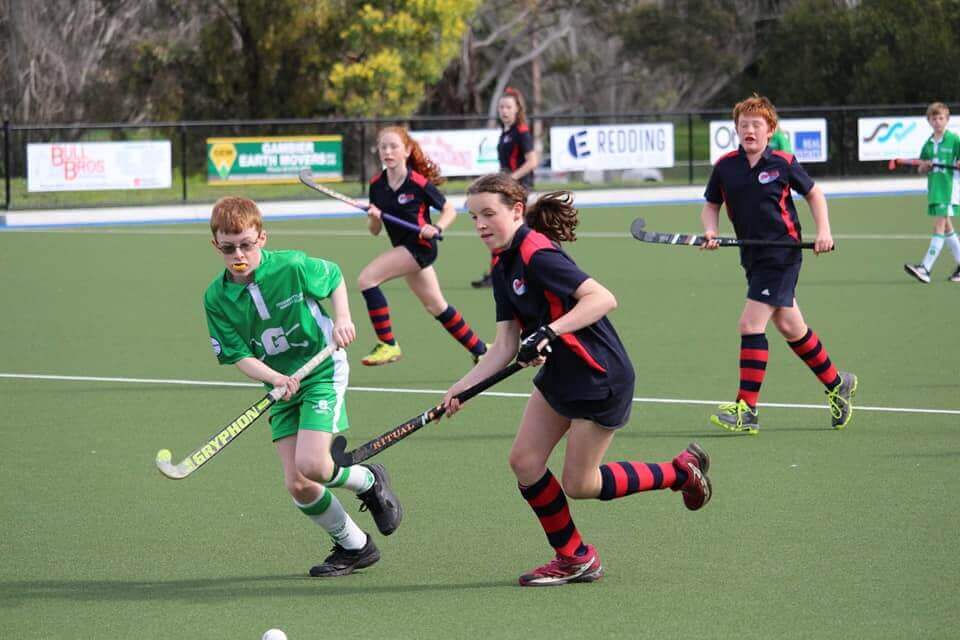 Semi-Finals – Season 2021
Hard fought matches, tight finishes and a fabulous, exciting atmosphere marked the first week of semi-finals in the Naracoorte & District Hockey Association.
Preliminary Finals Fixture, Saturday 28th August
Dartmoor v Greenbottles (1) – Under 13 Semi-Final (1v2)
The first game for finals 2021, the sky was a little overcast but that didn't dim the excitement of the day. Both teams were raring to go and as soon as the first whistle sounded the spectators knew they were in for a great game of hockey.
Toby Drew made some good breaks for Greenbottles and kept the Dartmoor defence on their toes. Dartmoor pressed back by using great passes through the middle.
Riley Justin was a good presence for Greenbottles in the back line. For a moment you would have thought we were watching tennis with the ball travelling backwards and forwards towards each goal.
Dartmoor's Mason White made a charge and had a beautiful strike at goals, however Greenbottles' goalie was there to defend, Mason tried again but again it was deflected by the goalie. Lochie Dolphin then took the ball and got Dartmoor's first goal.
Not to be outdone, Greenbottles fired back in attack and Jack Justin got the first goal for Greenbottles off a short corner. There were a few more short corners for both teams but both goalies and full backs cleared the ball each time.
Halftime 1 all.
Greenbottles came out hard and Dartmoor was on the back foot, Greens made a charge on goals and Bree smacked down their first attempt but a good follow up saw Toby get Greenbottles' second goal and put them in the lead.
Greenbottles got a confidence boost and had Dartmoor scrambling until Ben Durik took a great pass and worked it into the defensive circle of Greenbottles and Dartmoor got a short corner with Lochie converting it, levelling the game.
It was nail biting stuff! Dartmoor found their momentum and Mason shot out and scored a very quick goal putting them back in front. Greenbottles didn't give up and dug deep and attacked back. Dartmoor scrambled again, but held Greenbottles at bay.
The last goal of the game came from Mason who took a pearler of a shot off a short corner. A very tough game. I don't think there were any finger nails left on the spectators watching. Credit must go to the goalies on both teams, they were kept very busy.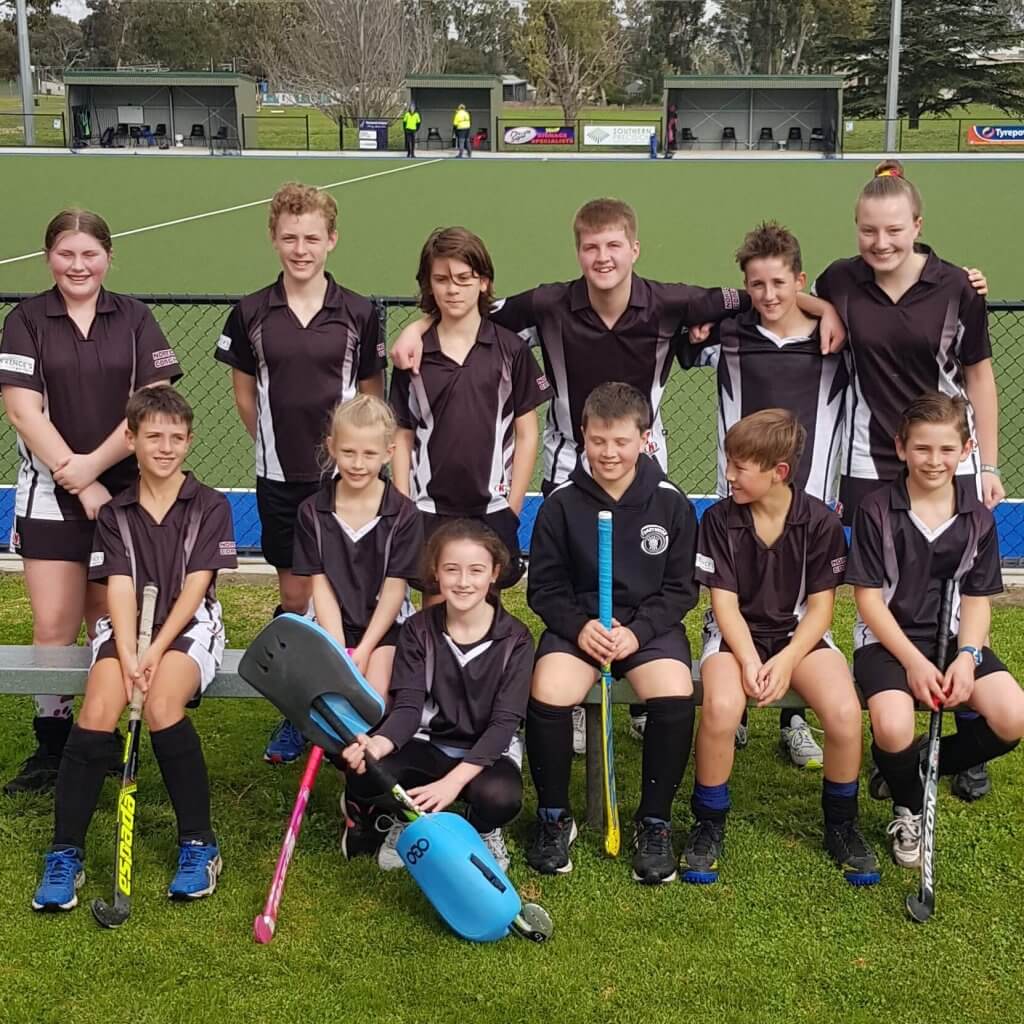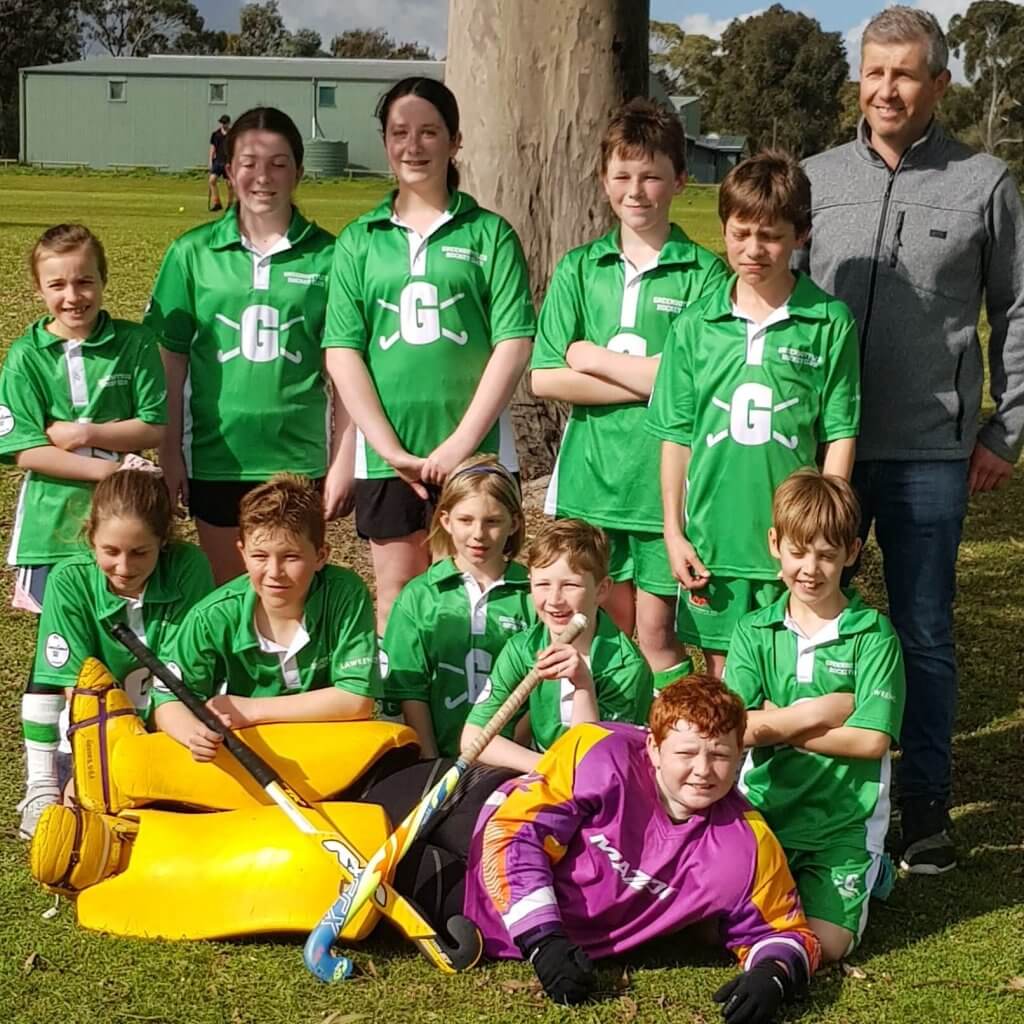 Greenbottles (2) v Kingston/Lucindale – Under 13 Semi-Final (3v4)
Both teams came out of the bunkers determined to continue their season after this elimination final.
Great teamwork and solid defence from both teams made scoring opportunities difficult and limited however Henry Fry, Will Ellis, Chris Hille and Sarah Johns managed to find the backboard for their respective teams.
Chris Hillie and Corrie Taylor worked tirelessly pushing forward for Kingston/Lucindale as did Toby Boord and Zara James for Greenbottles. Every member of each team shone at different times, producing a super game of hockey!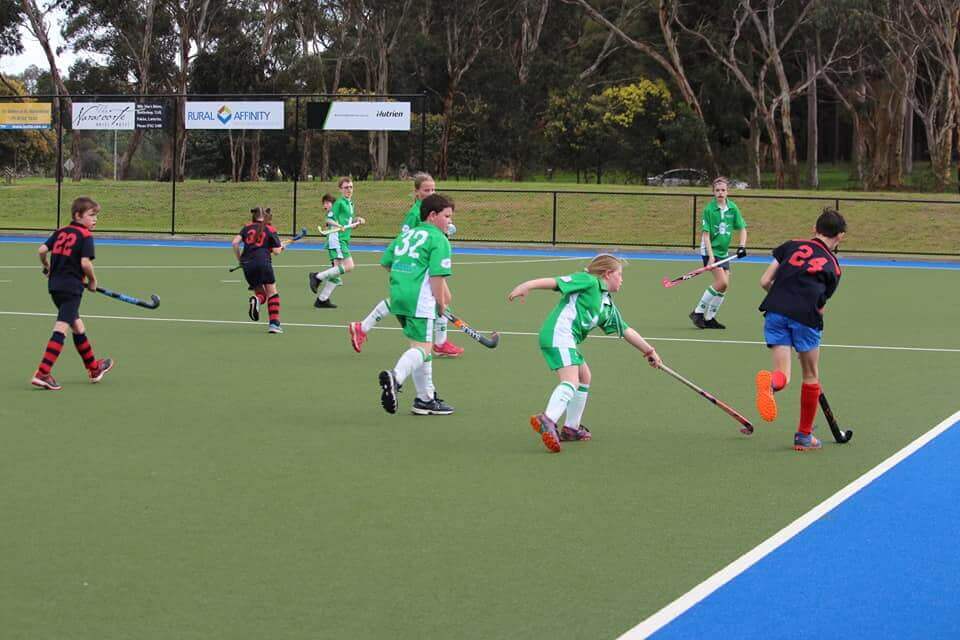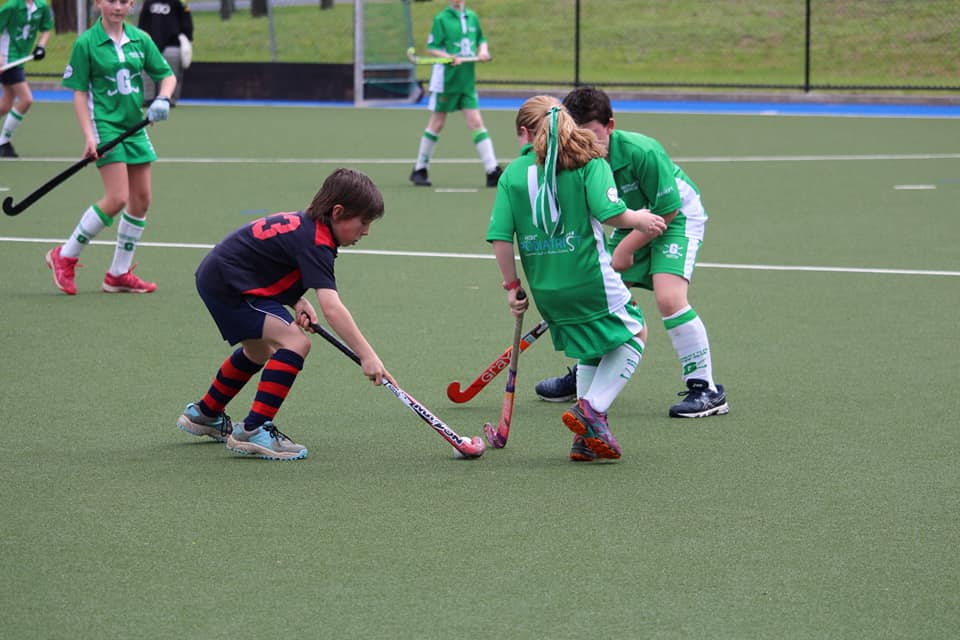 Greenbottles vs Kingston Lucindale – Under 16 Semi-final (1v2)
Kingston Lucindale and Greenbottles took to the field in the semi finals to determine who would go the grand final.
Greenbottles attack came out strong with fantastic play from Cameron Taylor and Zoe James who both passed it off resulting in two goals from Tillie Derrington and Hannah Yates within the space of 5 minutes.
Kingston/Lucindale fought back hard but couldn't get through Greenbottles players Sophie Waters and Henry Boord. Half time score was 2-0.
The second half saw both teams attacking well. Kingston/Lucindale player Ben Goodridge was able to do a quick pass off the baseline to Connor Butler resulting in a goal.
Despite the goal, Greenbottles held their ground and were able to keep Kingston/Lucindale out for the remainder of the game finishing in a 2-1 win!
Redlegs vs Dartmoor – Under 16 Semi-final (3v4)
An amazing start to the game with Dartmoor getting an early short corner, which put Redlegs under pressure, but the strong defence line did amazing work to get the back into the attacking half for Jaali to get Redlegs' first goal of the match.
The ball was then taken back up the Redlegs half just to come straight back for them to get another goal. After half time the ball was up the Redlegs half most of the game with many short corners in the Redlegs attack, they finally got a goal ending the game 3-0.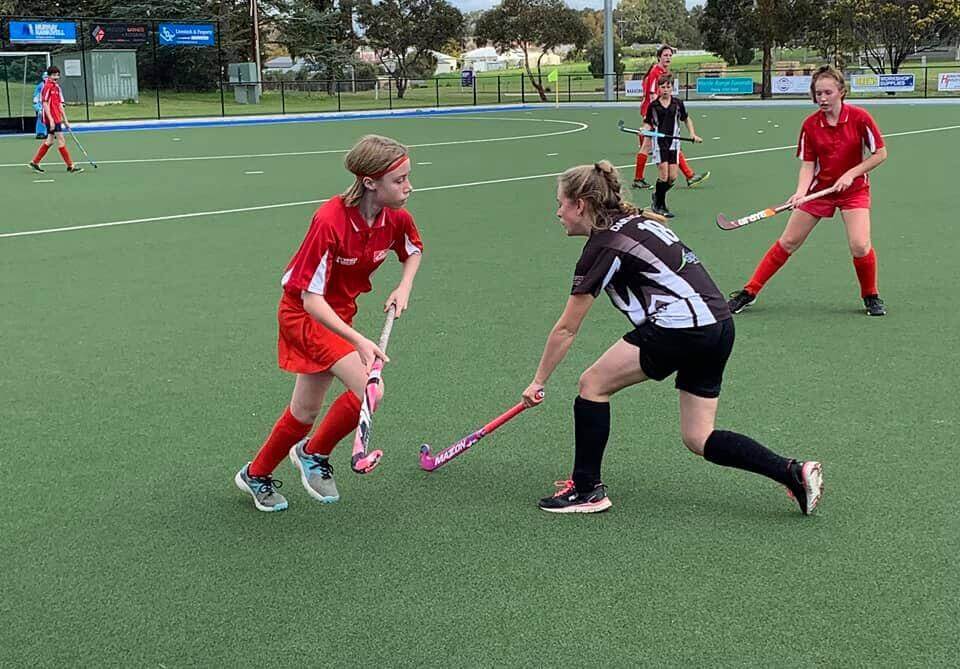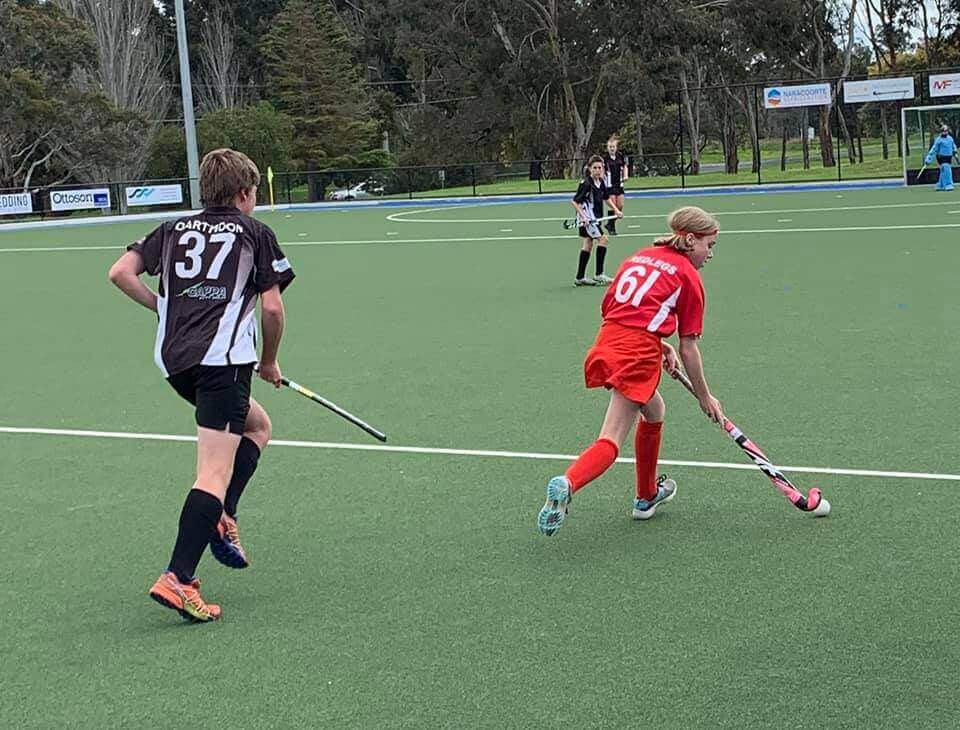 Tatiara v Greenbottles – Women's Semi-final (1v2)
The women's 1 v 2 (Tatiara v Greenbottles) semi-final match saw both teams starting strong. Tatiara gaining the first penalty corner for the game but couldn't convert.
Defence was strong from both teams. Greenbottles eventually drawing a penalty corner, but also couldn't score. Quarter time: 0-0
Tatiara started off the second quarter strong but again Greenbottles defence held them up. Amy Hunt was playing well for Tatiara in defence, not allowing Greenbottles young gun midfielders (Maddie Derrington, Sophie Waters & Zoe James) to get deep into their attacking end.
The ball spent majority of the quarter in Tatiara's attacking end, but Greenbottles defence continued to stand very strong. Eventually, from the second penalty corner for the quarter Tatiara converted through Amy Hunt making a strong hit to the backboards. Making the half time score with Tatiara in the lead 1-0.
Greenbottles came out of the blocks strong drawing an early penalty corner. Tatiara's defence held them out moving the ball quickly straight into attack and drawing a penalty corner, which found a player in Greenbottles defence breaking, leaving them a player short. This didn't affect the score as again they held out the attack of Tatiara.
Tatiara attacked early in the fourth quarter drawing continuous penalty corners, but once again Greenbottles defence stood strong. A Tatiara player was given a green card giving Greenbottles a 2 minute advantage of Tatiara being a man down.
Greenbottles played some very skilful hockey, passing stick to stick and scored a beautiful goal, scores tied at 1 each.
Tatiara dug deep and manoeuvred into attack down the right side. With a convert across goal face to a veteran meerkat (Laura Nash) who calmly scored behind the goalie. Leaving the final score of the game at 2-1, Tatiara's way.
A very hard fought out game. Tatiara women's team go straight into the Grand-final. Whereas Greenbottles will be fighting it out with Dartmoor this Saturday for a berth the 2021 Grand-final.
Dartmoor v Redlegs – Women's Semi-final (3v4)
With the the sun shining, Dartmoor and Redlegs took to the field. There were a few nerves, as at the end of this game it would mean one team's hockey season was over for the year. Both teams knew then that this match would go down to the wire.
Kelli Harris took the first tackle of the match on Ange Mclean, surprising herself when she got the ball. The ball continued to be worked through the middle with neither team being able to get it past the fullbacks. At the end of the first quarter it was still nil all.
The second quarter saw Christine Foale come off the blocks , zipping and dodging and showing some beautiful ball control slotting it in for Dartmoor's first goal. Redlegs fighting spirit kept Dartmoor on their toes as they made some outstanding shots towards their wings who received the ball and took off.
The third quarter started with Dartmoor trying to get the ball past Kelly Gale but to no avail. Dartmoor's attack stepped up and they got into Redlegs circle where they had several shots at goal, only to have Amanda Edwards denying them any more goals until Eloise Fitzgerald snuck a great shot off the post.
Redlegs never gave up and continued to make Dartmoor fullbacks work hard until the final whistle went. Again this was a very respectful and enjoyable game.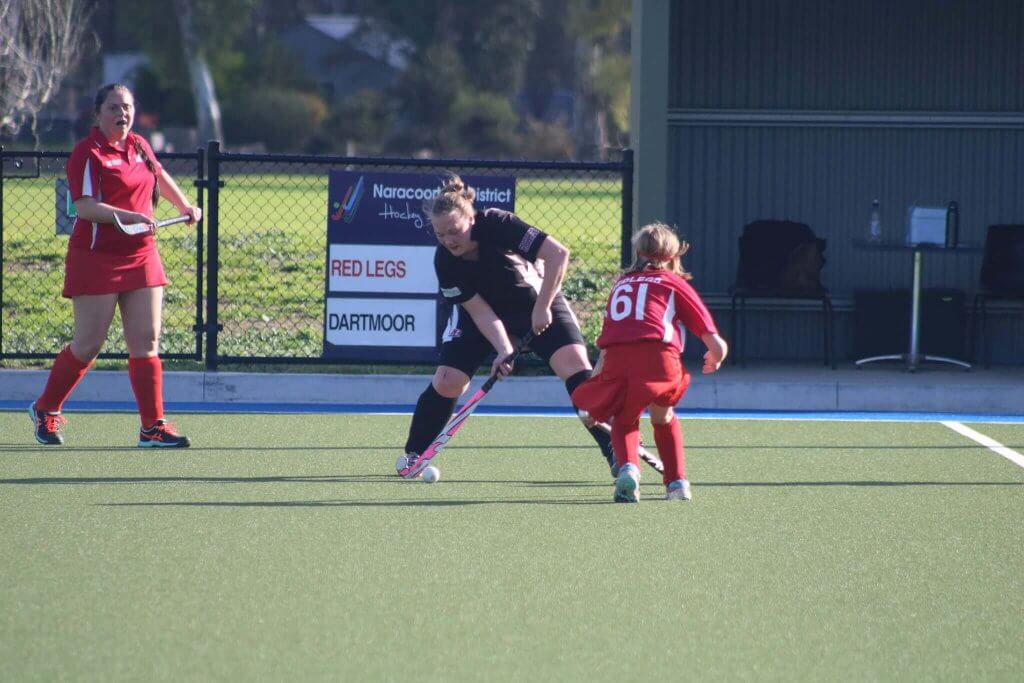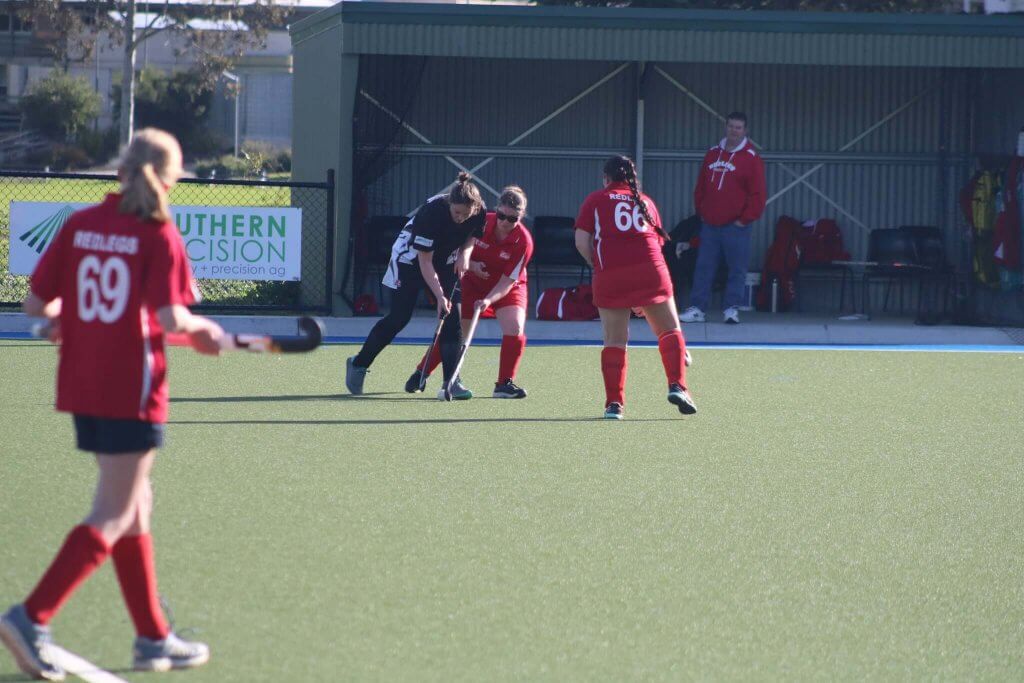 Tatiara v Greenbottles – Men's Semi-final (1v2)
The 2 top teams playing off for their place in the Grand Final was always going to be a tough game, and Saturday night's game did not disappoint. A big crowd enjoyed the show.
Both teams came out hard and fast. Tatiara took hold of the ball early on with a lot of play up their goal end, but Greenbottles' experienced players showed their skill and were intercepting well.
10 minutes in, Tatiara were awarded with a short corner which, with the practiced, team of James Verco, Hamish Verco and Rohan Longbottom the first goal for Tatiara was scored.
It was not that long before Greenbottles retaliated and Michael Justin, playing his final game before moving, got a great goal after a one on one with Tatiara goalie Jake Rohrlach. The end of the first quarter and the score was even.
Second quarter started with some strong play by Danny Verrall who read play well to steal the ball off Greenbottles defenders to slot Tatiara's second goal. The ball quickly moved down Greenbottles end and a short corner was called, but Tatiara's strong defence by Rohan Longbottom, Jonah Williams and the steadfast Nathan Pietsch saw no goal and another short called. Greenbottles just could not get it past Goalie Jake Rohrlach.
Hamish Verco went on the attack but Greenbottles defence held out. The quarter ended with 2 successive shorts to Tatiara but no goal scored. Greenbottles goalie Harry Drew did a fantastic job all night – 2:1
The third quarter was all about Tatiara and goals. With Greenbottles having no interchange, the speed and fitness of the Tatiara team got the better of them. Greenbottles certainly did not give up and put in their all.
It is always a delight to see the natural connection between the Williams brothers Connor and Jonah pass the ball down the field. Greenbottles Cameron Taylor skilfully moved the ball from one end of the field to the other for a 1:1 with Tatiara goalie, but just could not get it past him.
Danny Verrall shot his second goal for the night off a short. Next came a deflection off Marc Rowsell's stick to score Tatiara's 4th goal and it was beginning to look like they had the game won. Another short with experienced player Rohan Longbottom skilfully getting the next goal -5:1
The final quarter saw the score remain the same. Greenbottles defended hard but the frustrations were beginning to show. Final score Tatiara 5 def Greenbottles 1.
Greenbottles go on to play Kingston/Lucindale next week, and Tatiara Men's are straight though to Grand Final on Saturday 4nd September.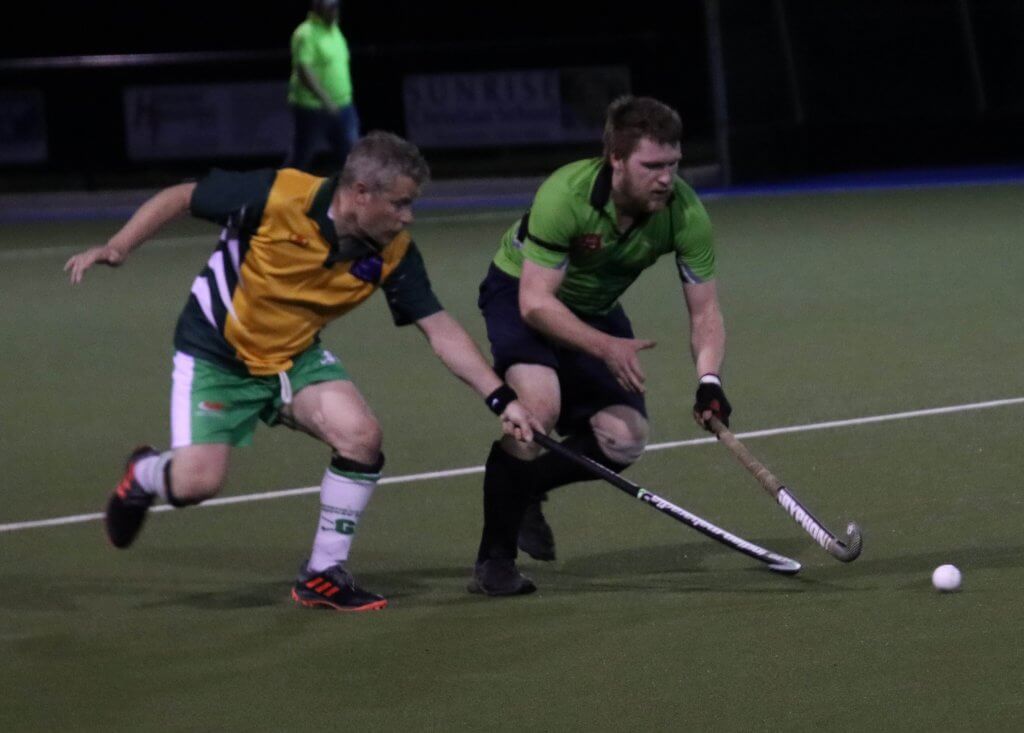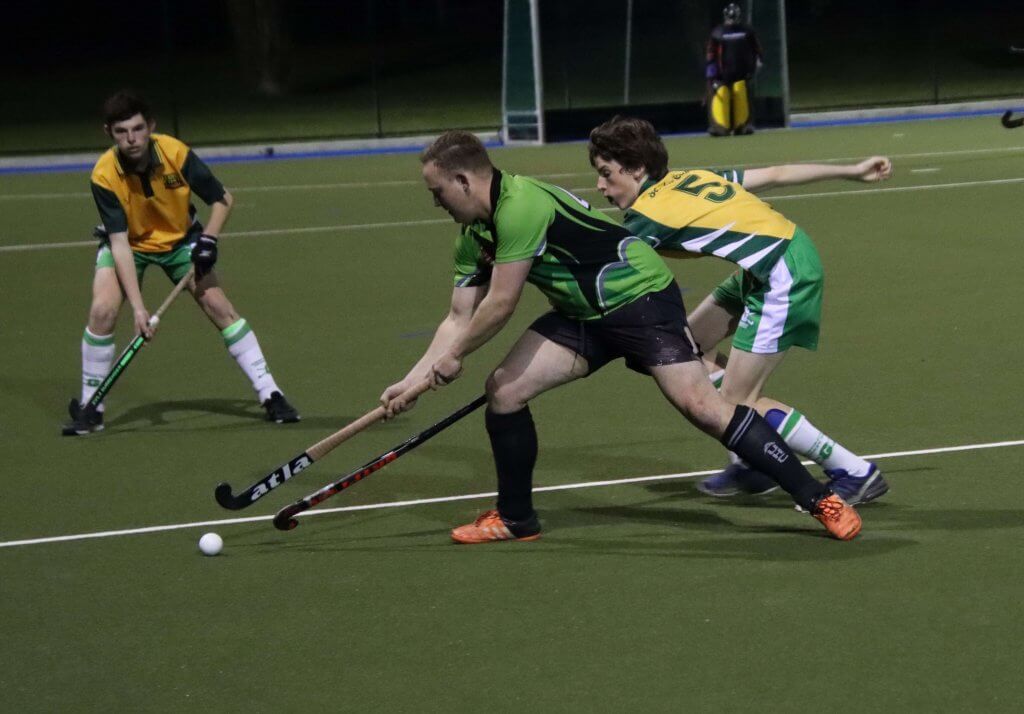 Kingston/Lucindale v Redlegs – Men's Semi-final (3v4)
Third placed Kingston/Lucindale took on fourth placed Redlegs in the "do or die" first round of finals.
The games between these two are always an enjoyable encounter to watch. The first goal came early for Kingston/Lucindale when it seemed like everyone stopped in the circle, Kenn Jardine was able to put his first of 3 away past Redlegs goalie Andrew Doecke.
Redlegs welcomed back their young legs in Jaali, Clancy and Dash to provide much needed runs into the forward line but unfortunately were unable to convert. The youngest of the Reds team Joel Anderson was very unlucky not to get a goal to his name when he was in the right spot at the right time – the ball did go in but the whistle had blown just before it went in.
Kingston/Lucindale's goalie, Brodie Kirkland, was at his usual best in goals with support from Matt Waugh. Ben Goodridge was cool and calm working the ball into the forward line on many occasions.
The seniors of the Kingston/Lucindale team in Richie, Pete and Bruce prove they still have what it takes to keep up with the young guns – even if they don't feel like it at the end of the game.
Another great game where Kingston/Lucindale now need to take on Greenbottles to try and advance into the Grand Final.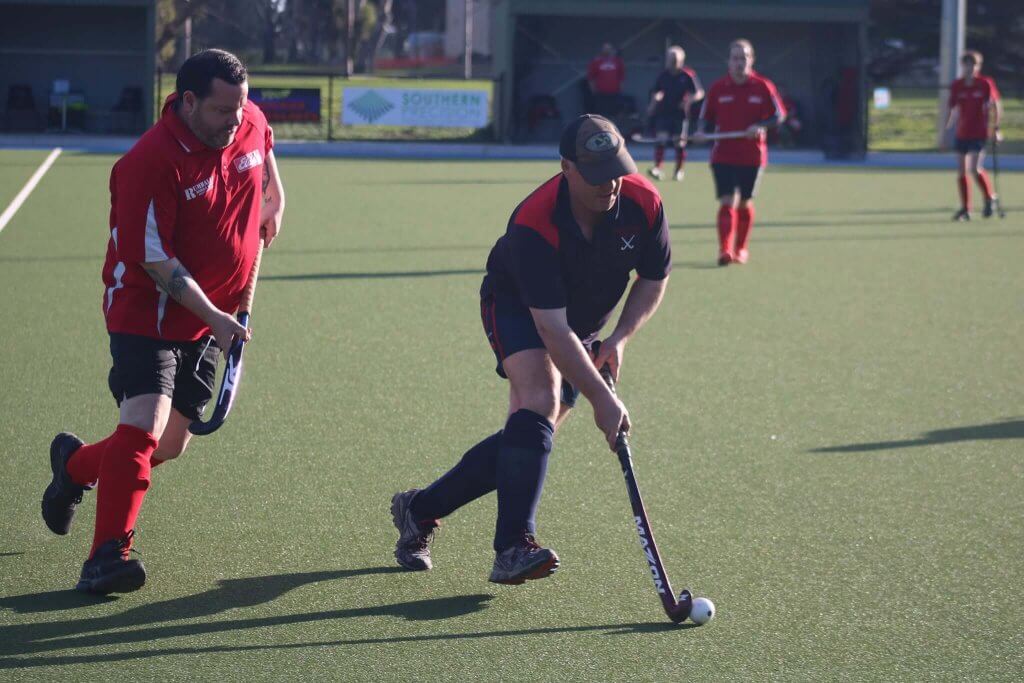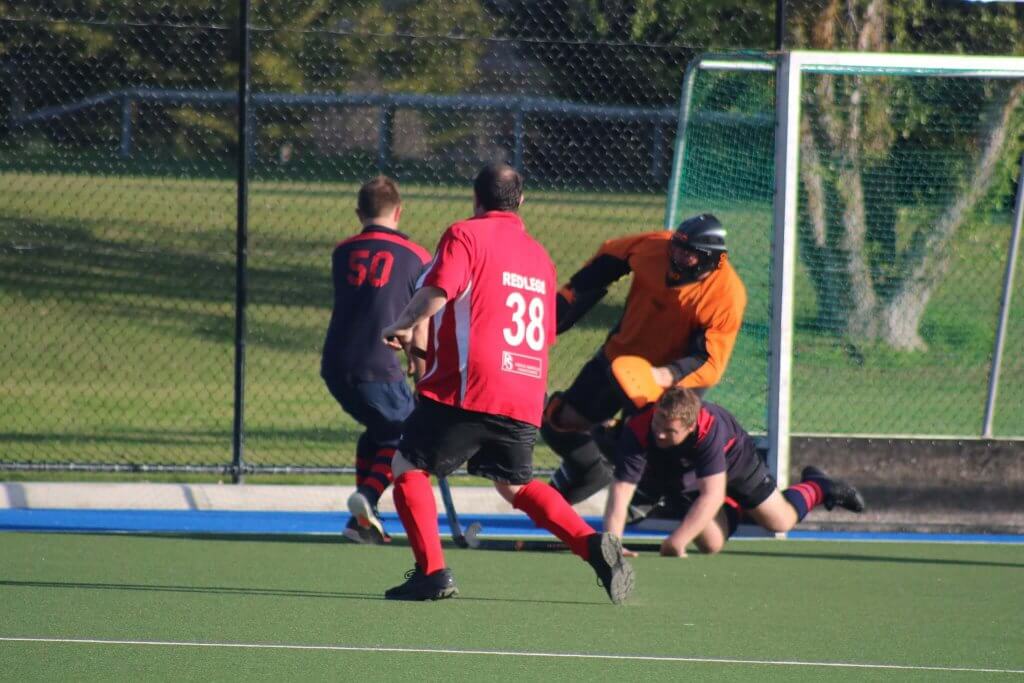 ---
Preliminary Finals Fixture – Saturday, 28th August
9.30am – Under 13 – Greenbottles 1 v Greenbottles 2
11.00am – Under 16 – Kingston/Lucindale v Redlegs
1.00pm – Men – Greenbottles v Kingston/Lucindale
2.30pm – Women – Greenbottles v Dartmoor
Note: If games are drawn at full-time, extra time of 5 minutes each way will be played with golden goal rules (first goal wins).
Under 13 – If still drawn, highest placed team goes through.
Under 16 & Seniors – If still drawn, penalty shoot out competition (one v one) – see NDHA By-law 13.8
---