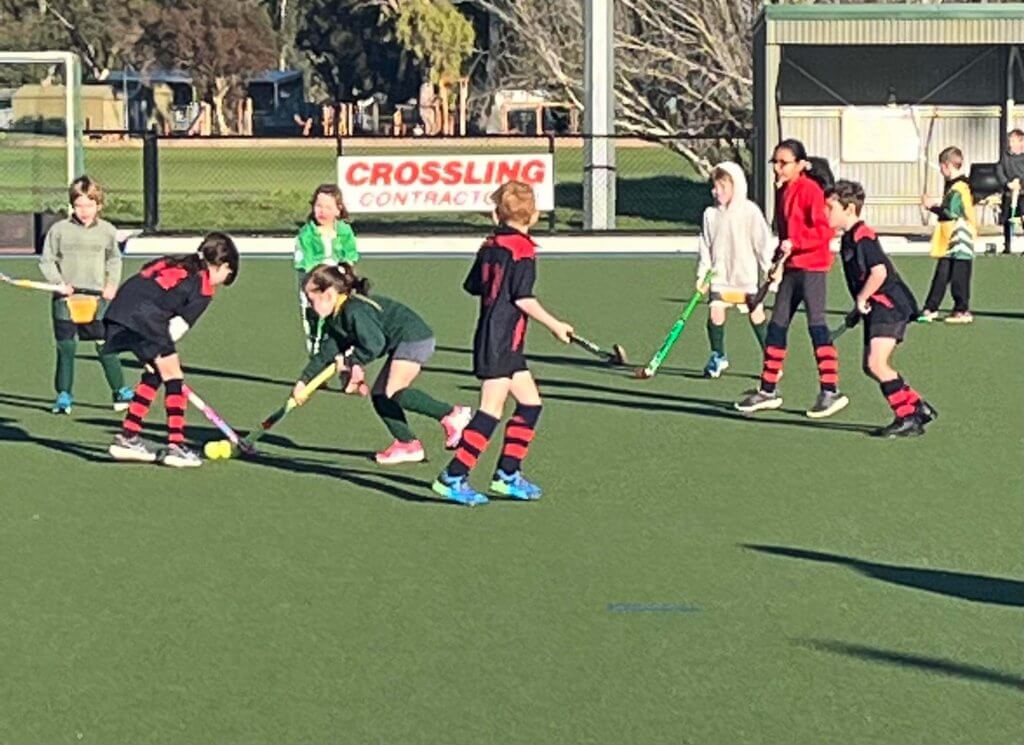 Round 9 – Season 2022
Blue skies, cool breezes and perfect playing conditions for hockey on the weekend.
Under 9 – Kingston/Lucindale vs Greenbottles
It was blue skies, no wind and perfect conditions for the Under 9's on Saturday.
Greenbottles had a large number of players so their "older kids" played against each other while their younger kids took on Kingston/Lucindale. This made the game very even with both teams passing the ball around to their team mates and able to spread out.
This allowed everyone to get involved and get a touch. It really is amazing to see how far these kids have come and the confidence they are showing.
Kingston/Lucindale vs Greenbottles – Under 13
Write up not supplied
Other results:
Dartmoor 10 def Redlegs 0 – Goal scorers: Joe McLean, Cooper Foale, Mason White, Kendra Lewis, Jacob Lewis, Eddie Dolphin, Ben Durik
Click here to see Under 13 Ladder
Kingston/Lucindale vs Greenbottles – Under 16
Greenbottles came out strong in the first half with Callum Carruthers-Murray scoring the first two goals of the game. Kingston/Lucindale were still fighting to get the ball back but they weren't strong enough to stop the 3rd goal getting in by Will Ellis.
The rest of the first half the ball was going back and forth from Kingston/Lucindale and Greenbottles.
In the second half Kingston/Lucindale's defence were stronger and they were strong enough to stop the ball getting past their goalie. Greenbottles players were still fighting to get that ball in the goals but they were unsuccessful.
Other results:
Dartmoor 8 def Redlegs 1 – Goal scorers: Jesse Lewis 3 (D), Natasha Moore 2 (D), Mason White (D), Alivia Lewis (D), Will Legoe (D), Clancy Shirrefs (R)
Click here to see Under 16 Ladder
Kingston/Lucindale vs Dartmoor – Women
Last time Dartmoor and Kingston/Lucindale played it was a very one sided affair. This time, the score didn't reflect on the type of game that was played.
Kingston/Lucindale were very happy just to keep Dartmoor to nil all in the first quarter. The game was a good even game however Darts were able to convert their shots on goals when Kingston/Lucindale just couldn't do the same at their end.
Kingston/Lucindale's Brooke Green was again everywhere the ball went and played yet another great game. Kingston/Lucindale's young guns Jorja Schulze, Alivia Lewis and Jen Ellis worked well together running the ball down into the circle on many occasions.
Dartmoor's Skylea McLean had a magnet on her stick and stopped most attempts on goal and had great clearances out of the circle. High light of the game had to be when Dartmoor's Gayle Ellis was receiving a pass then out of nowhere her daughter Jen (playing for Kingston/Lucindale) swooped in and took the ball off her – kinda took everyone by surprise.
Other results:
Greenbottles 2 drew Redlegs 2 – Goal scorers: Madi Derrington (G), Tori Ghezzi (G), Kelly Gale (R), Angela Donnelly (R)
Click here to see Women's Ladder
Kingston/Lucindale vs Dartmoor – Men
Write up not supplied
Other results:
Greenbottles 2 def Redlegs 1 – Goal scorers: Henry Boord (G), Cameron Taylor (G), Jacob Edwards (R)
Click here to see Men's Ladder
---
Friday, 24th June
6.45pm – Women – Greenbottles vs Tatiara
8.00pm – Men – Greenbottles vs Tatiara
Saturday, 25th June
8.45am – Under 9 – Kingston/Lucindale vs Redlegs
8.45am – Under 9 – Greenbottles vs Dartmoor
9.30am – Under 13 – Redlegs vs Kingston/Lucindale
10.45am – Under 13 – Dartmoor vs Greenbottles
12.00pm – Under 16 – Redlegs vs Kingston/Lucindale
1.15pm – Under 16 – Dartmoor vs Greenbottles
2.30pm – Men – Redlegs vs Kingston/Lucindale
4.00pm – Women – Redlegs vs Kingston/Lucindale
BYE – Dartmoor
Club duty – Kingston/Lucindale
Write-up – Redlegs
---