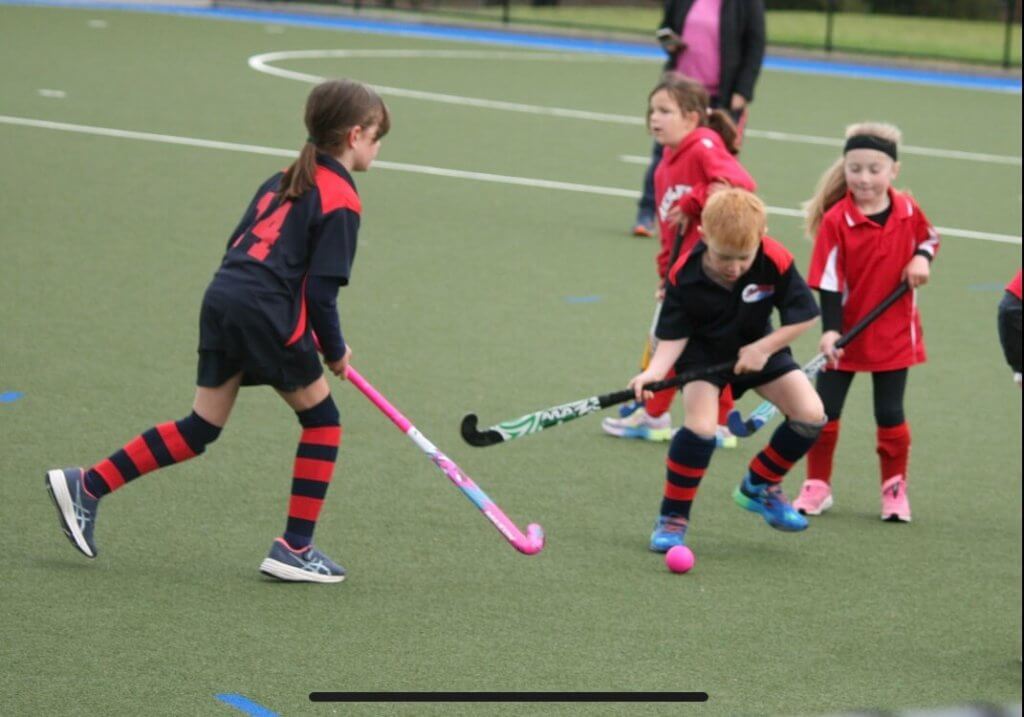 Round 5 – Season 2022
The rain didn't deter any of these teams from playing.
Under 9 – mixed matches
It was a wintery start on Saturday but the Under 9s were keen to get started.
Redlegs and KL Rangers had very even teams and played a very skilful game with lots of passing, dribbling down the field and goals from both teams. Well done to both teams for braving the cold for the love of hockey.
Greenbottles and Dartmoor both played a great game with some skilful tackles and passes using everyone on the field. The rain didn't even deter these teams from playing.
Well done to all the Under 9s for braving the cold and all getting involved.
Redlegs vs Kingston/Lucindale – Under 13
The game between Redlegs and Kingston/Lucindale Rangers started off with very strong defence and attack from both teams.
The ball was down Kingston/Lucindale's half for most of the game but out of a lot of short corners Kingston/Lucindale managed to get a total of five goals.
There were some very close times where Redlegs almost got goals but the Kingston/Lucindale goalie did a very good job at not letting the ball past.
Other results:
Dartmoor 1 def Greenbottles 0 – Goal scorers: Mason White (D)
Click here to see Under 13 Ladder
Redlegs vs Kingston/Lucindale – Under 16
Redlegs entered the game with a focus on working as a team after the disappointing loss the previous weekend. This was achieved from the get go, with both teams coming out strong, taking every opportunity to get ball time.
Redlegs' defence worked hard in making Kingston/Lucindale earn the first two goals of the game leaving the half time score, 2-0 Kingston/Lucindale's way.
Redlegs came out in the second half wanting to improve their defence with a few on field changes to positions. Both teams came out hard and even with the improved defence Kingston/Lucindale's Rangers were hungry for a goal, making two quick break throughs in the second half.
Although it was a 4-0 loss the Redlegs team showed no sign of moping but rather smiles all round.
Other results:
Greenbottles 1 drew Dartmoor 1 – Goal scorers: Callum Carruthers-Murray (G), Jesse Lewis (D)
Click here to see Under 16 Ladder
Redlegs vs Tatiara – Women
On a cold Friday night, the game started with a flurry, with Tatiara taking the ball early into the attack, with scrambling from the Redlegs defence denying the first couple of shots, but Tatiara coming through with an early goal.
The game then settled into see-sawing play in the midfield, with Tatiara scoring 2 late goals in succession.
Redlegs drove the ball into their attack, getting rewarded with a short corner but were unable to convert. Tatiara then scored quickly half way through the quarter.
Play then went evenly for the rest of the quarters with both teams getting their opportunities.
Redlegs defence received a peppering early in the second half with many Tatiara opportunities denied. Tatiara scored 2 hard fought goals in these passages of play.
The last quarter saw both teams tire, with play going down from one end of the field to the other.
A great game by all.
Other results:
Dartmoor 4 def Greenbottles 0 – Goal scorers: Sarah Hamilton 2 (D), Alice Rainsford (D), Lucy Steer (D)
Click here to see Women's Ladder
Redlegs vs Tatiara – Men
Both a very cold and competitive game was played by Redlegs and Tatiara with the end score being 4-0 and a total of 5 cards, two yellows and a green for Redlegs and one yellow and a green for Tatiara.
The game was very tense to watch and I bet to play, but overall it was an amazing game from both teams defence and attack.
Other results:
Greenbottles 1 def Dartmoor 0 – Goal scorers: Will Ellis (G)
Click here to see Men's Ladder
---
8.45am – Under 9 – Redlegs vs Greenbottles
8.45am – Under 9 – Kingston/Lucindale vs Dartmoor
9.30am – Under 13 – Kingston/Lucindale vs Dartmoor
10.45am – Under 13 – Greenbottles vs Redlegs
12.00pm – Under 16 – Kingston/Lucindale vs Dartmoor
1.15pm – Under 16 – Greenbottles vs Redlegs
2.30pm – Women – Kingston/Lucindale vs Dartmoor
4.00pm – Men – Kingston/Lucindale vs Dartmoor
5.30pm – Women – Greenbottles vs Redlegs
7.00pm – Men – Greenbottles vs Redlegs
BYE – Tatiara
Club duty – Redlegs
Write-up – Kingston/Lucindale
---