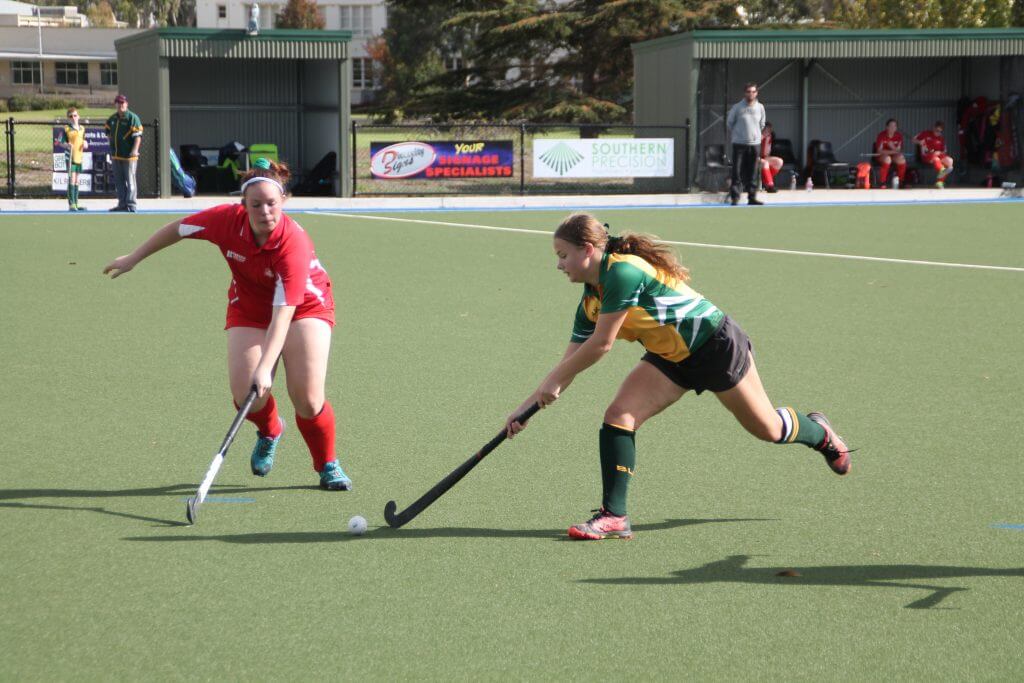 Round 5 – Season 2021
Greenbottles came out of the starting gates full of running.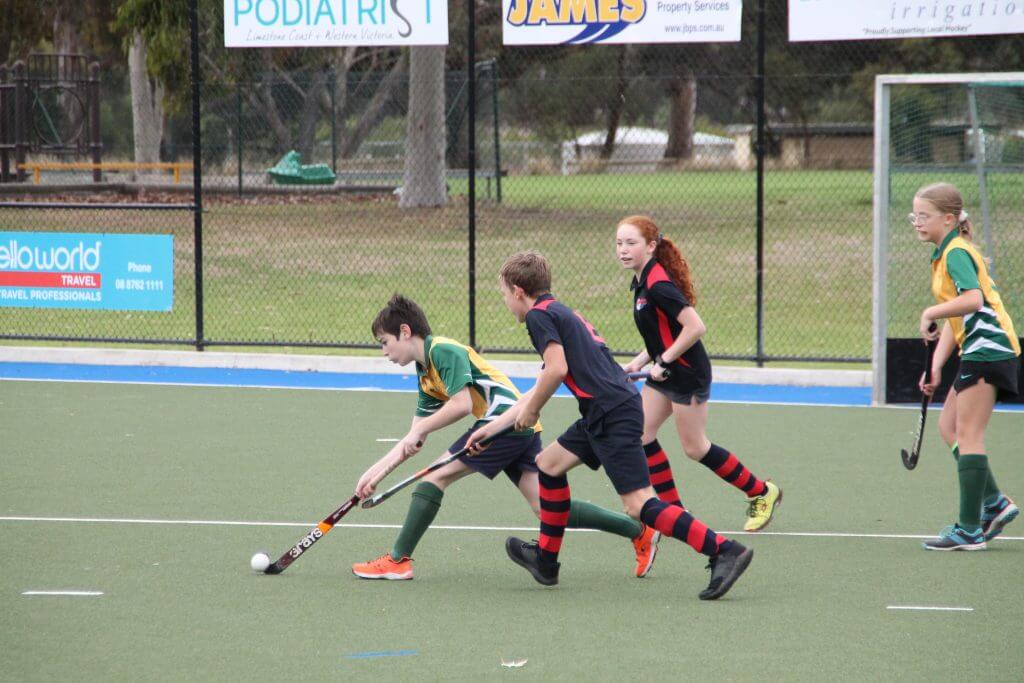 Greenbottles(2) vs Kingston/Lucindale – Under 13
A polite game quickly increased to a quick tempo with good use of the full pitch. Senior players Chris Hillie for KL and Archie Carruthers Murray for Greenbottles making good decisions to keep the ball wide and support their team mates.
Will Ellis had a few runs in attack but unfortunately attempts to score didn't find the backboard until the second half. Pressure from KL attackers Teagan Hocking, Sarah Johns and Ava Snodgrass increased, keeping Toby Boord and Archie Carruthers Murray under the pump with Chris Hillie decisively finding the back of the goal from the top out the circle.
Henry Fry (Happy 10th Birthday!) took up the chase for a goal for Greenbottles with nice passing from Zara James to Harriet Waters to Henry Fry and brilliant tackles by Harrison Andrews. Efforts didn't convert against some great plays by Mason Young and Corrie Taylor in defence.
The game ended 1-1 draw. All players will sleep well after taking up the battle from end to end. Great game to watch!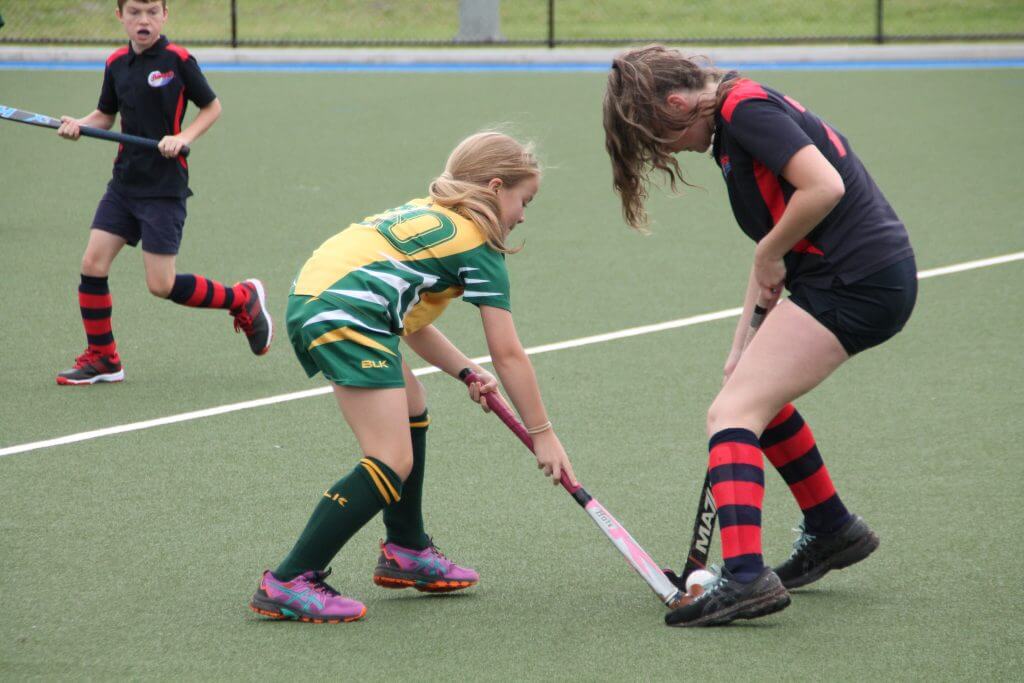 Other results: Dartmoor 0 drew Redlegs 0
Greenbottles vs Redlegs – Under 16
Greenbottles came out of the starting gates full of running against Redlegs. Early in first half Cameron Taylor did a good run up into the circle, before good passing between teammates culminated in him scoring the first goal.
It was good to see Buzz Brennan, back playing hockey, he's lost none of his skill, playing well for Reds. Hunter Adams for Redlegs had some great runs forward.
One on one passes between Callum Carruthers-Murray and Cameron resulted in a fine goal by Callum, a short time later the same type of play resulted in another goal by Cameron. Reds kept the pressure on and had some short corners and chances on goal, but great defensive work by Maddie Derrington plus Emily Eastwood and ably assisted by goalie Harry Drew, kept Reds from adding anything to the score sheet.
Sophie Waters, Zoe James and Henry Boord worked tirelessly and helped Greens to maintain the majority of the possession. Tillie Derrington pushed the ball towards goal which rebounded near Cameron and he hit another one in.
In the start of the second half Reds came out strong, attacking well but Greens were having none of it. Another short corner by Greens resulted in a cracking goal by Maddie Derrington. A pass into the circle to Hannah Yates saw some lovely ball skills by her, narrowly missing the target. Young Grace Gale for Reds was looking like a future star, she reads the play well and worked hard for her team all game.
Reds never gave in but it was easy to see that most of the Greenbottles players have played together over many seasons and are in sync with each other, they have some skillful young talent coming through the ranks with Archie Carruthers-Murray and Will Ellis. The final result was 5-0 to Greenbottles.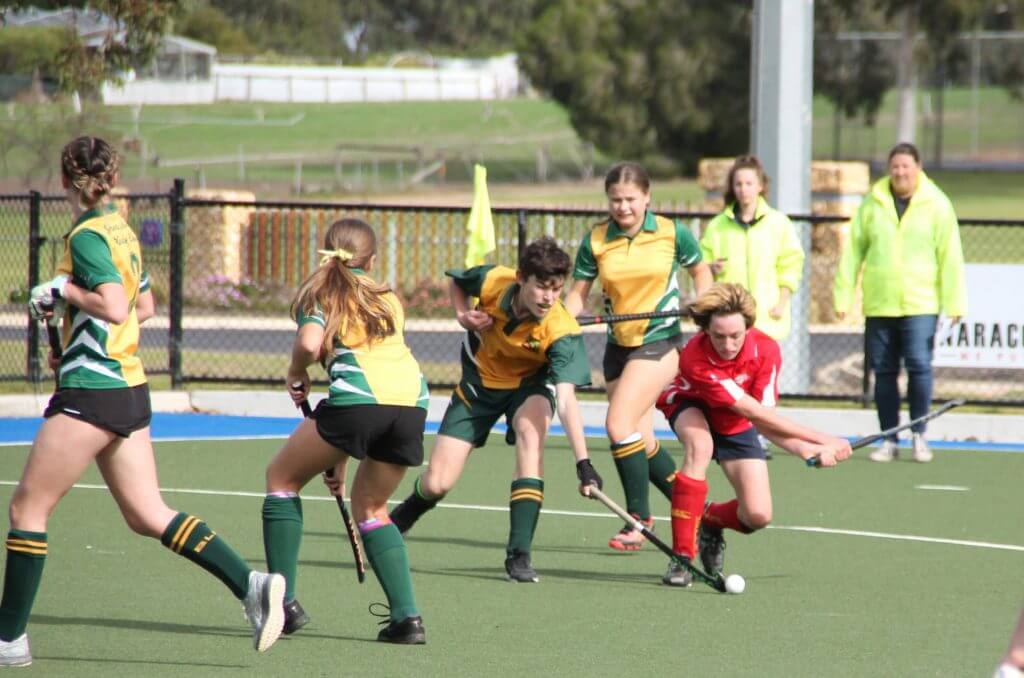 Other results:
Kingston/Lucindale 2 def Dartmoor 0 – Goal scorers: Connor Butler 2 (KL)
Greenbottles vs Redlegs – Women
Greens were determined from the start. A quick score in the first 5 minutes by Rhona set the attacking game of Greenbottles. Kimiora Toovey and Amanda Edwards kept their team buoyed with humour as they diligently fought against multiple attempts at goal.
The second quarter saw Redlegs Kelly Gale remind the Greens that they needed to be vigilant. A controversial card sent Tillie Derrington to the bunker for 5 min and at half time the score remained 2-0 to Greens.
Rhona scored again off a short corner in the third making a Redlegs comeback all the harder. Amelie Nancarrow, Jorja Doecke, Sarah Anderson, Kelly Gale, Kelly Harris, and Willow Edwards regenerated the competition and had the Greens working hard at three quarter time.
Tillie Derrington scored and Rhona continued to score off short corners pushing the score to 5-0 in the final quarter. The game was a good contest and great to watch score not reflective of this.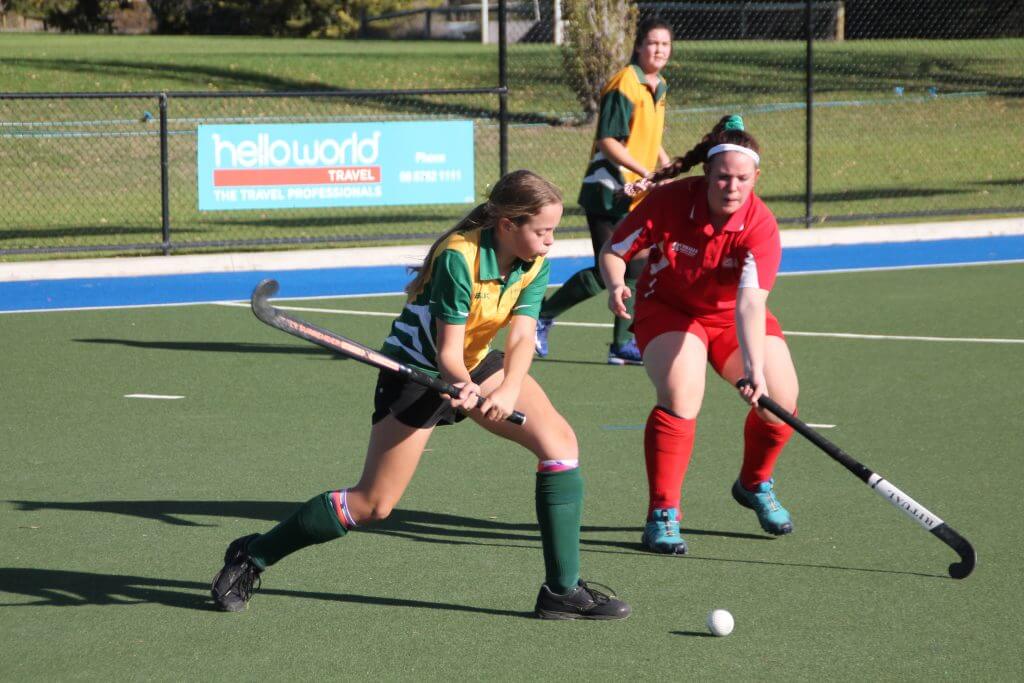 Other results:
Dartmoor 6 def Kingston/Lucindale 0 – Goal scorers: Jen Ellis 2 (D), Christine Foale 2 (D), Angela McLean, Samantha Crocker
Greenbottles vs Redlegs – Men
Andrew Doecke at his best in goals defending against multiple assaults as light footed as a mountain goat and as exuberant as a teenager. Sliding not like Steve Bradbury to keep the Greens at bay.
Scott Copping made no mistakes ably assisted by Callum Carruthers Murray to score greens another goal. Cameron Taylor was also on fire in the circle. Seniors Gavin Boord and Michael Justin eventually made scores. Supported by star recruit Tom and the infallible Henry Norcock.
Henry board played well in defence winning many contests against two on one battles. Brett Rumball and Dan Kitto worked well as an attacking team but were unable to get through Trent waters and Mick Derrington. In the dying minutes reds were rewarded a short corner with but greens defence were too strong.
Gallant reds with utmost determination fought to the very end but were unsuccessful in scoring against greens strong defence. End score being 5-0 greens way.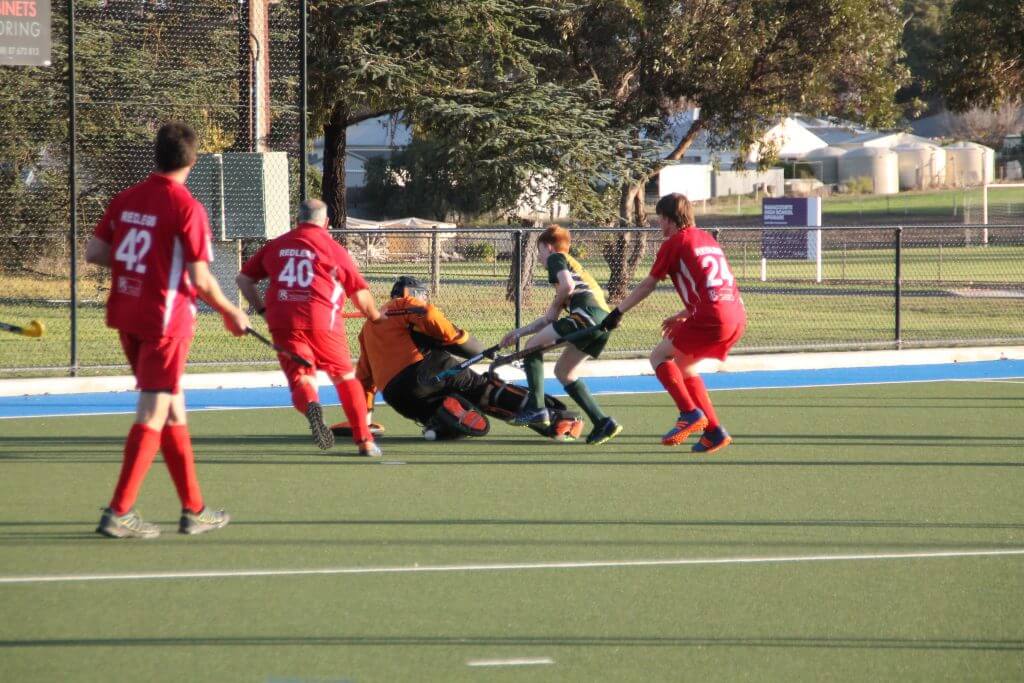 Other results:
Kingston/Lucindale 4 def Dartmoor 0 – Goal scorers: Derek Butler (KL), Ken Jardine (KL), Brodie Kirkland (KL), Tom Cobiac (KL)