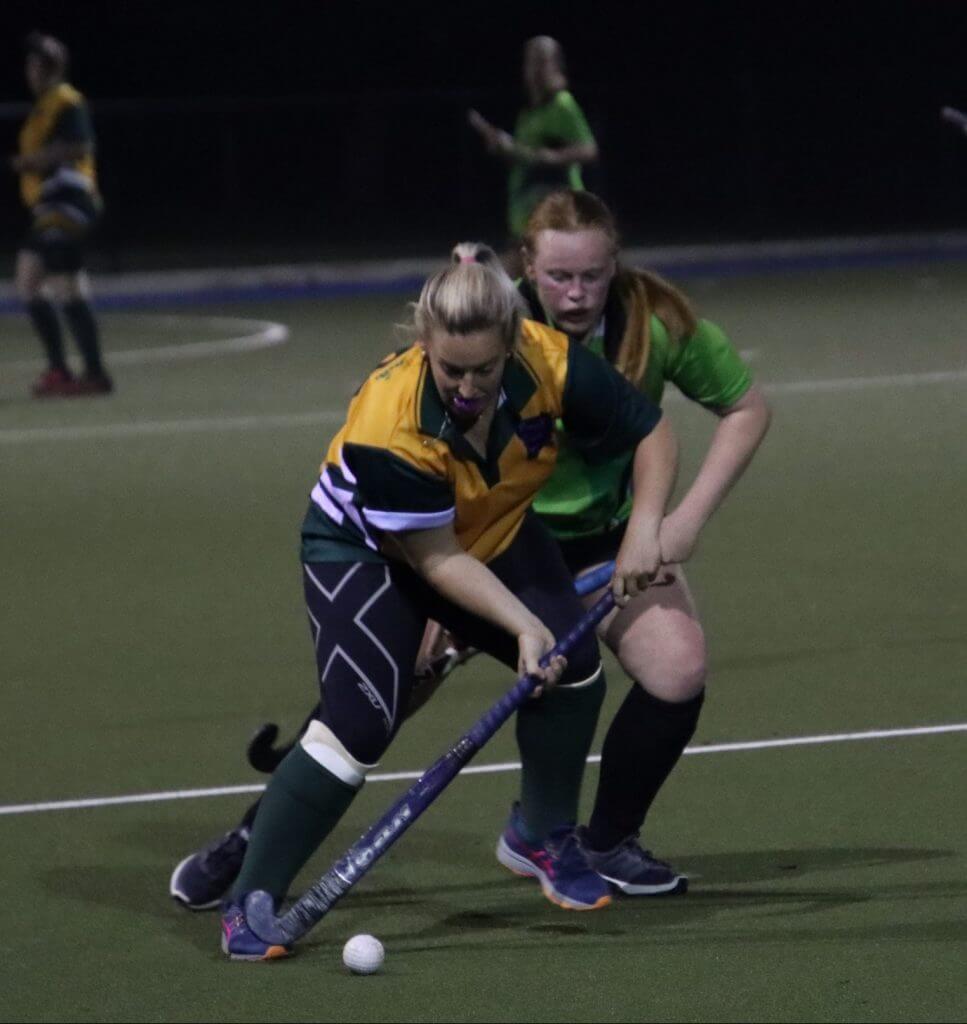 Round 4 – Season 2021
The first Friday night games for senior teams for the season.
<< Becky Schubert (G) and Eliza Llewellyn (T)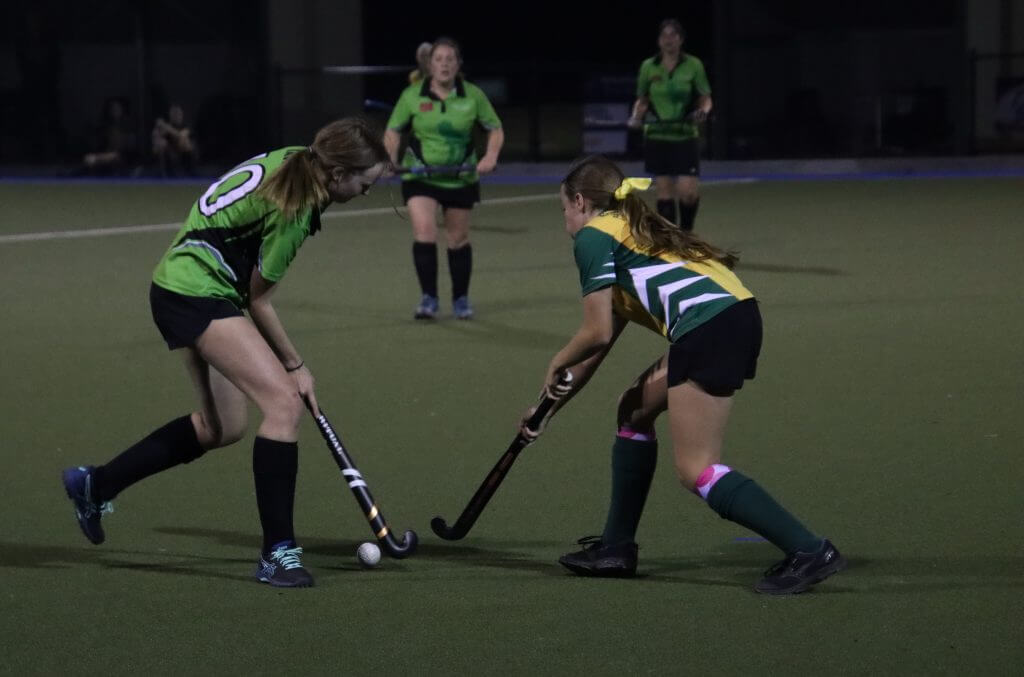 Tatiara vs Greenbottles – Women
Tatiara were on attack and won a couple of penalty corners to no avail, due to Greenbottles strong defence. Greenbottles goalkeeper and Shan Derrington were kept busy, determined to keep the ball from going over the goal line.
Greenbottles offensive strength built with some great runs, but Amy Hunt and her defence put a stop to that and with a great run and team passing Tatiara scored the first goal of the game through Abbey Martin.
The game's tempo increased in the second half with attacks at both ends. A long bomb hit eventually zoomed past and a sneaky Tori bolted to the base line to score with a sweeping swat shot, raising the ball in a bend it like Beckham spectacular goal, leaving the score at 1 a piece at three quarter time.
Tatiara scored a quick goal to take the lead, but Greenbottles had other ideas and created some forward movements onto Tatiara's defence. Chelsea Stone (Tatiara's young goalie) was having none of this. Saving goals off her chest plate and grouping well with her defence to get those striking efforts away.
The game saw some great tussles in the mid field between Amy Hunt and Maddy Derrington. A good solid game from both teams.
Other results:
Dartmoor 1 def Redlegs 0 – Goal scorers: Samantha Crocker (D)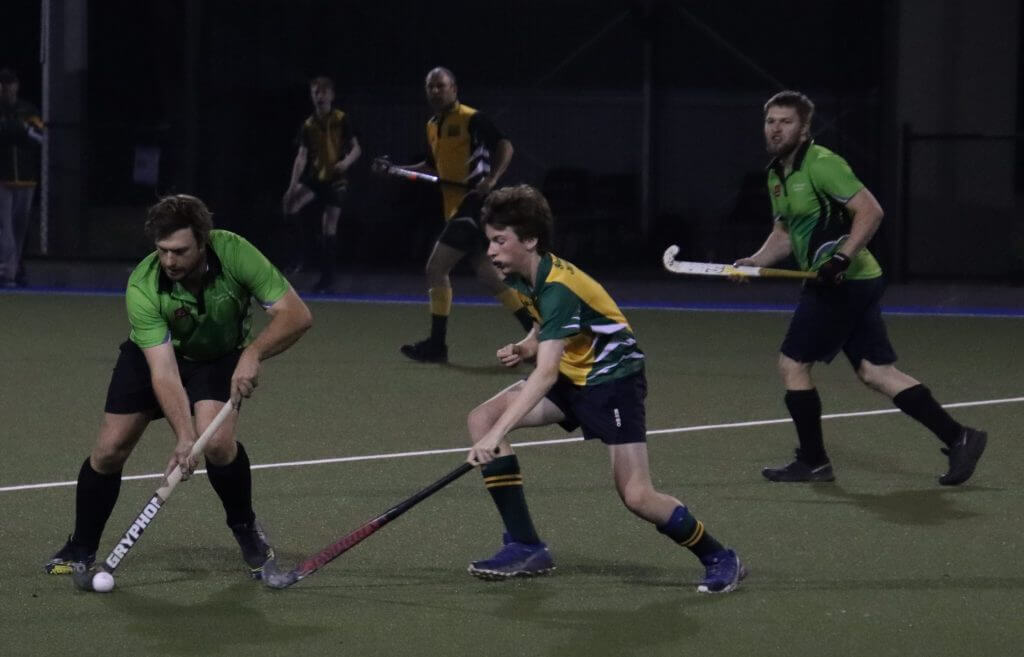 Tatiara vs Greenbottles – Men
A great game to watch under lights and a game all players have been looking forward to playing. Both teams came out strong and keen.
The game was straight off and running and tricky stick manoeuvres by the Greenbottles attack were no match for the Tatiara strong defence who kept the ball out of goals. Green bottles held strong in the midfield pushing Tatiara wide, keeping Riley Saunders and Hamish Verco busy.
The Greenbottles strength was some very clean and direct hits and beautiful play with Tatiara taking control of any wayward ball. Play moved quickly to Tatiara's end with great team work by Connor Williams and James Verco. Henri Norcock, moonlighting in goals for Greenbottles, stepped up to the challenge and bounced the ball off his helmet to stop the Tatiara scoring.
Bumps abounded as players showed frustration on and off the ball, in desperation to gain a point on the scoreboard. Around and around the ball went. Majority of play in the first half was in Tatiara's circle but with all Greenbottles players fighting hard and Henri in goals taking all the hits, they could not penetrate this line of defence. With the score 0 all at the end of the first half tensions were running high.
The break gave the boys a chance to regroup and talk tactics, then they were off and running. Play moved to the Greenbottles end, and a battle between Derek and Nathan Pietsch began. As frustrations began to surface the physicality continued and Tatiara were forced to play one player short after a yellow card was given. A penalty corner resulted but Greenbottles just could not get the ball through.
All the younger boys kept their cool and was great to see Henri Boord and Harry Schwarz up against each other, their fitness and the speed of youth evident. Cameron Taylor's ball skills and control enabled him to weave past the likes of Nathan Pietsch a number of times.
New goalie Jake Rohrlach for Tatiara did a sterling job at keeping the score even. There was a close call as the ball deflected off a Greenbottles foot and just missed getting a goal for the Tatiara team. Right through the last minutes Greenbottles elders Gaving Boord, Derek James and Mick Derrington all kept the pressure on the Tatiara players, and James Verco had a missed opportunity as the ball just clipped the wrong side of the goals.
A long hard battle with no goals scored. Special mention needs to go to Greenbottles goalie Henri Norcock for an outstanding game. Hope to see more great hockey over the next few weeks and am sure the next time the 2 sides see each other it will be game on!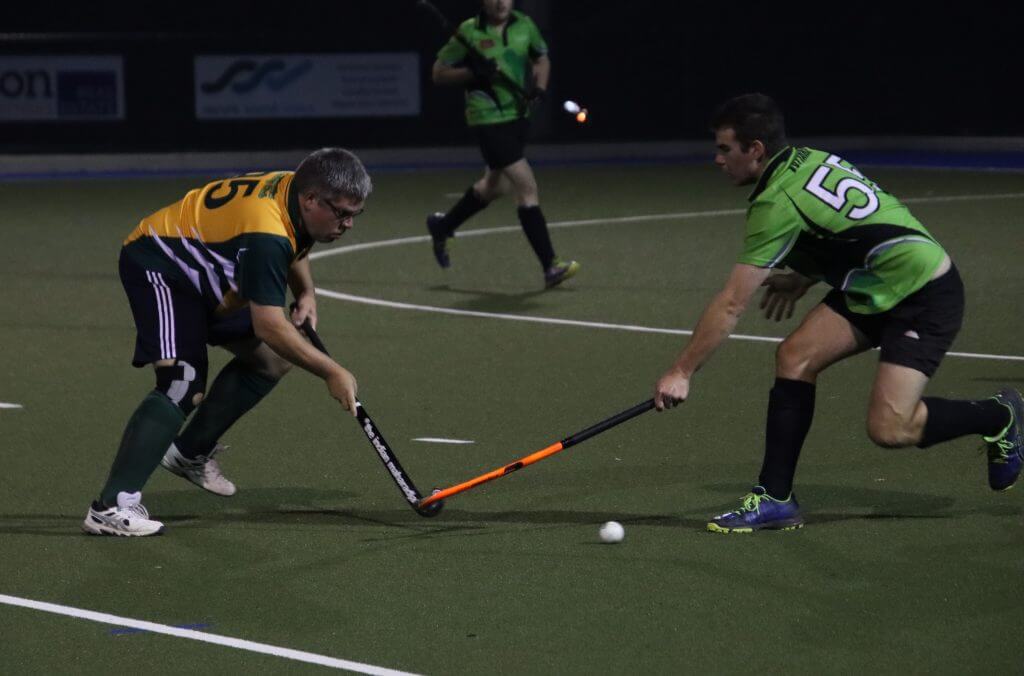 Other results:
Redlegs 3 def Dartmoor 0 – Goal scorers: Kieren Brennan (R), Jaali Brennan (R), Brett Rumball (R)