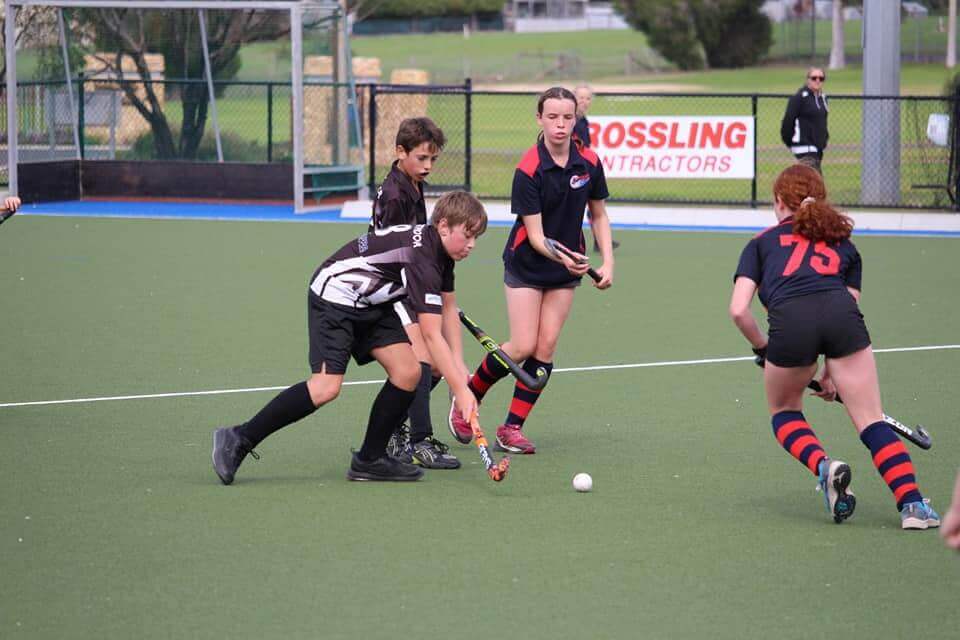 Round 2 – Season 2022
"Hard to believe its just the start of the season. Watching these two U16 teams play, felt like a grand final match !"
Dartmoor vs Kingston/Lucindale – Under 9
It's so good seeing so many young kids giving hockey a go. Dartmoor played against Kingston/Lucindale Rangers. Both teams had many new players and all were ready to go.
It was a very even game with both teams getting runs up forward. John Clothier did a great job for Kingston/Lucindale. Monique Lewis, Annabel Gale and Bri Hamilton did well for Dartmoor, not afraid to get in have a go.
The play was shared around well between both teams. Kingston/Lucindale Rangers winning the game.
Thank you to Ellen and Eliza from Greens for filling in.
A great game by all. 😊
Dartmoor vs Kingston/Lucindale – Under 13
A big thank you to the Dartmoor players who helped out the Kingston/Lucindale team in today's game.
Dartmoor started very strong with Eddie Dolphin shooting at goals in the opening minutes of the game only to have Kingston/Lucindale's goalie, Jacqueline Clothier, shut down his attack.
Daniel Hill then made a quick run through the middle making Dartmoor's defence scramble back. Mason White and Mason McSorleys' speed and strong defense held the Kingston/Lucindale's attack at bay.
Kendra Lewis kept Cody Hill and Corrie Taylor very busy as she worked the ball through the middle to Kingston/Lucindale's circle giving Jim Hansford and Jacob Lewis time to attack the goals. Jacqueline Clothier shutting down their shots with ease.
Dartmoor's break through came with a beautifully placed pass from Eddie Dolphin across the circle to Jacob Lewis who snuck one past the Kingston/Lucindale goalie.
Teagan Hocking then made a magnificent break and had Dartmoor on the defence again. John Clothier proved that size doesn't matter coming up against some of the bigger Dartmoor players and defending well to keep the play in Dartmoor's defensive end.
Some great defence and passes from Ben Durik saw the ball back into the Dartmoor attack zone. Jim Hansford was then able to pass the ball to Eddie Dolphin who shot for goal and scored.
Thanks to Carol Hille for the extra photographs
A change up of players in the second half saw the match take on a different feel. Kingston/Lucindale's attack was strong and kept the Dartmoor's defence busy. Amy Ewer and Rebecca Clothier making some great runs in Kingston/Lucindale's attack. Bree Ellis was kept busy in the Dartmoor goals denying Mason White (playing for K/L) any points off his shots at goals.
Anna Theron held her position for Kingston/Lucindale well in the forward line as Amy Ewer continued to push the Dartmoor defence. Dartmoor backs then took control with some beautiful passes to Zac Doyle and Thomas Reekie who took full advantage of the space they had created through the mid field.
Another swap of K/L shirts saw Eddie Dolphin make a run for Kingston/Lucindale but again Bree stopped the ball in it's tracks. Ashton Gale always seemed to be in the right place for Dartmoor and was ready to defend or attack when needed, giving Dartmoor forward players another chance to attack Kingston/Lucindale's circle.
With some good work through the middle from Kingston/Lucindale's back line, Amy Ewer took the ball and made a break into Dartmoor's circle, and shot at goals, Bree was too quick and deflected it, however Rebecca Clothier was there to scoop it up and sneak it past the goalie. Bringing the score to 2-1.
Joe McLean (playing for Kingston/Lucindale) and Cody Hill were then kept busy as Dartmoor stepped up the attack but to the credit of the Kingston/Lucindale defense the ball was kept in the midfield until the final whistle blew.
Other results:
Greenbottles 8 def Redlegs 0 – Goal scorers: Toby Boord 2 (G), Henry Fry 2 (G), Jada Copping (G), Ethan Hage (G), Jack Hutchesson (G), Alice Fry (G)
Click here to see Under 13 Ladder
Dartmoor vs Kingston/Lucindale – Under 16
Both teams started strong, determined for the win. The ball going backwards and forward, both teams attacking and then defending well. A short corner to Dartmoor leads to another one which results in a goal to Mason White for Dartmoor.
Strong defending from Kingston/Lucindale lead to ball being held up in the middle for a while. After some time Tash Moore went for a long run up the side line only to be kept out well from Kingston/Lucindale's defence.
A free to Kingston/Lucindale on their attacking 25, lead to a goal to Luke Ewer for Kingston/Lucindale. Several more attempts at goal for Kingston/Lucindale before half time were all stopped by Bree Ellis in the goals.
An evenly matched first half was concluded with the score at 1-1.
Thanks to Carol Hille for the extra photographs
Both teams came out strong with several attempts at goal for Dartmoor before a green card was given to a Kingston/Lucindale player in the middle of the pitch. Shortly after this player returned to the pitch a goal was scored from Kingston/Lucindale's Tamsyn Butler.
The surge from Dartmoor's centre start lead to a short corner in their attacking circle. Dartmoor benefited from this with Jim Hansford getting his first goal for the season.
After the excitement of the score being equally posed, Mason White had 4 quick shots on goal only to be defended well by Kingston/Lucindale's goalie Kayden Schneider. Continuous Darts pressure keeping it inside their attacking 25 meant Jesse Lewis was able to get a quick tomahawk into the goal with only minutes left to play, giving Dartmoor the lead of 3-2.
A fantastic game played by all, great viewing from the sideline.
Other results:
Greenbottles 6 def Redlegs 0 – Goal scorers: Tillie Derrington 2 (G), Will Ellis 2 (G), Henry Boord (G), Callum Carruthers-Murray (G)
Click here to see Under 16 Ladder
Dartmoor vs Greenbottles – Women
On Saturday night, it was a tightly contested and fast paced battle under the lights. Alice Rainsford was strong in the middle for Dartmoor, directing beautiful passages of play. However, mother and daughter duo, Madi and Shannon Derrington proved formidable and prevented numerous advances.
At half time it was nil all and both teams were keen to convert. Greenbottles picked up in the third quarter with some brilliant quick runs from Lucy Possingham and Dani Mahoney. However, Dartmoor's defence proved too strong and a beautiful cross from Jess Thomson and touch from Sarah Hamilton resulted in Dartmoor's first goal.
In the fourth quarter, Dartmoor picked up the pace again and consolidated the win with another goal from Alice Rainsford. Overall a fantastic and competitive game and surely the first of a few battles together this season.
Other results:
Tatiara 10 def Redlegs 0 – Goal scorers: Olivia Williams 3 (T), Sigourney Williams 2 (T), Amy Hunt 2 (T), Querida Pearse (T), Elferaan Williams (T), Jessame Wagenknecht (T)
Click here to see Women's Ladder
Dartmoor vs Greenbottles – Men
Good hockey playing conditions saw the Dartmoor vs Greenbottles men plan on Saturday afternoon. In what the scoreboard shows is a lopsided contest, what eventuated was a competitive game of hockey with attacking forays from both teams and Greenbottles making the most of their opportunities.
The game started with a rush from Greens who were on fire and managed to score 3 goals in quick succession. Dartmoor finally clicked into gear and managed to hold off the opposition for the rest of the quarter.
In the second quarter, both teams attacked well and were rewarded…. by half time the score read 5-1.
The third quarter started similar to the start of the game with lots of attacking by Greenbottles as Dartmoor tried to keep the ball out of goal. Some good saves from the goalie only saw 1 goal go in.
Following that, the 4th saw both teams start to tire and space open up some more. Once again Greens managed more shots while Darts fought back. Overall, a good game was played showcasing some good attacks and skills in the forward half.
Other results:
Tatiara 8 def Redlegs 0 – Goal scorers: Brody Lock 3 (T), Connor Williams 2 (T), Nathaniel Modra (T), Hamish Pearse (T), Nathan Pietsch (T)
Click here to see Men's Ladder
---
Round 3 Fixture – Saturday, 23rd April
8.45am – Under 9 – Redlegs vs Kingston/Lucindale
8.45am – Under 9 – Greenbottles vs Dartmoor
9.30am – Under 13 – Redlegs vs Kingston/Lucindale
10.45am – Under 13 – Greenbottles vs Dartmoor
12.00pm – Under 16 – Redlegs vs Kingston/Lucindale
1.15pm – Under 16 – Greenbottles vs Dartmoor
2.30pm – Men – Greenbottles vs Tatiara
4.00pm – Women – Greenbottles vs Tatiara
5.30pm – Men – Kingston/Lucindale vs Redlegs
7.00pm – Women – Kingston/Lucindale vs Redlegs
BYE – Dartmoor
Club duty – Kingston/Lucindale
Write-up – Redlegs
Note: No matches on the weekends of 9th April and 16th April
---