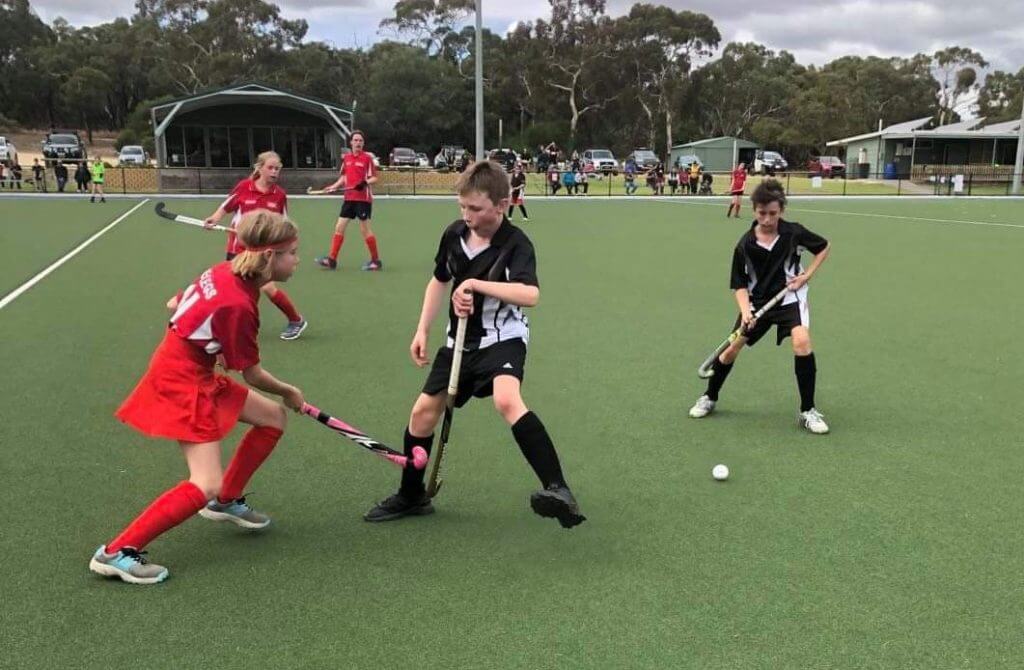 Round 2 – Season 2021
A lovely morning for hockey in Naracoorte.
Dartmoor vs Redlegs – Under 9
It was a lovely morning to come out to hockey.
Darts were playing against Redlegs and Darts were very short. Reds lent some of their players to give an even game to play. All the kids were really keen and all chased the ball. The game was quite even with everyone playing a fantastic match.
Dartmoor vs Kingston/Lucindale – Under 13
Dartmoor's forwards started off very strong. They worked the ball around Kingston/Lucindale's defence and were able to find the goals 8 times by half time.
After a bit of a shuffle of players at halftime Kingston/Lucindale had a strong defence and were able to keep Dartmoor scoreless for the second half.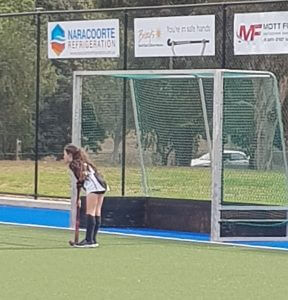 Other results: Greenbottles 2 (2) def Greenbottles 1 (1) – Goal scorers: Jack Justin (G1), Archie Murray (G2), Toby Boord (G2)
Dartmoor vs Redlegs – Under 16
Redlegs team worked well together making good use of their passes to their forwards and keeping Dartmoor's defenders on their toes. Redlegs were able to make good use of their penalty corners and rebounds, heading into half-time 3 goals up.
Dartmoor defenders were again kept very busy in the second half. Mason White made a great run for Dartmoor in the final minutes and hit Dartmoor's only goal for the day.
Other results:
Greenbottles 1 drew Kingston/Lucindale 1 – Goal scorers: Ben Goodridge (KL), Cameron Taylor (G)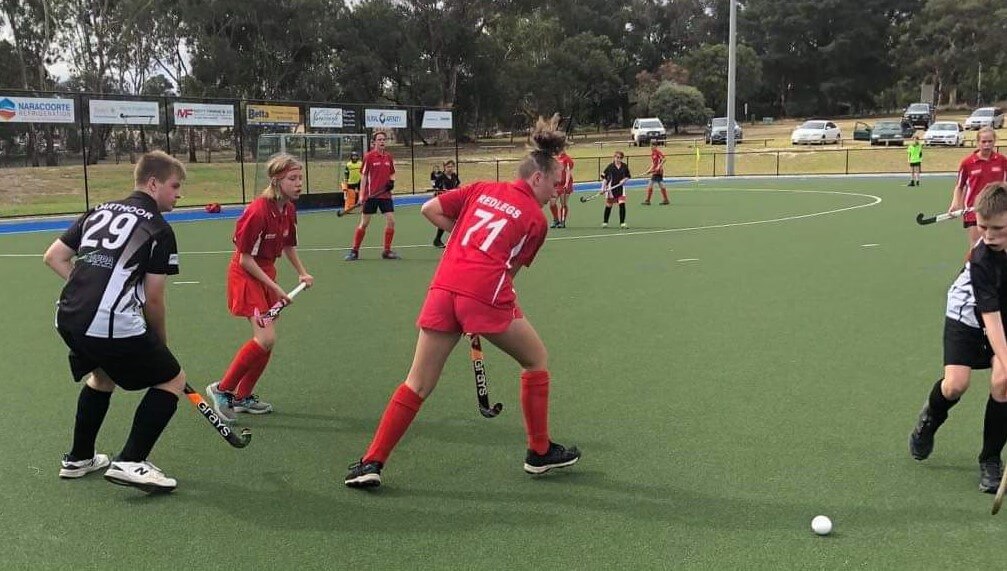 Dartmoor vs Greenbottles- Women
Dartmoor took Greens by surprise with a goal in the opening minutes of their match. Greens defence regrouped and then settled well into the game keeping the ball in their attacking end for the rest of the quarter. Sarah got a goal and Bec slipped on past Dartmoor's goalie taking a 2-1 lead at half time.
The second half saw Dartmoor defenders dig deep and keep Greens scoreless for the rest of the game. Ange McLean put a beautiful hit in off a penalty corner tying the game. Both teams made some great breaks in the 4th quarter but were unable to convert any goals.
Other results:
Tatiara received a forfeit from Kingston/Lucindale
Dartmoor vs Greenbottles – Men
The men's game between Greens and Darts was a good game to watch with both teams getting many opportunities to score. The first quarter saw fill-in Jacob Edwards score by following up on a Darts penalty corner. Greens replied strongly with the attack forcing some penalty corners, unable to score until MJ managed to get one through before quarter time.
The 2nd quarter followed in the same fashion with both teams scoring through Alex (D) and MJ (G) again. Half time saw the teams deadlocked at 2-2.
The 3rd quarter was an arm wrestle with neither team able to score. To start the final quarter Jack (D) found the goal in the first 30 seconds, giving Darts the lead. However, Greens fought back again and managed to score through MJ. Tied up again, both teams tiring, Darts managed a penalty corner and found a goal through John shortly after. The game ended after a penalty corner from the Greens team that didn't go in, leaving Darts with the win.
Credit to Greens for not giving up, good effort by all.
Other results:
Tatiara 3 def Kingston/Lucindale 0 – Goal scorers: Hamish Verco, Darius Cosgrove, James Verco