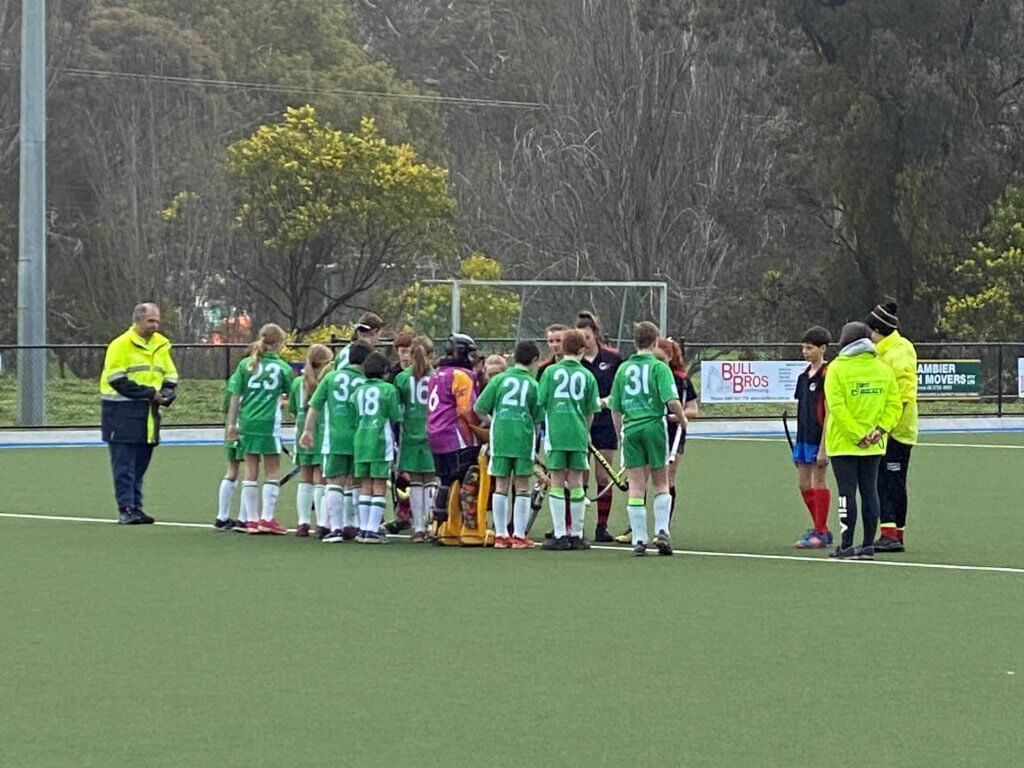 Round 15 – Season 2021
A foggy morning, turned into a brilliant day for good quality hockey.
Under 9 – mixed matches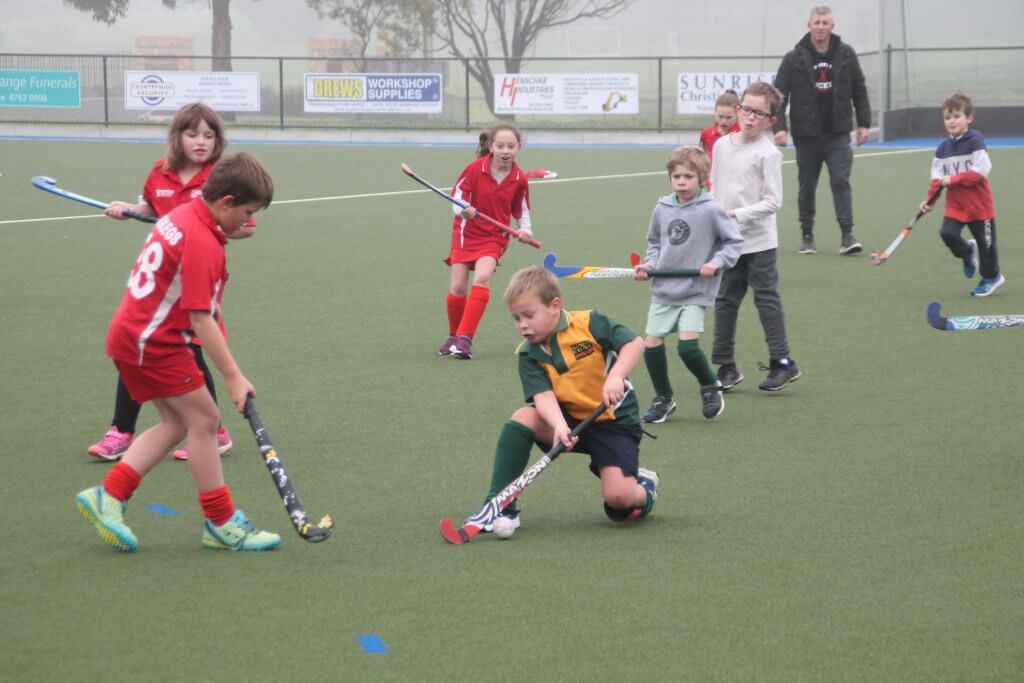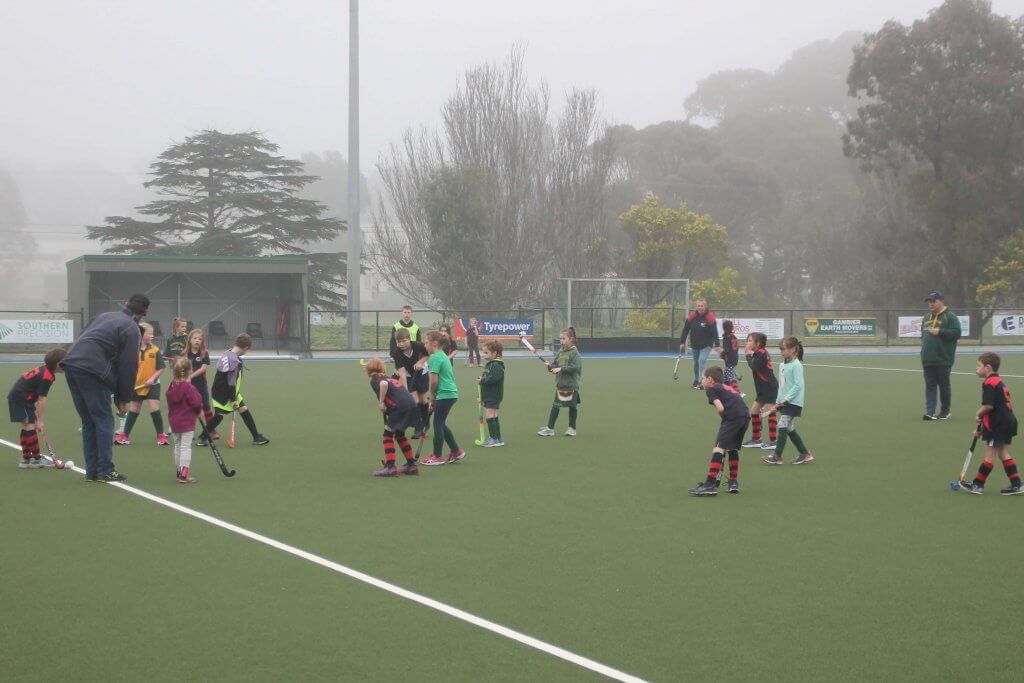 Greenbottles (2) vs Kingston/Lucindale – Under 13
A foggy start soon cleared for these super keen hockey players! The dominant Kingston/Lucindale senior players Chris Hille, Corrie Taylor and Teagan Hocking were keen to get the score on the board.
However, the Greenbottles had other ideas. Enthused by his recent under 13 State selection Greens Will Ellis scored the first goal of the game. Kingston/Lucindale's Chris Hille responded with one of his own.
Toby Boord, Archie Carruthers-Murray and Ella Andrews continued to provide a foundation for the Greens with the infallible Jack Hutchesson in Goals. Not to be underestimated, the youngest members of both teams kept to the basics working well together.
Daniel Hill and Mason Young were superstars in attack for Kingston/Lucindale but sadly were not rewarded with a goal. Thwarted constantly by Harrison Andrews passing and tackling in the defensive circle. Rebecca Clothier from Kingston/Lucindale was also dangerous and Greenbottles were fortunate to survive their attacks.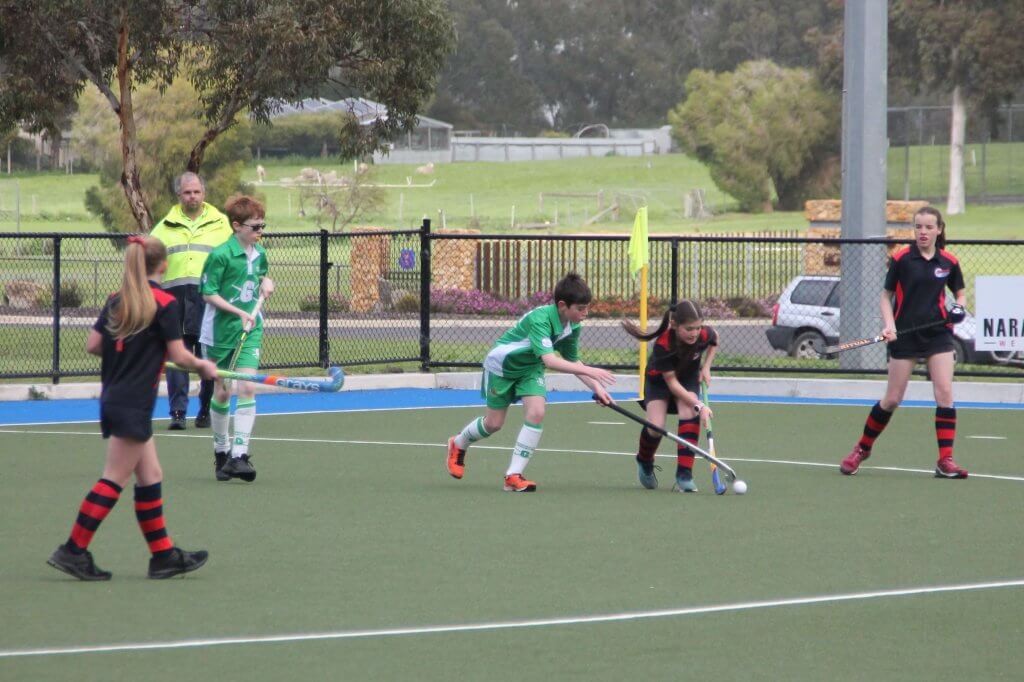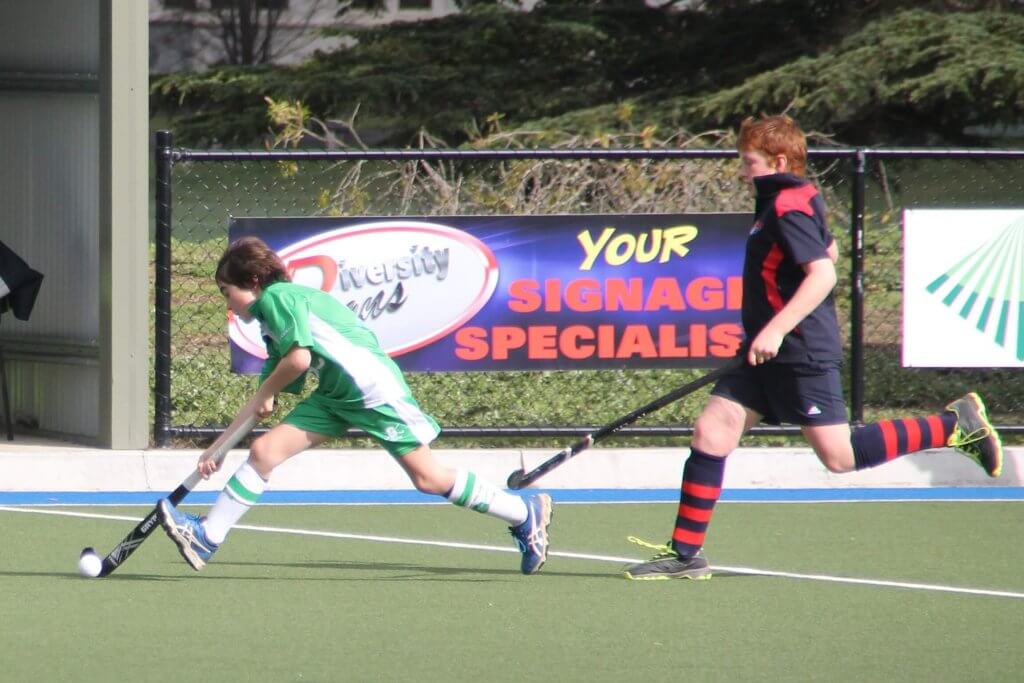 Alice Fry made some fabulous runs down as left striker. Not to be outdone, Henry Fry as right striker pursued the ball with that familial zest we know so well. Both of them showing that the youngest of players can get good things done. Jacqueline Clothier in goals for KL was superb only letting two goals past for the game.
There was no chance for a quick Kingston/Lucindale score with the persistence of Toby Boord switching play, tackling and using some lovely stick skills throughout the entire game working well for and with his team.
Finally Harriet Waters surprised Chris Hille in the dying minutes of the game winning more than one tackle from him bringing the ball through to attack for her team.
Greenbottles 2 celebrated a win 2-1.
Other results: Dartmoor 4 def Redlegs 1 – Goal scorers: Ben Durik 2 (D), Lochie Dolphin (D), Owen Herrod (D), Joel Anderson (R)
Click here to see Under 13 Ladder
Greenbottles vs Redlegs – Under 16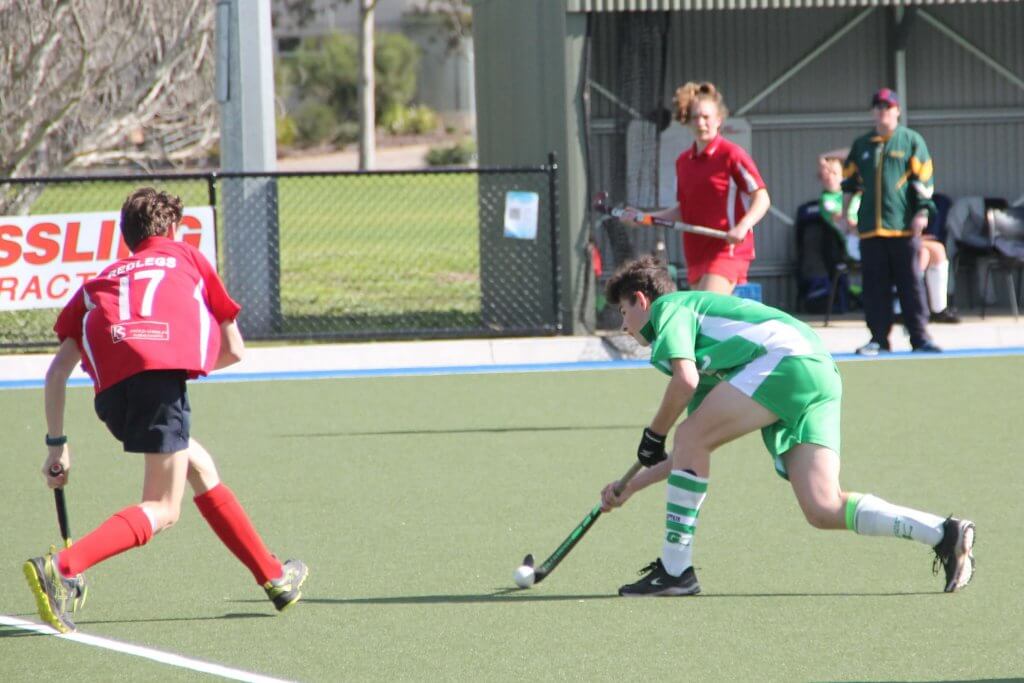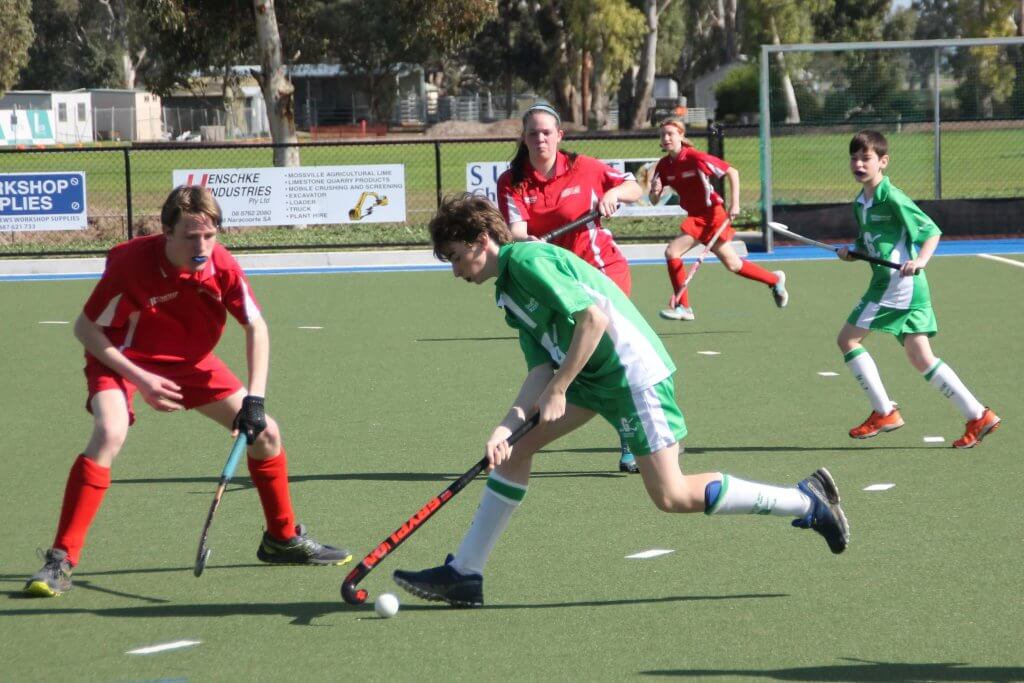 Other results:
Kingston/Lucindale 4 def Dartmoor 0 – Goal scorers: Connor Butler 2 (KL), Ben Goodridge (KL), Nick Hille (KL)
Click here to see Under 16 Ladder
Greenbottles vs Redlegs – Women
The game started well from Greenbottles great work in the circle from Sue Lawrence, Becky Schubert and Madi Derrington, first goal was a great hit in by Nancy Crawshaw.
Redlegs defence was working hard but Greenbottles were able to get several short corners, Redlegs goalie Amanda Edwards used her soccer skills stopping a deflection with her head. Unrelenting in her attack, Nancy was again able to finding the back of the net.
Second quarter saw Redlegs come out hard, Kelly Gale and Sarah Anderson putting some pressure on Greenbottles defence. Some busy work in the circle by some of Redlegs younger players gave Kelli Harris the opportunity to score, putting Redlegs on the score board.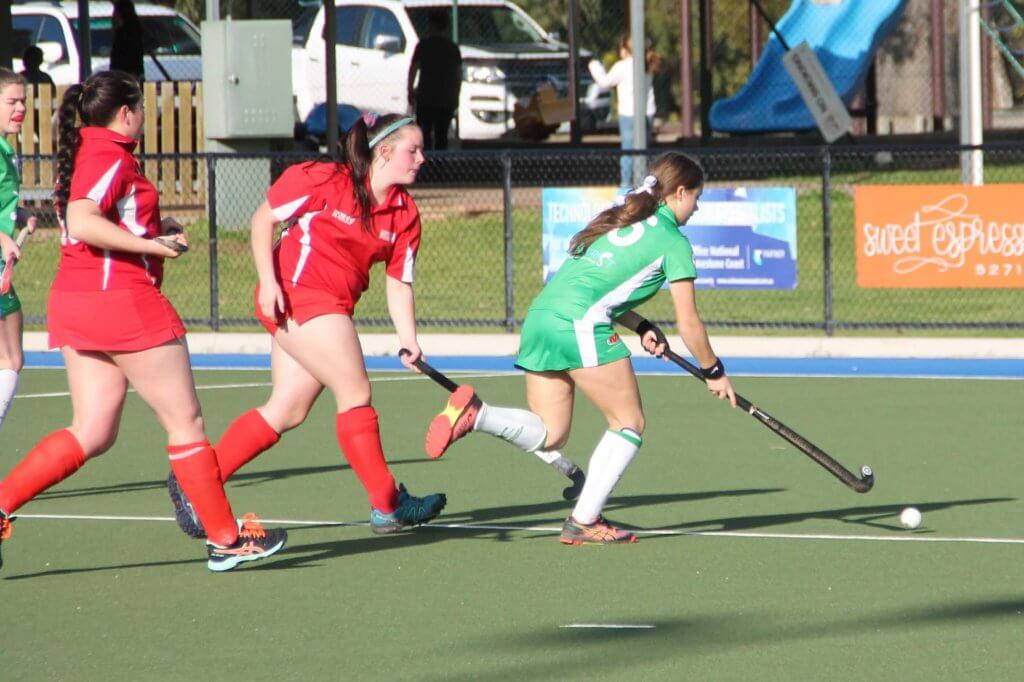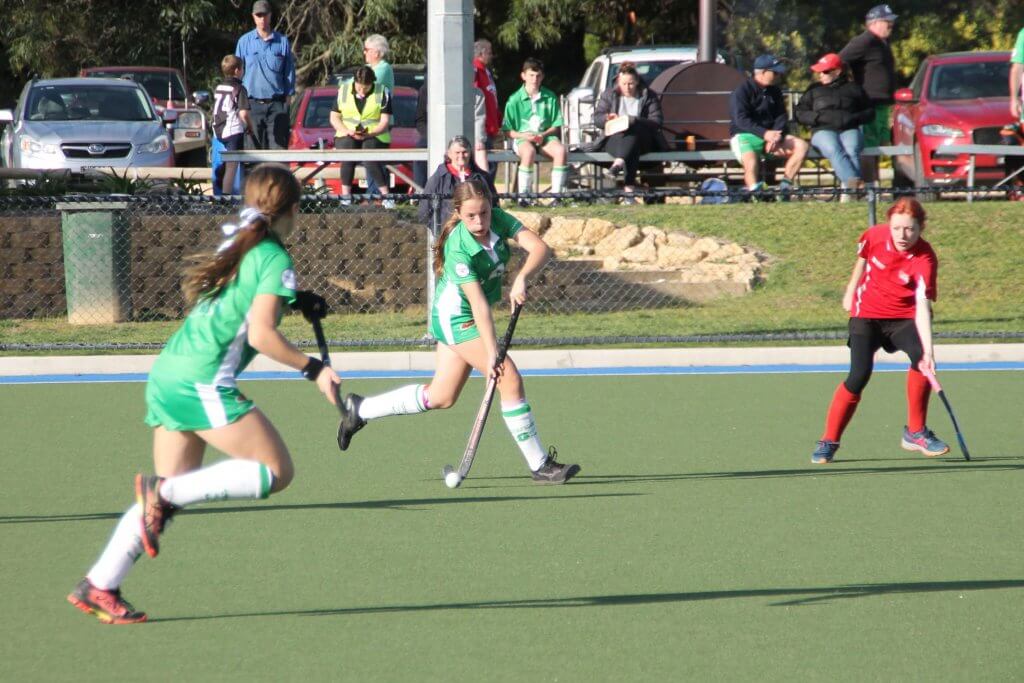 With the sun out, things were warming up with plenty of work up and down the field, Zoe James and Sophie Waters using their young legs to their advantage. The quarter finished with a Redlegs short, a good hit from Kelly Gale enabled Jorja Doecke to score Redlegs second goal.
3rd quarter Greenbottles were refreshed in their attack taking the ball to their forward with continuous attack but unable to convert to score.
The fourth quarter was a full Greenbottles attack with Madi Derrington, Zoe James and Nancy Crawshaw keeping Reds defenders under pressure. After many attempts on goals Sarah Fry finally found the way to the back of the goals causing great celebration.
Continuing her good form throughout the game, Tillie Derrington fed the ball into Becky Schubert who had a sneaky little move into the circle pushing through to score her first goal for the season.
Final score 4-2.
Other results:
Dartmoor 1 drew Kingston/Lucindale 1 – Goal scorers: Natasha Moore (D), Jessamy Bennett (KL)
Click here to see Women's Ladder
Greenbottles vs Redlegs – Men
Greenbottles started the game with a strong push to their forward line. Michael Justin was keen to get a score on the board and he didn't take long to get it into the goals. Great work in Greenbottles midfield from Derek James and Cameron Taylor fed the ball back into the circle for Michael Justin's second goal.
Redlegs defence was working hard, the goalie going to great extent crawling in a one on one in an attack from Callum Carruthers-Murray. Gavin Boord was persistent in his attack on goals but just couldn't penetrate Redlegs defence.
Pressure from Redlegs Pete Anderson and Daniel Kitto kept the ball flowing back to midfield. Greenbottles Mick Derrington was pulling some tricky moves in goals but Redlegs goalie Andrew Doecke was pulling out some serious Kung Fu moves to prevent any making it through.
Derek James took a fast paced run down the field to right of goals with Gavin taking the pass and sneaking it through out of the goalie reach.
A fast paced run from MJ to the circle opened the second half, with some fancy footwork and quick sticks moves got ball through to score. Shot by Greenbottles from a short was to no avail.
Redlegs was able to take advantage of a fast turnover and take the ball all the way through with Jaali Brennan scoring the first goal for Reds.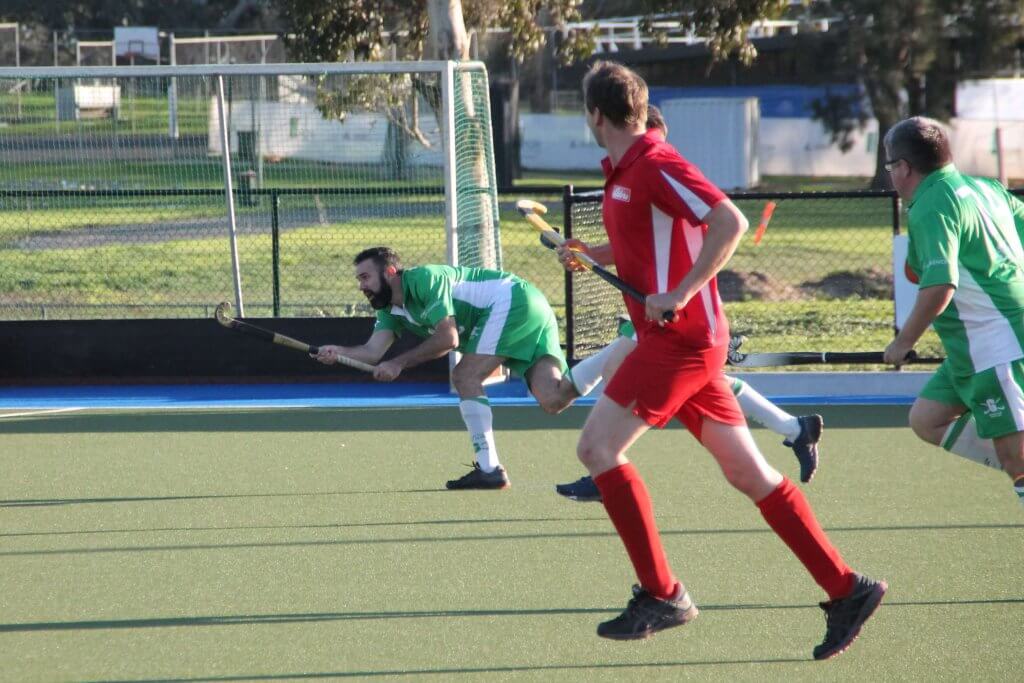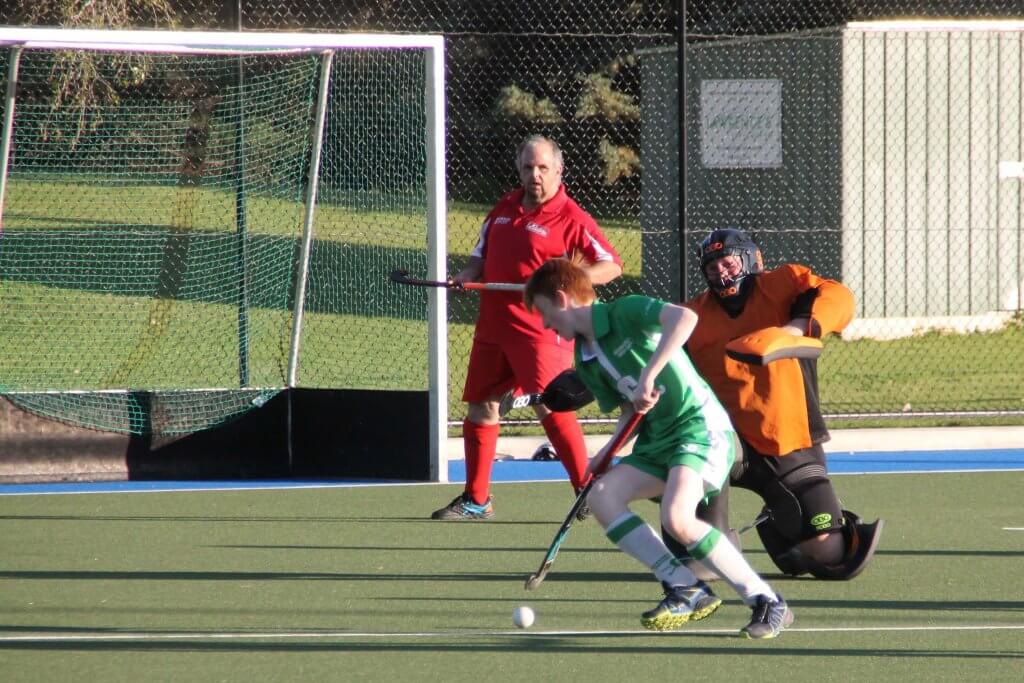 The 3rd quarter was a pretty even match with Redlegs Dash Adams and Dylan Montgomery working and Greenbottles Henry Boord and the ever dependable Scott Copping well in the midfield. Henry Norcock made an appearance in a short corner with a huge swing and a miss mistaking the turf for the golf greens.
Derek James was able to make the most of chaos in the circle and score off a deflection. A run from the one armed bandit down the sideline brought the game to a dramatic end.
Final score 4-1
Other results:
Kingston/Lucindale 3 def Dartmoor 2 – Goal scorers: Derek Butler (KL), Kenn Jardine (KL), Matt Waugh (KL), Jack Thomson (D), John Sadler (D)
Click here to see Men's Ladder
---
Semi-finals Fixture – Saturday, 21st August
9.15am – Under 13 – Dartmoor vs Greenbottles 1 (1v2)
10.30am – Under 13 – Greenbottles 2 vs Kingston/Lucindale (3v4)
11.45am – Under 16 – Redlegs vs Dartmoor (3v4)
1.00pm – Under 16 – Greenbottles vs Kingston/Lucindale (1v2)
2.30pm – Women – Dartmoor vs Redlegs (3v4)
4.00pm – Men – Kingston/Lucindale vs Redlegs (3v4)
5.30pm – Women – Tatiara vs Greenbottles (1v2)
7.00pm – Men – Tatiara vs Greenbottles (1v2)
Note: If games are drawn at full-time, extra time of 5 minutes each way will be played with golden goal rules (first goal wins). If still drawn, highest placed team goes through.
---