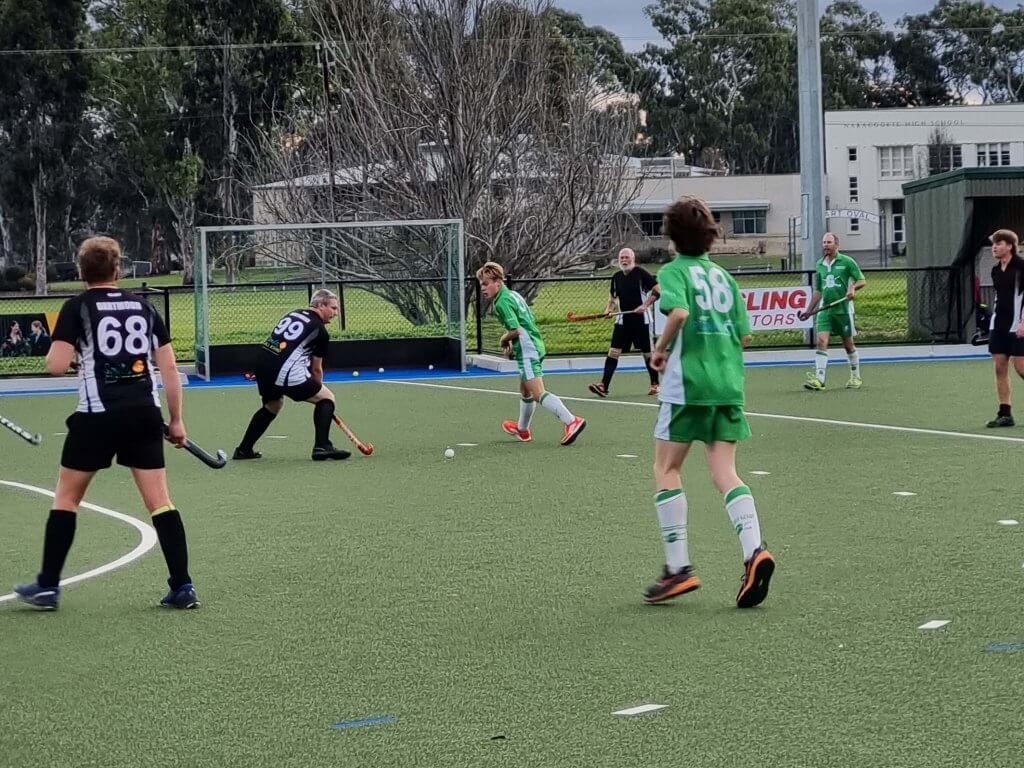 Round 11 – Season 2022
Some sunshine for the Under 9s helped them to warm up on a cold morning.
Under 9 – Dartmoor vs Kingston/Lucindale
Our under 9s got some sunshine this week to help warm up on a cold morning.
Darts were down a few players so Anna and Evelyn from Kingston/Lucindale helped out to even up the teams.
Both teams did well from the start, both having good runs up the field. All players did a fantastic job with their tackling.
Darts defended their goals well with some great saves on the line by Anna, Bri and Darcy.
Great play from John, Bruce and their Kingston/Lucindale team mates helped to get through to score.
An awesome friendly game by all. Their confidence and skills are growing every week. Well done.
Dartmoor vs Kingston/Lucindale – Under 13
The sun decided to stay out and greet the Dartmoor and Kingston Lucindale Under 13 players.
Dartmoor's Eddie Dolphin started the game off well with a quick play up the middle but a tackle from Daniel Hill stopped the ball in its tracks. Zac Doyle found open space for Dartmoor and passed the ball off to his team mates making it very difficult for Kingston/Lucindale's defence to stop the ball.
Teagan Hocking was strong in the backline of Kingston/Lucindale stopping and clearing the ball out of the circle to Rebecca Clothier who made a great run up the sideline sending Dartmoor's Jim Hansford into action.
Cooper Foale, Ben Durik, Jacob Lewis and Ashton Gale worked the ball well though the middle of the field keeping Kingston/Lucindale's Cody Hill very busy in defence.
Amy Ewer made a great break for Kingston/Lucindale which caught Dartmoor off guard and then passed off to Sarah Johns who used her speed to get to the Dartmoor 25 line before Maggie McLean stopped the ball.
Eddie Dolphin then made a pass to Kendra Lewis who took a shot at goals, but John Clothier was there to stop it. Sarah Johns again made a break and was hard to stop until Thomas Reekie sprinted in to help out the Dartmoor backline.
Mason McSorley fresh legs were hard to stop by the KL defence and made some great runs through the middle. At the end of the half it was still anyone's game with the score nil all.
Kingston/Lucindale started with the ball and attacked hard, Maggie McLean's defence was strong and tackled and passed a beautiful ball to Cooper Rees on the wing who set up a shot at goals for Eddie Dolphin only to have Kingston/Lucindale's Jacqueline Clothier bounce the ball off her pads.
Dartmoor's forwards were relentless and kept the pressure on the Kingston/Lucindale defence. Dartmoor's first goal came from a short corner were Eddie Dolphin's hit was just too quick and snuck past K/L's goalie.
Sarah Johns again took off with the ball showing Dartmoor's defence that she wasn't going down without a fight. Amy Ewer and Daniel Hill were there backing Sarah up. Mason McSorley and Maggie held strong for Dartmoor clearing the ball. John Clothier and Rebecca Clothier were strong in defence through the middle and then turned the tables and attacked well by making good use of their team mates and some beautiful passes.
Joe McLean also showed some great defence slowing down Kingston/Lucindale's attempts to get the ball back to Dartmoor's backline. Zac Doyle, Thomas Reekie and Eddie had Kingston/Lucindale's Cody, Teagan and Jacqueline defending balls left, right and centre and not letting any of them go through to the gaols.
It was a tough match and everyone played extremely well. Kingston/Lucindale should be commended on their strong defence.
Other results:
Redlegs 3 def Greenbottles 2 – Goal scorers: Seth Gale 3 (R), Alice Fry (G), Henry Fry (G)
Click here to see Under 13 Ladder
Dartmoor vs Kingston/Lucindale – Under 16
Dartmoor vs Kingston Lucindale is always an exciting game to watch.
Both teams kept up defence at the start of the game , keeping the ball in the middle section on the field. It was like watching a game of tennis for the next 5 minutes. The half time whistle went with the score staying zero all. The second half started, it was just Iike groundhog day.
Finally Jesse Lewis broke the pattern with the first goal of the game, going to Dartmoor. After that Kingston/Lucindale was more determined than ever to make the score even.
Kingston/Lucindale kept Dartmoor on their toes and got so close to goals, but Dartmoor defence keept it out. Then, out of nowhere, Jesse scores his second goal and puts the score 2-0.
After that goal, Kingston/Lucindale gave the Dartmoor goalie a hard time hitting the balls one after the other, but the defence yet again pulling through. To top it all off Jen Ellis finished the game with a beautiful goal getting the final score 3-0.
Although the score says differently, the score could've stayed zero all. Both teams put up a good fight though.
Other results:
Greenbottles 7 def Redlegs 0 – Goal scorers: Will Ellis 3 (G), Tillie Derrington 2 (G), Harriet Waters (G), Chloe Mahoney (G)
Click here to see Under 16 Ladder
Dartmoor vs Greenbottles – Women
In close to sub zero temperatures, Dartmoor played against Greenbottles in a very even and exciting match.
In the first half, it was incredibly competitive with the Derrington mother- daughter trio proving a lethal combination moving from defence to offense. They were often stopped by the always calm and composed Darts mother- daughter duo, Gayle and Jen Ellis. The family connections were remarkable and displayed country hockey at its finest! Skylea Tindall also had some fantastic forward touches and Chrissie Jardine was an asset at half back for Darts.
In the second half, Greenbottles continued to display strength through the middle with some wonderful work from Kate Schubert and Sophie Waters. However, Darts proved too strong in the end and converted three goals thanks to the relentless persistence of Lucy Steer in the middle and Jess Thomson's handiwork up front.
Overall, it was a fun game of teamwork that was closer than the score line reflected.
Other results:
Tatiara 3 def Redlegs 0 – Goal scorers: Georga Brinkworth (T), Taya Woodall (T), Abbey Martin (T)
Click here to see Women's Ladder
Dartmoor vs Greenbottles – Men
In a thrilling hard fought contest Greenbottles took home the honours by winning the game 3-1.
From the get go the game was close. Most of the first quarter was played in the middle with plenty of run from both teams.
The first goal was scored by Greens with Cameron Taylor converting a great shot on his back-stick past the Dartmoor goalie.
The arm wrestle continued in the 2nd with attacking forays from both teams thwarted by dogged defence.
Half time provided a welcome break but it was back on in the 3rd with Greenbottles getting the better of it with their young forwards and some great passing around the Darts defenders.
Momentary lapses saw Alex Waters score a great individual goal through a couple defenders and the goalie. At the end of the 3rd the score was 3-0.
That didn't cause the Darts to give up though with a solid effort from James Gale helping them to score a late consolation goal through Steve Chaston.
Other results:
Tatiara 4 def Redlegs 0 – Goal scorers: Jonah Williams 4 (T)
Click here to see Men's Ladder
---
Saturday, 9th July
8.45am – Under 9 – Dartmoor vs Greenbottles
8.45am – Under 9 – Redlegs vs Kingston/Lucindale
9.30am – Under 13 – Dartmoor vs Greenbottles
10.45am – Under 13 – Redlegs vs Kingston/Lucindale
12.00pm – Under 16 – Dartmoor vs Greenbottles
1.15pm – Under 16 – Redlegs vs Kingston/Lucindale
2.30pm – Women- Redlegs vs Greenbottles
4.00pm – Men – Redlegs vs Greenbottles
5.30pm – Men – Dartmoor vs Kingston/Lucindale
7.00pm – Women – Dartmoor vs Kingston/Lucindale
BYE – Tatiara
Club duty – Dartmoor
Write-up – Greenbottles
---