Preliminary Finals and Presentation Night
Season 2021
Good quality hockey in all preliminary finals matches sets the standard for some gripping grand finals.
Greenbottles (1) v Greenbottles (2) – Under 13 Preliminary Final
On a warm winters morning Greenbottles 1 and 2 took to the field in the first preliminary final for the day.
Greenbottles 1 started strong with clean passing into the circle resulting a quick goal from Toby Drew.
Excellent defence from Greenbottles 2 players Archie Carruthers-Murray and Ella Andrews kept Greenbottles 1 at bay.
Good midfield work from Greenbottles 2, Zara James and Harrison Andrews kept the pressure on. There was some great tackles from Winnie Schinckel and Lachlan Withers in Greenbottles 1, Jack Justin scored late in the 1st half to increase Greenbottles 1 lead to 2-0 at half time.
The second half saw a very evenly played match between both teams. Riley Justin and Eliza Withers kept the attack from Greenbottles 2 at bay, with excellent passages of play by Greenbottles 1 Lucy and Phoebe Yates.
Greenbottles 2 Harriet Waters and Alice Fry made some excellent turn arounds but it was Greenbottles 1's day with them progressing to the GF against Dartmoor next week.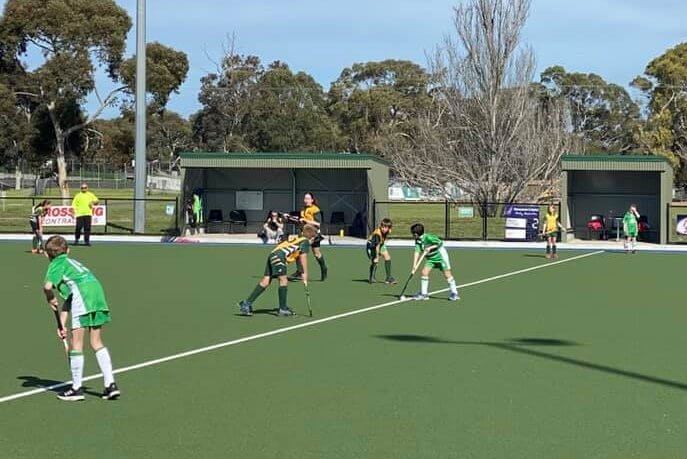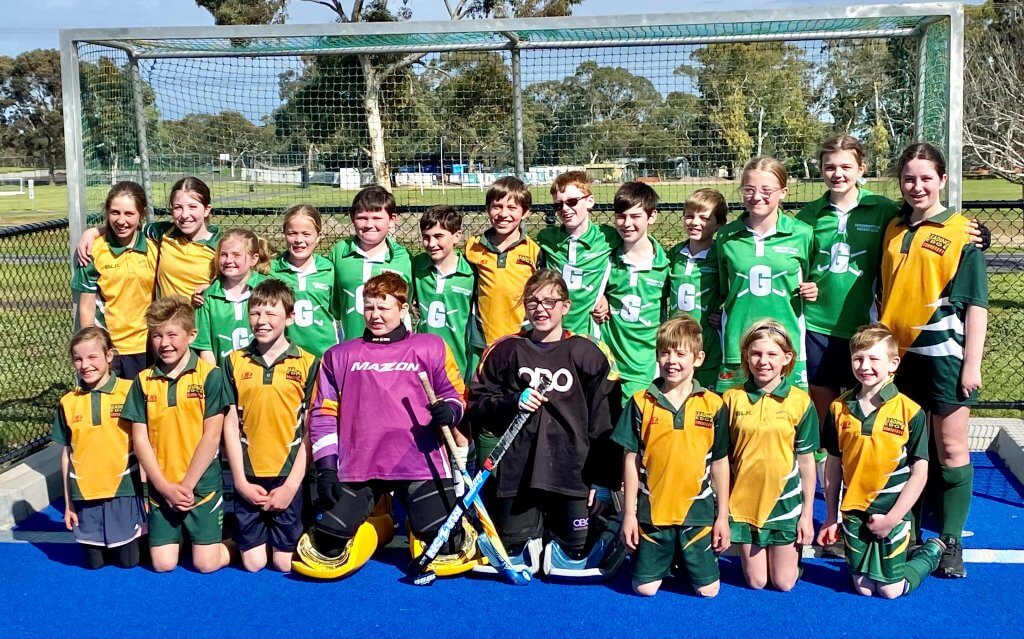 Kingston Lucindale vs Redlegs – Under 16 Preliminary Final
Write up not supplied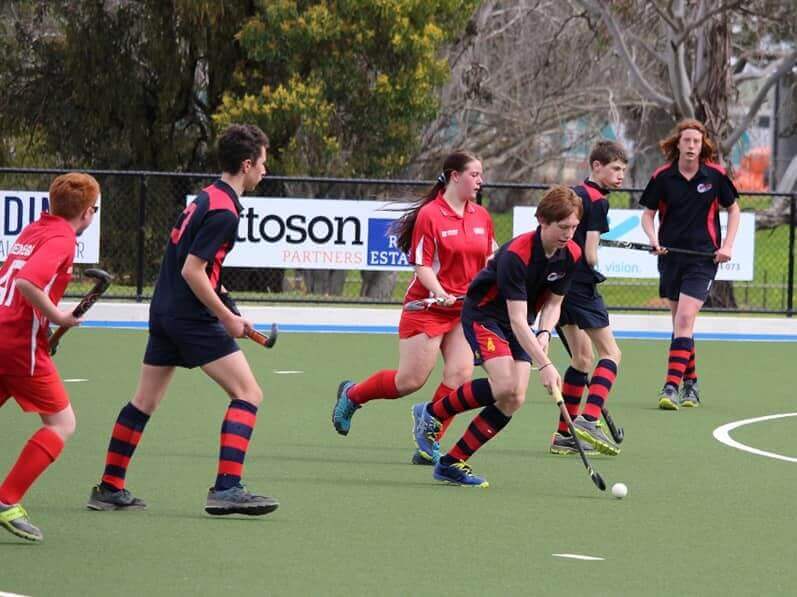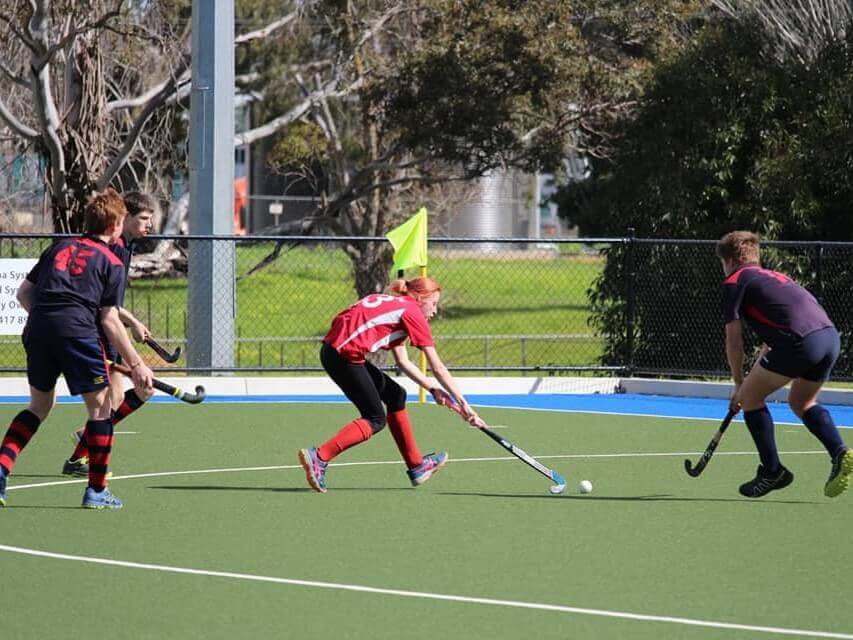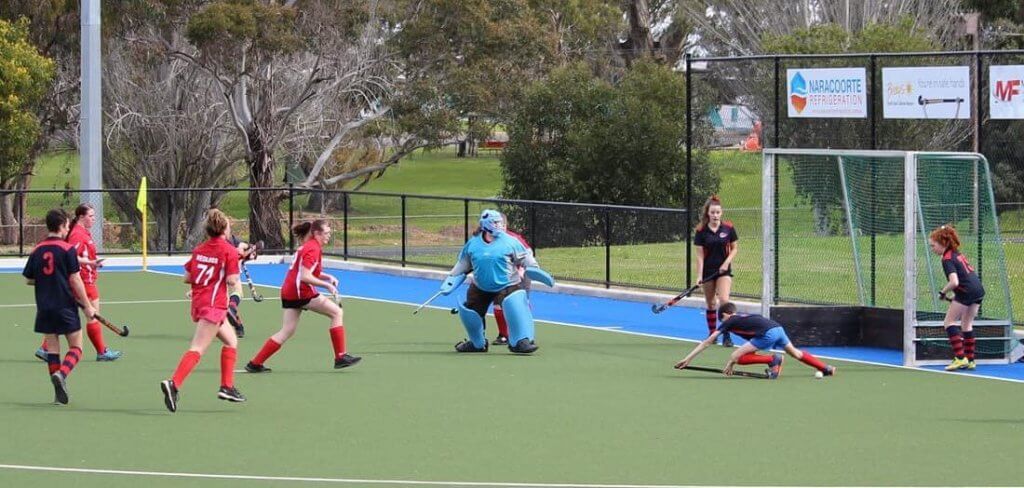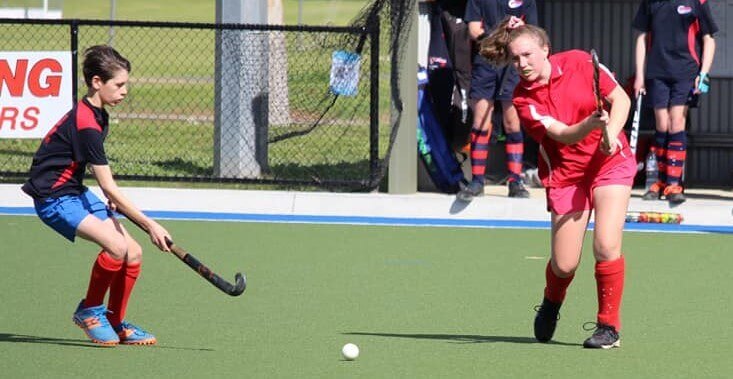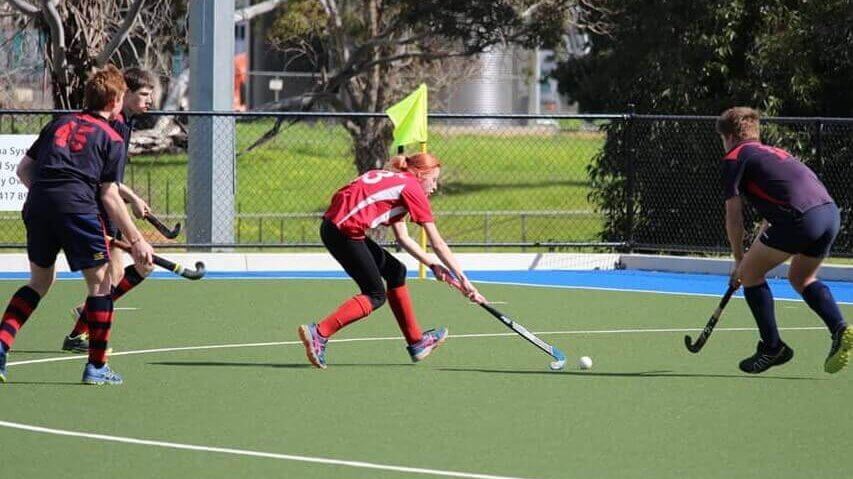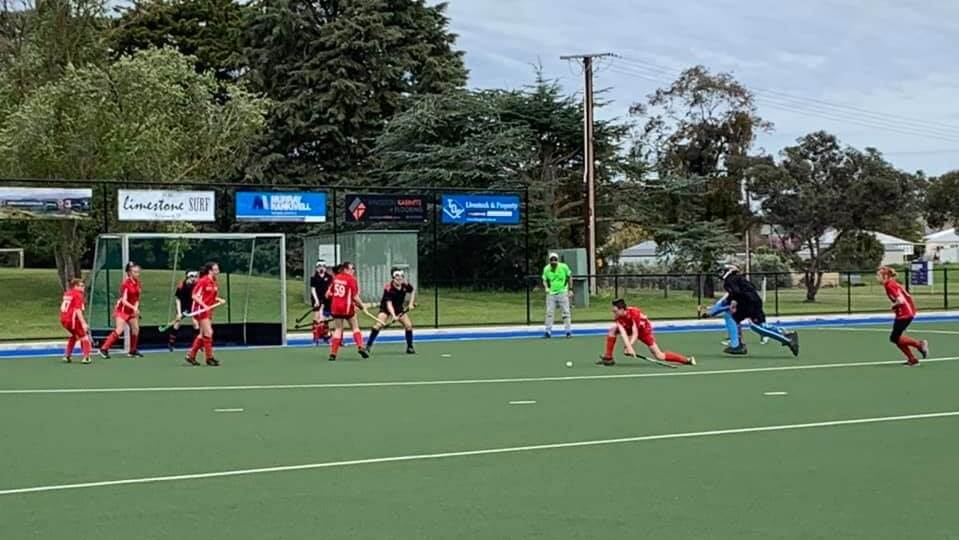 Greenbottles vs Dartmoor – Women's Preliminary Final
Greenbottles women's and Dartmoor played out in the Preliminary final for the Naracoorte & Districts Hockey Associations season.
Greenbottles started well, work in the centre from Sophie Waters Maddie Derrington and the ever reliable pace of Zoe James had the ball heading in their forward half.
Dartmoor back line Geet White and Tash Moore held their own, holding off attempts on the goals and a fast turnaround into attack with Nancy Crawshaw and Zoe James leg work taking ball up to get Sarah Hamilton first goal of the game.
The attack from Greens continued with Sophie Waters excellent tackles returning to ball to circle, Tillie Derrington pressure giving Greenbottles a short corner. Great work on the top of the circle from Sophie Waters passing to Adele Carruthers Murray for her first goal of the season.
The second half of the game saw both teams have fair share of the ball. Midfield work from Nancy Crawshaw to opportunity to take the ball into the topside of the circle to make a beautiful shot into goals.
Greens back line of Kristy Boord, Emily Eastwood and Kate Schubert worked hard to support Mel Hutchesson (Goalie) as the Dartmoor pushed up for goals. Shannan Derrington was able to break through with support of Rachael Withers taking the ball into attack, a greens free saw a highball come into the circle Sarah Hamilton showed great skill in being the bringing the ball down and a firing it into goals. Final score 4-0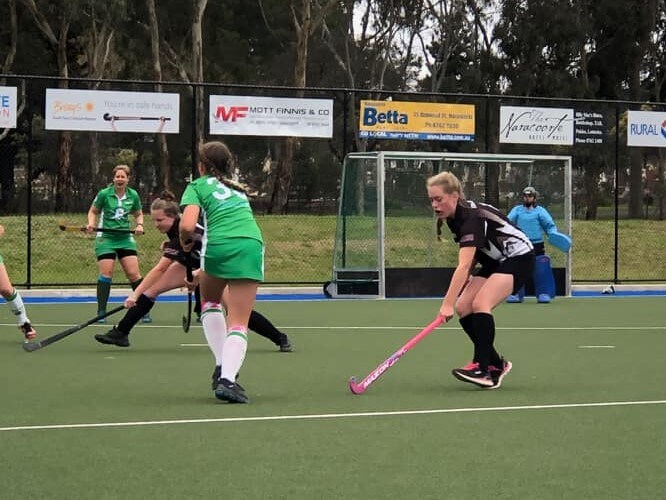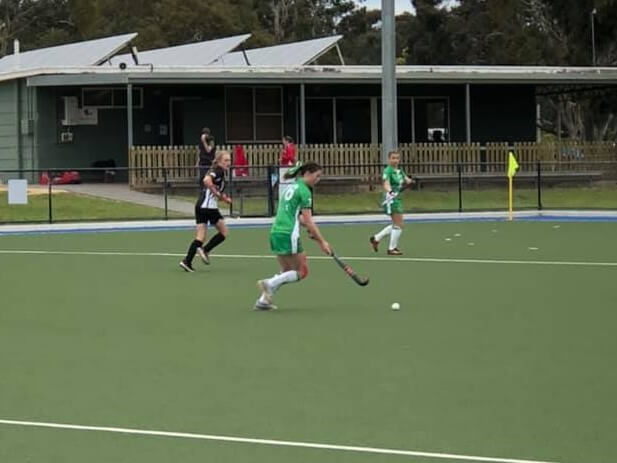 Greenbottles vs Kingston/Lucindale – Men's Preliminary Final
Kingston/Lucindale started out of the blocks the fastest in this week's elimination final getting on the score sheet first with a Ben Goodridge goal but Greenbottles were just waiting to pounce.
They scored 4 goals, 2 of which were from one of the oldest in the team Gavin Boord and the other 2 from rising stars Alexander Waters and Cameron Taylor. The Trent Waters magic was evident in his forward passing of the ball which was key to most of the Greenbottles goals.
The Greenbottles defence worked tirelessly to keep many spirited attacks from Kingston/Lucindale at bay. A good goal late from Kenn Jardine showed Kingston/Lucindale never give up. Some of the old fellows from Greenbottles thought the job was done in the last quarter and sat on the bench to rest up for the big game next weekend against Tatiara.
Good luck to all in the Grand Final.
---
9.30am – Under 13 – Dartmoor v Greenbottles 1
11.00am – Under 16 – Greenbottles v Kingston/Lucindale
12.00pm – Presentation of Under 13 & Under 16 Premierships,
Under 9 exhibition matches following completion of Under 16 match
1.00pm – Women – Tatiara v Greenbottles
2.30pm – Men – Tatiara v Greenbottles
4.00pm (approx) – Presentation of Women's and Men's Premierships
---
Drawn matches:
Under 13 – If game is drawn at full-time, extra time of 5 minutes each way will be played with golden goal rules (first goal wins). If still drawn, both teams will be declared winners.
Under 16 & Seniors – If games are drawn at full-time, extra time of 10 minutes each way will be played with golden goal rules (first goal wins). If still drawn, penalty shoot-out competition will be played.
Penalty shoot out competition rules – NDHA By-Laws 13.8
---
Presentation Night Awards
Naracoorte and District Hockey Association held their Junior and Senior Presentations on Saturday, 28th August.
It was great to see all the kids there, eagerly waiting to see if they got some votes. Covid restrictions required some modifications to the event but it was great to be able to celebrate the achievements of members in a successful year.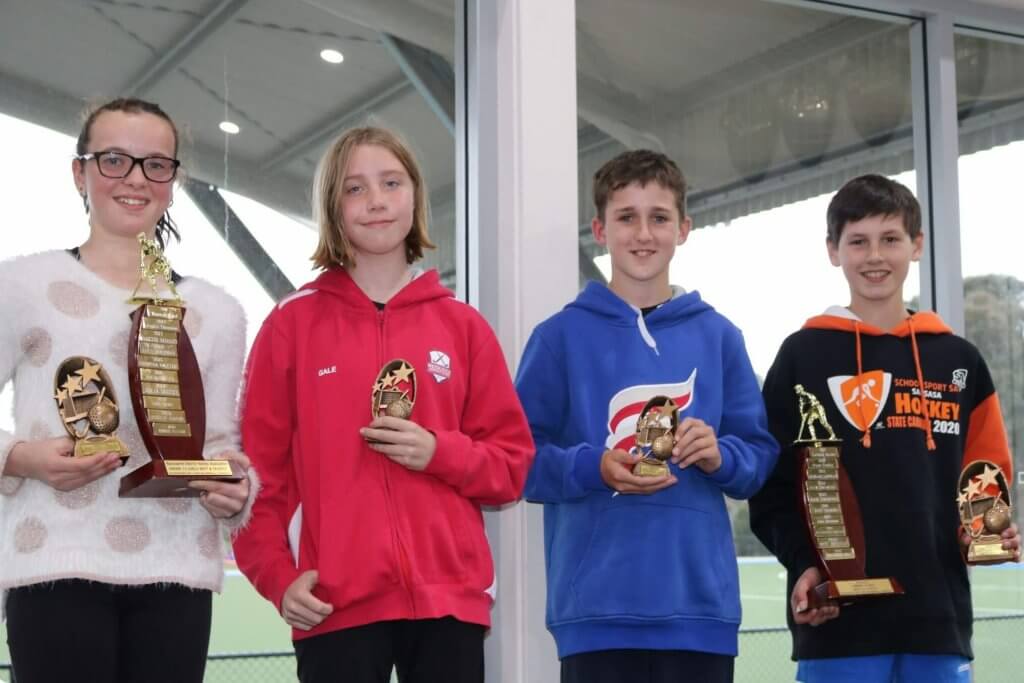 Under 13 Girls Best & Fairest:
Winner – Corrie Taylor (KL)
Runner Up – Grace Gale (R)
Under 13 Boys Best & Fairest:
Runner Up – Lochie Dolphin (D)
Winner – Chris Hille (KL)
---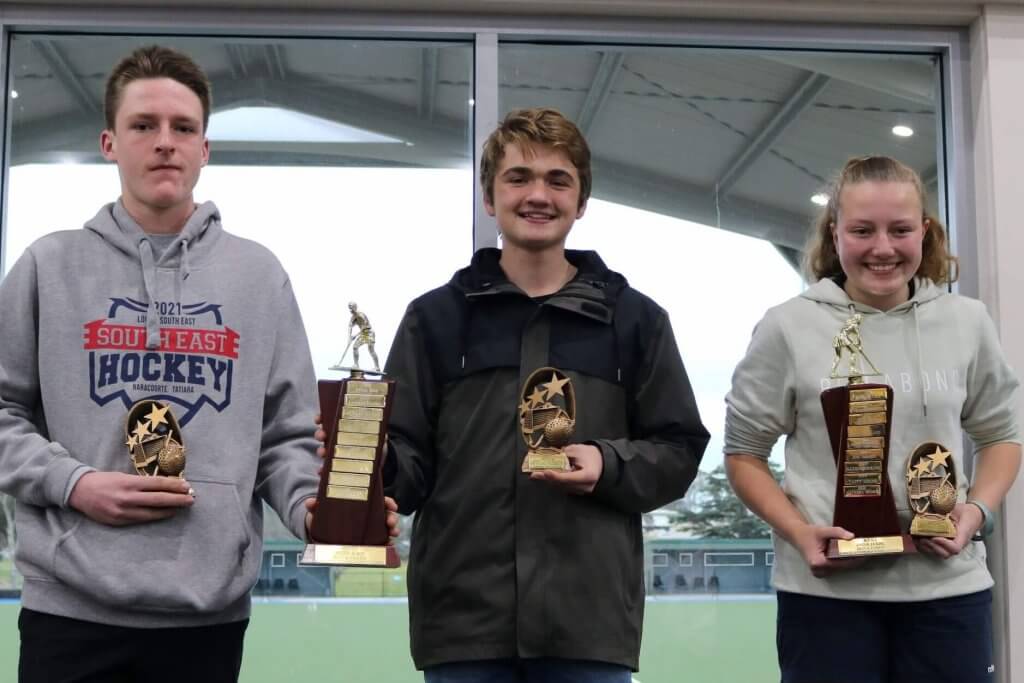 Under 16 Boys Best & Fairest:
Joint Winners – Jaali Brennan (R) & Hamish McLachlan (D)
Runner Up – Callum Carruthers-Murray (G) – absent
Under 16 Girls Best & Fairest:
Winner – Natasha Moore (D)
Runner Up – Hunter Adams (R)
---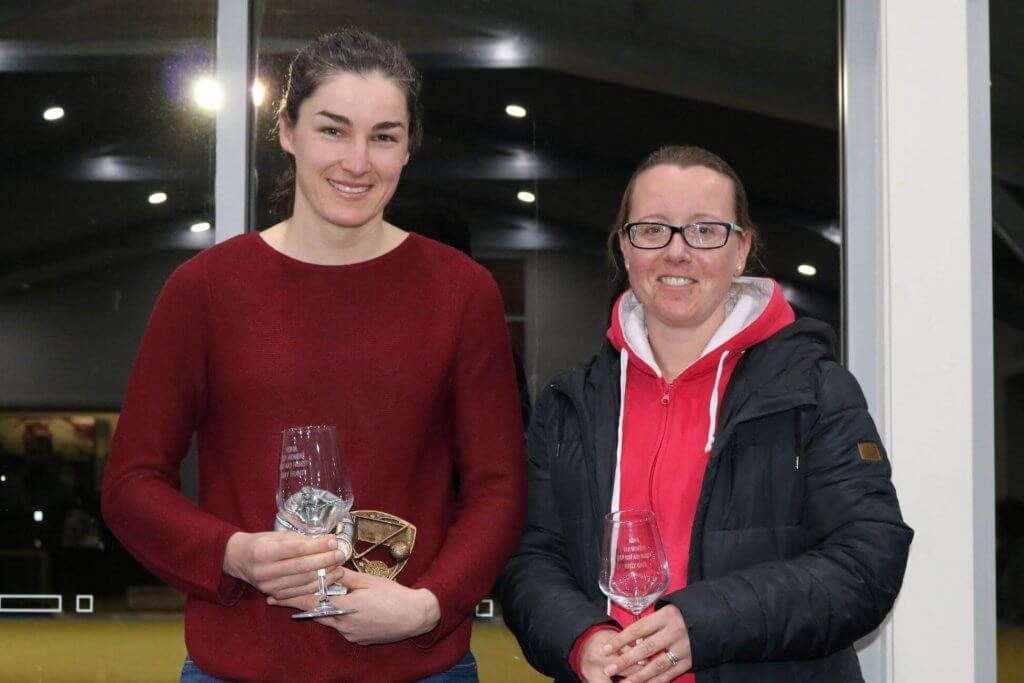 Women's Best & Fairest:
Winner – Amy Hunt (T)
Runner Up – Kelly Gale (R)
Women's Highest Goal Scorer:
Amy Hunt (T) – 15 goals
Women's Most Valuable Player:
Amy Hunt (T)
---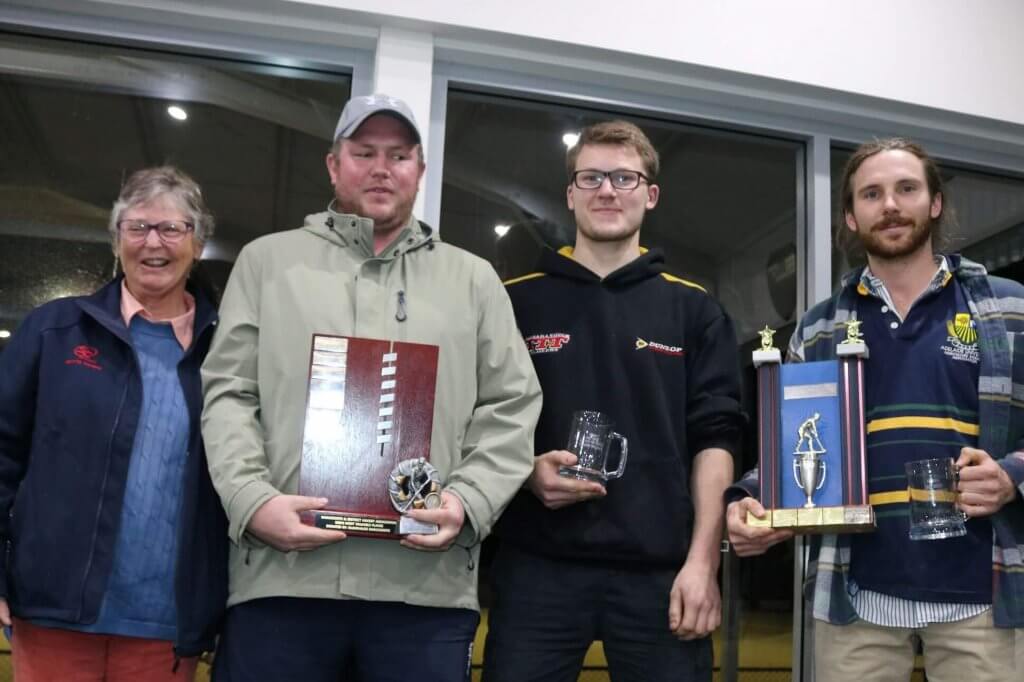 Presented by Sharon Clothier
Men's Most Valuable Player:
Matthew Waugh (KL)
Men's Best & Fairest:
Winner – Hamish Verco (T)
Runner Up – Connor Williams (T)
Men's Highest Goal Scorer:
Michael Justin (G) – 15 goals – absent
---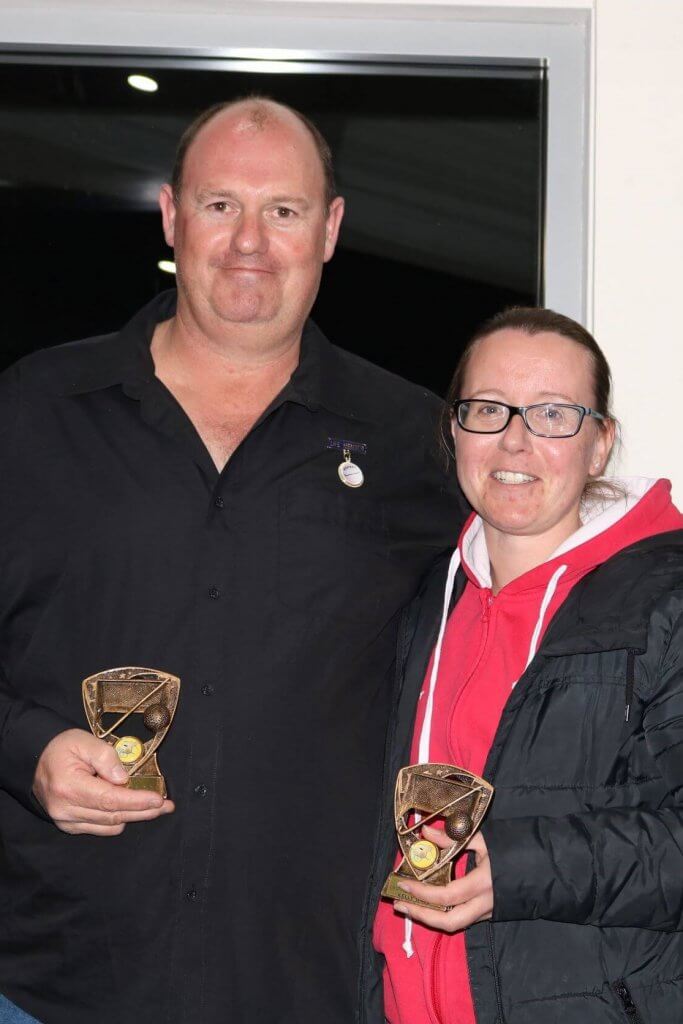 Umpires of the Year:
Joint Winners – Andrew Doecke (R) & Kelly Gale (R)
In recognition of their efforts in umpiring nearly every week, often helping out other clubs with their commitments.
---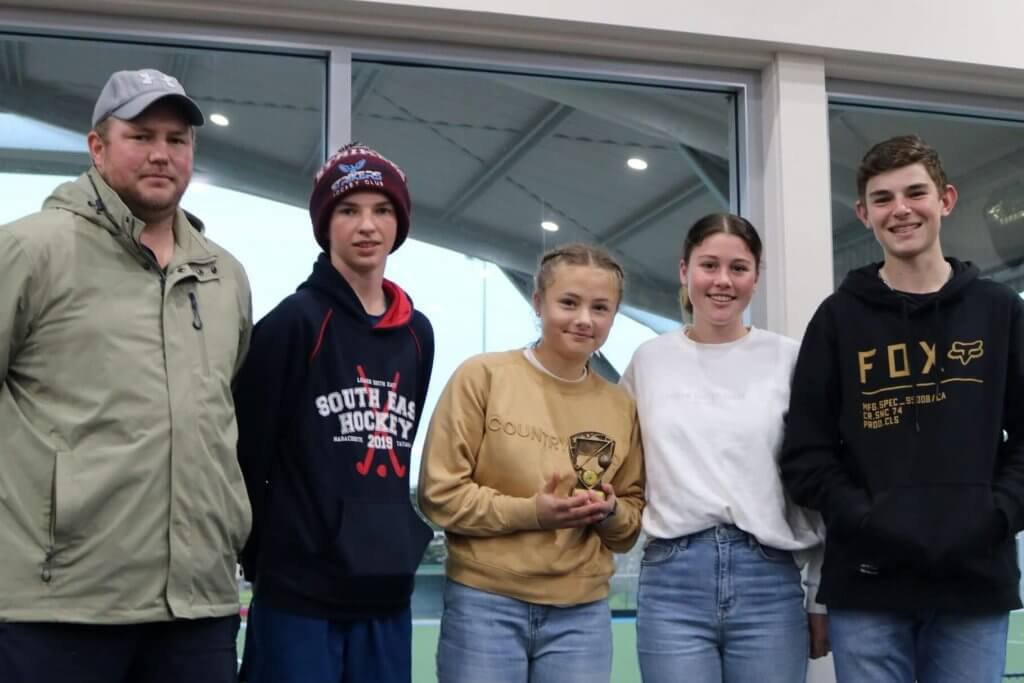 Rising Star Umpire of the Year:
Greenbottles Hockey Club
In recognition of all the juniors that have stepped up and given umpiring a go over the past couple of years
Presented by Matt Waugh
---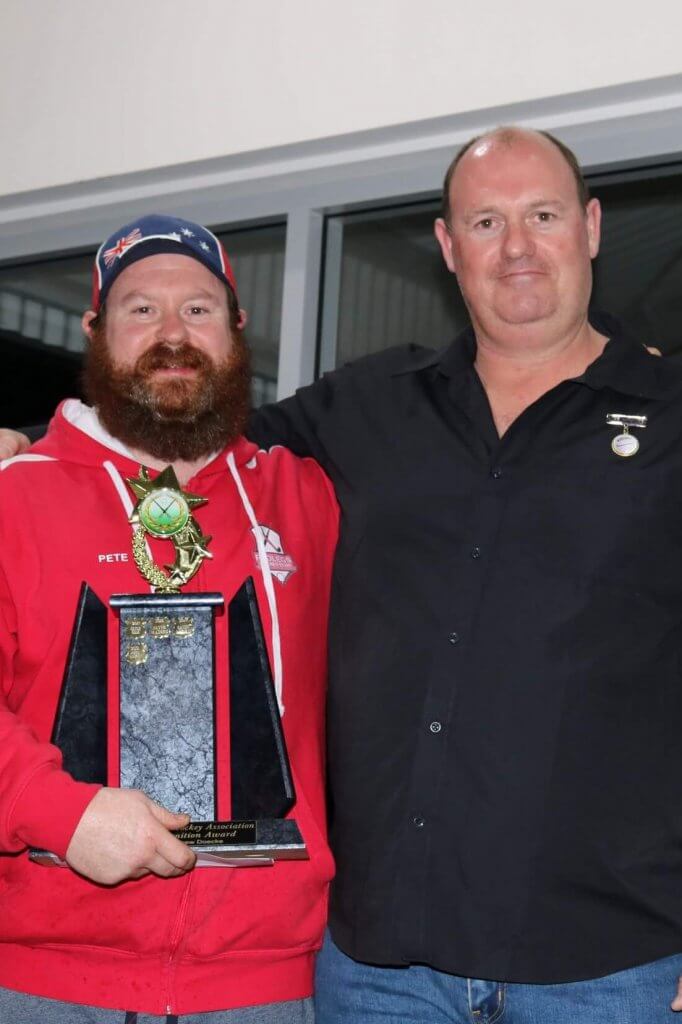 Volunteer of the Year :
Peter Anderson – Redlegs Hockey Club
In recognition of his effort and willingness to step up and lend a hand whenever help is needed.
Presented by Andrew Doecke
---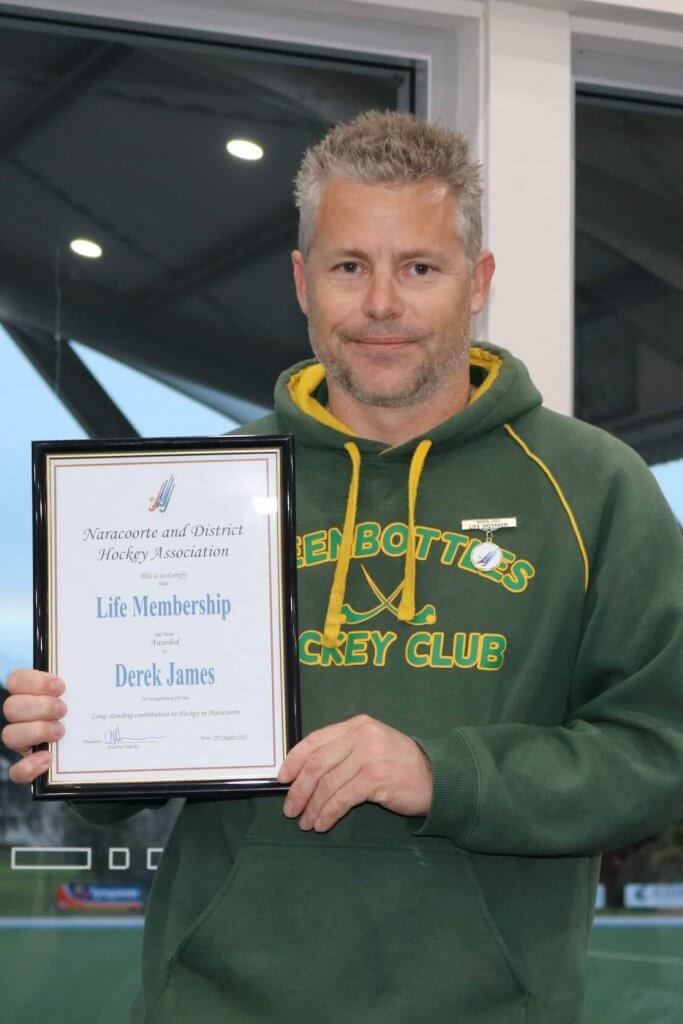 Life Membership:
Derek James – Greenbottles Hockey Club
In recognition of his many years of dedication to hockey in Naracoorte, both on and off the field.
---
Women's Team of the Year
CF – Zoe James (G)
CH – Amy Hunt (T)
HB – Kelly Gale (R)
HB – Maddi Derrington (G)
I – Brooke Green (KL)
I – Abby Martin (T)
W – Christine Foale (D)
W – Nancy Crawshaw (D)
Captain – Angela McLean
Coach – Tatiara
FB – Nicola Turner (KL)
FB – Angela McLean (D)
G – Gayle Ellis (D)
Sub – Zoe Attwood (D)
Sub – Kate Schubert (G)
Sub – Jorja Doecke (R)
Sub – Holly Pietsch (T)
Sub – Jessamy Bennett (KL)
Men's Team of the Year
CF – Danny Verral (T)
CH – Matt Waugh (KL)
HB – Jaali Brennan (R)
HB – Gavin Boord (G)
I – Connor Williams (T)
I – John Sadler (D)
W – Hamish Verco (T)
W – Michael Justin (G)
Captain – Gavin Boord
Coach – Tatiara
FB – Michael Hutchesson (D)
FB – Scott Copping (G)
G – Andrew Doecke (R)
Sub – Connor Butler (KL)
Sub – Kieren Brennan (R)
Sub – Rohan Longbottom (T)
Sub – James Verco (T)
Sub – Jack Thomson (D)