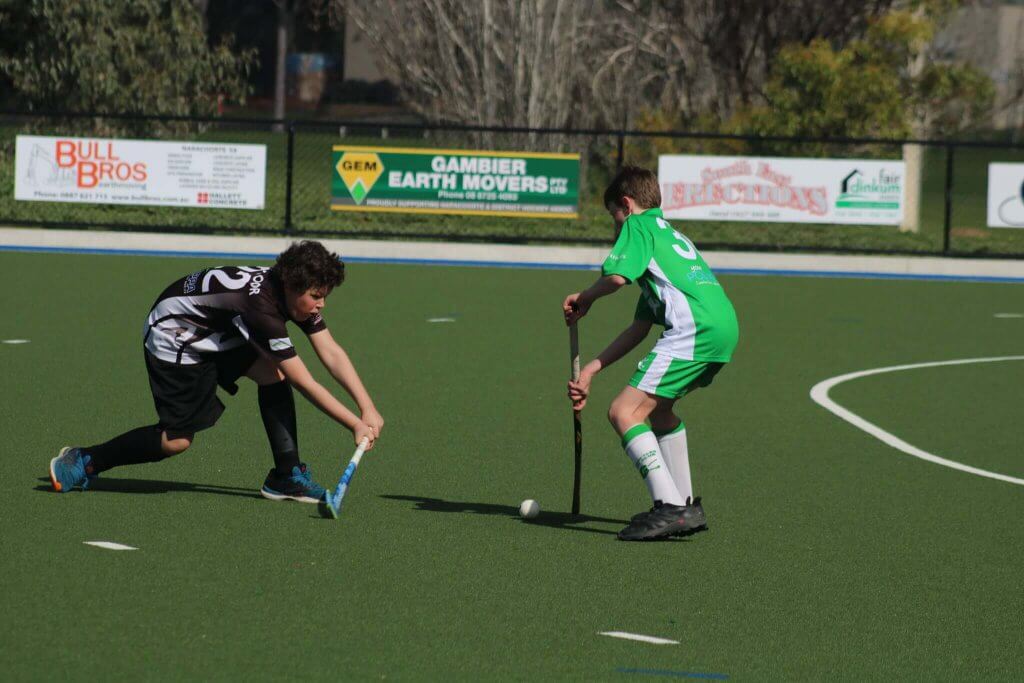 Grand Final
Season 2021
Brilliant skills, close games and a fantastic atmosphere created a winning day for hockey in Naracoorte
After not playing during the first 2 rounds of finals, the Under 9's were welcomed back to play for a lunch time spectacle and not in their usual early morning time slot. The improvements of each kid has been amazing. It was fantastic seeing them out every week enjoying the game of hockey! Thanks to the coaches, parents, grand parents and carers who also were out there every weekend. You never know, there could be a future star among them!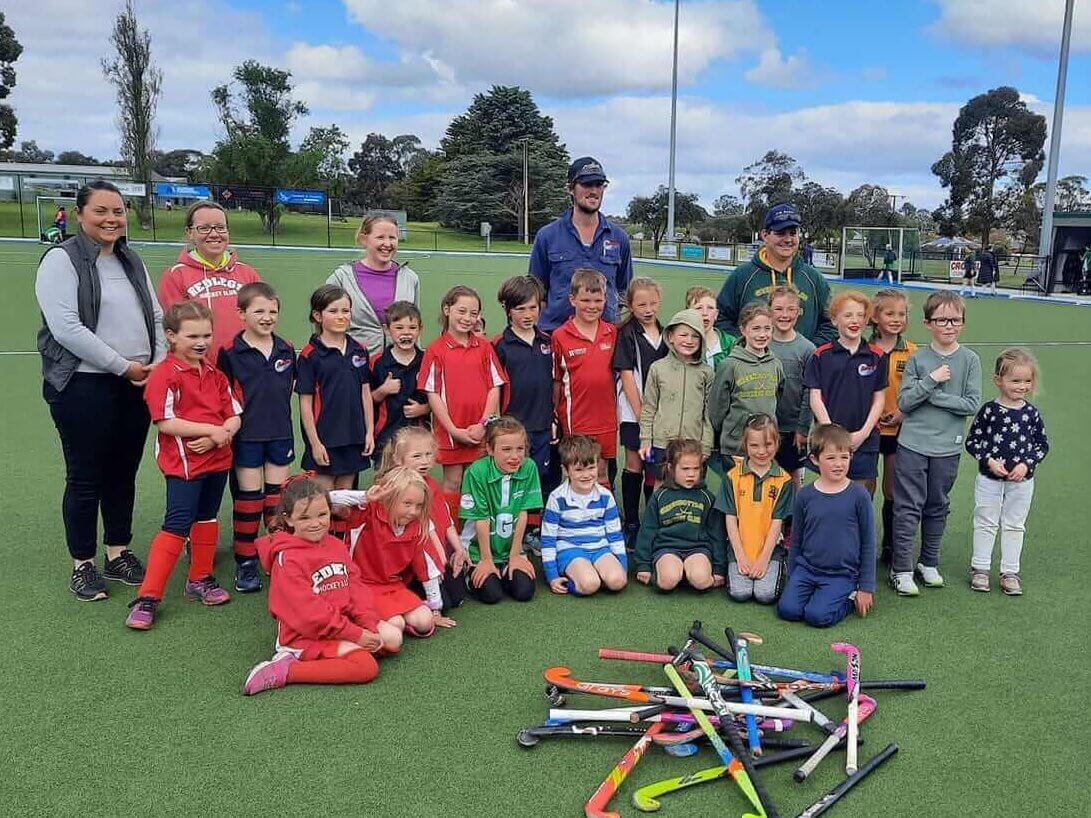 Dartmoor v Greenbottles (1) – Under 13 Grand Final
Dartmoor entered the field with fresh legs after having a weekend off. Greenbottles 1 met them at the halfway line with looks of determination after their win last week over Greenbottles 2.
The whistle sounded and it was on – both teams were here to win today.
After a little to and fro between both teams in the middle of the field, Greenbottles1 took charge by using their wing Jada Copping to put pressure on Mason White and Maggie McLean in Dartmoor's backline.
Mason White did a great job clearing the ball each time to the Dartmoor mid field.
Not to be out done, Lochie Dolphin made some beautiful runs up the field only to be met by Riley Justin, who with some very strong hits cleared the ball back into the mid field.
It then became the battle of the short corners each team attacking well in their opponents circle, putting pressure on the defence to make a mistake. The goalies Jack Hutchesson and Bree Ellis working hard to deflect the ball away for their teams. Dartmoor finally broke the drought with Lochie taking the ball himself and firing it at the goals. Half time saw Dartmoor leading 1-0.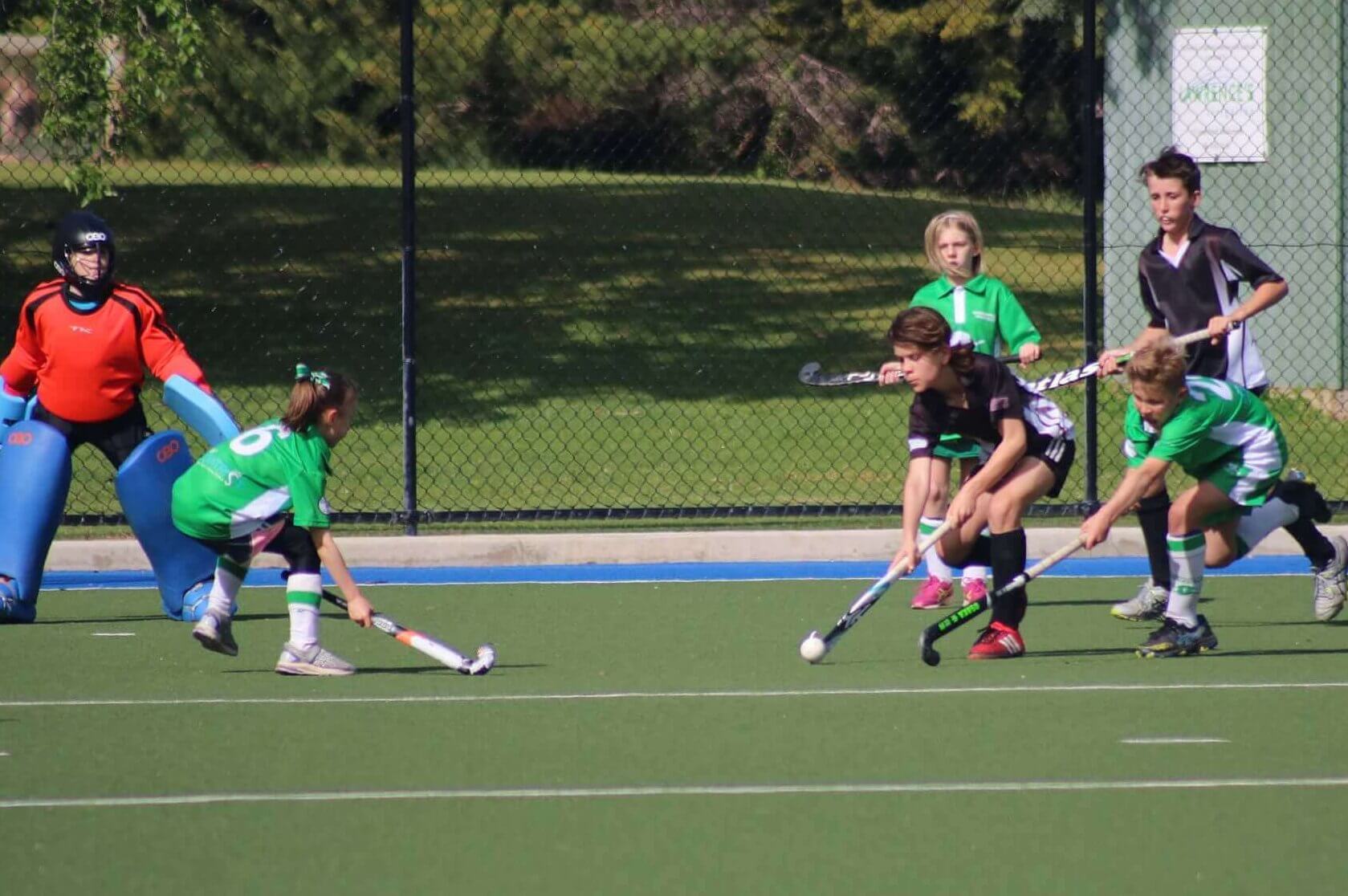 It was still anyone's game and you could slice the tension with a knife as the whistle sounded for the start of the second half.
Dartmoor's forward line came out with fire in their belly, but Greens were ready to rumble. Lochie Dolphin again showed beautiful skills and working with his brother Eddie they were able to send the ball into the Greens circle where Ben, Owen and Cooper were waiting to fire off a shot at goals. Greens Lachie, Phoebe, Jack and Riley, used their skills and grit not to let the ball pass into goals.
Jessie Lewis made a break towards goals weaving and dodging through Greenbottles1 defence, where he hit the ball like a rocket and have it bounce off the post, with his quick reflexes he had another go sending it to the post where Ben Durik was waiting to pop it in.
Jack Justin for Greenbottles 1 took advantage of a quick start and weaved through the Dartmoor's defence and smacked the ball in for Greenbottles 1 first goal.
Dartmoor then changed things up and after a shuffle around of players, Mason went into the forward line and Lochie to the backline.
Dartmoor's mid field continued to pressure the Greens defence however Winnie Schinckel and Eli Justin stood their ground slowing Dartmoor down.
In the dying minutes of the game, Mason was able to sweep the ball into the goals.
The final whistle blew on a short corner and Greenbottles 1 didn't waiver clearing the ball and keeping the score at 3-1 Dartmoor's way.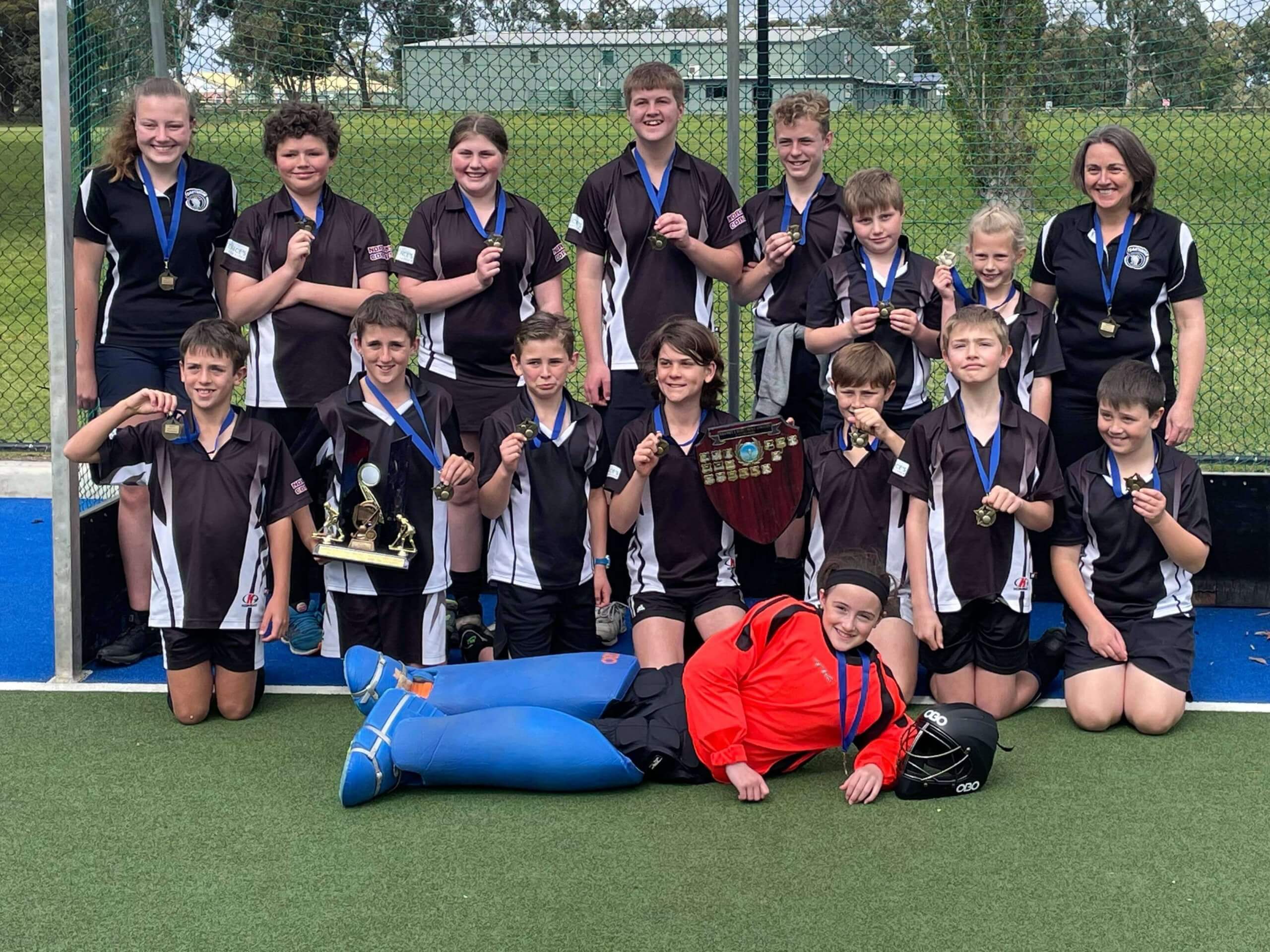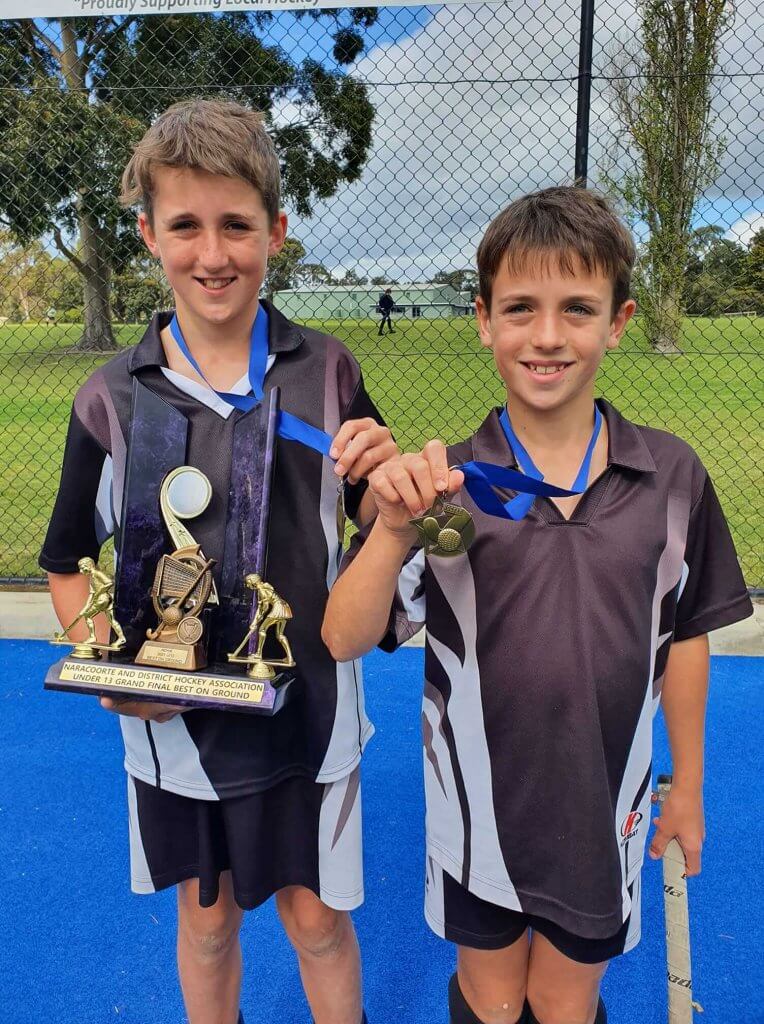 Under 13 Best on Ground winner
Lochie Dolphin (Dartmoor) with younger brother Eddie.
Click here for more Under 13 Grand Final photos (thanks to Lis Champion)
Greenbottles v Kingston Lucindale – Under 16 Grand Final
The Under 16 grand final was highly anticipated as both Kingston/Lucindale and Greenbottles have been strong opponents all season.
A fierce, fast paced game, with neither team letting the crowd down with their expectations of a cracking game. Kingston/Lucindale were first to hit one through the goals with a cracking goal from Connor Butler.
Greenbottles picked themselves up quickly with a return of pressure into their forward line. With great passes from Hannah Yates and Will Ellis and fab midfield work from Alexander Waters and Zoe James, they were able to work the ball up field after a great passes from Henry Boord. Cameron Taylor, as always, was in the right spot to to take advantage and bring the score back to an even keel 1-1.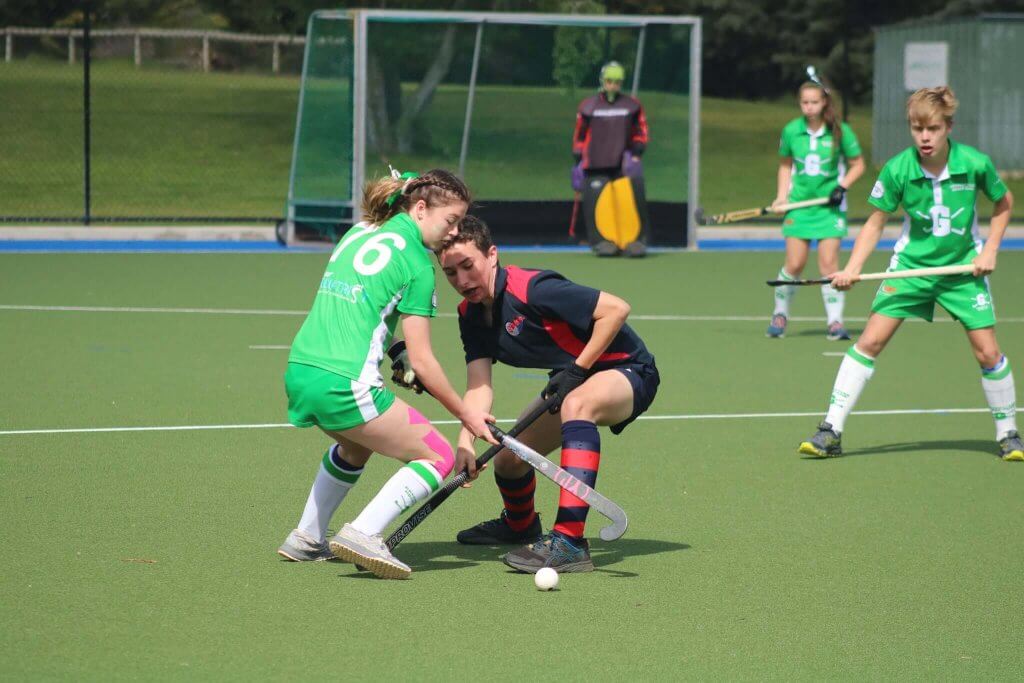 The second half didn't see the pace slow down. Isaac Hocking's attacks were strong, but Greenbottles Emily Eastwood, Toby Boord and goalie Harry Drew held their own in defence, but nothing could stop the Kingston/Lucindale striker Connor Butler, as he sunk another from the top of the circle and Kingston/Lucindale took the lead.
A quick turnaround from Greenbottles making use of players Sophie Waters and sisters Tillie and Madi Derrington got the ball down to the attacking territory. Alexander Waters and Zoe James working the ball into the circle to get a short called. A great pass out from base to Alexander resulted in a cracking strike on goal, bouncing off Kingston/Lucindale's superb goalie, Kaiden Schneider, to eventually find the back of the net to level the game 2-2.
There was little play left before full time was called by the umpires. The 2-2 score line resulted in the teams having to go into extra time for Golden Goal. The teams rallied and the crowd noise intensified.
Play started, Kingston/Lucindale's Ben Goodridge continued to work hard in the midfield but Greenbottles were not letting this opportunity go. Brothers Archie and Callum Carruthers-Murray were able to work the ball out of Kingston/Lucindale's forward line and straight up to Madi Derrington. Taking a direct line of attack into the circle she was able to make a short pass around the goalie to Cameron Taylor who found the back of the net, sealing the win for Greenbottles.
Well done to both teams on a fantastic match.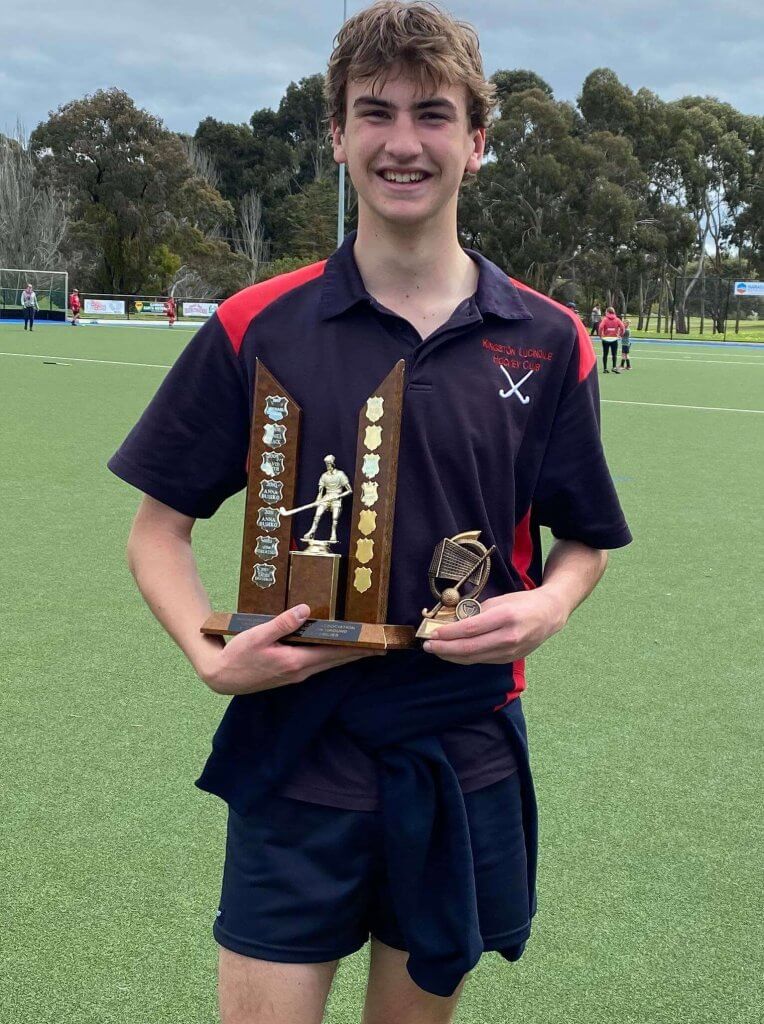 Under 16 Best on Ground winner
Ben Goodridge (Kingston/Lucindale)
Click here for more Under 16 Grand Final photos (thanks to Carol Hille)
Click here for even more Under 16 Grand Final photos (thanks to Lis Champion)
Tatiara v Greenbottles – Women's Grand Final
The sun shone on the girls as they ran out to play. Tatiara fighting hard for a short corner with Abbey Martin converting the first goal to Tatiara. Laura Nash, like a gazelle leapt into action, and chased down the young Zoe James. Greenbottles were under immense pressure but rock solid in defence.
Greenbottles were gaining momentum, but the quick Amy Hunt seemed to be everywhere, clearing the ball from Greenbottles. A great clear run by Pinkie Lewelleyn for half the field ended the quarter – 1-0.
Greenbottles came out flying to force a corner in the first few minutes of the second quarter. Tatiara slowly gaining control of the ball with a determination Georga Brinkworth moving the ball forward up the wing.
Nancy Crawshaw was steadfast in defence, holding her ground, but Tatiara managed to force a short corner. A few early breaks by Greenbottles defence saw them lose 2 defenders from the line, and the pressure was mounting. A skilful back stick tomahawk from Amy Hunt saw her name on the score sheet. Still a tight game with scores 2-0 at half time.
Greenbottles came out with new determination, knowing what had to be done and had a solid start to the quarter. Zoe James took the lead and moved the ball freely down the line, but blocked by Amy Hunt near goals. Some beautiful team play by Tatiara's Georga Brinkworth and Taya Woodall resulted in Taya's first goal of the game. Goal number 3 from Tatiara.
Greenbottles on the revenge, attacked hard and forced a corner. A close attempt only to be denied with a fantastic save by young goalie Chelsea Stone. Greenbottles were quick to respond again with a beautiful set up by Zoe James and Sarah Hamilton to score Greenbottles first goal – with much excitement from the team and crowd alike.
A minute later Tatiara rolled the ball over the line to score Tatiara's 4th goal by Taya Woodall. Hollie Pietsch was quick to follow with goal number 5, sharing the goal scoring around. Greenbottles did not give up, or let up as to force a corner, but the experienced Clarry Martin having a cracker of a game stopped the ball with a golden touch of the ball. 5-1 at end of quarter.
Greenbottles came out to have a sweet run down the middle of the pitch and looked strong and fresh still. A quick short, with no result. Another corner for Greenbottles but Chelsea Stone remained focused and too good in goals for Tatiara.
Nancy Crawshaw for Greenbottles strongly moved forward, not losing any momentum in the forward. Amy Hunt turned the ball around, and another short, this time in Tatiara end. Laura Nash, with an awesome raised ball saw Tatiara's 6th goal. A bit of hip action saw a Tatiara player green carded.
Time had run out for the Greenbottles, with Tatiara making their presence felt. A comfortable, but well fought, win and great team effort by Tatiara.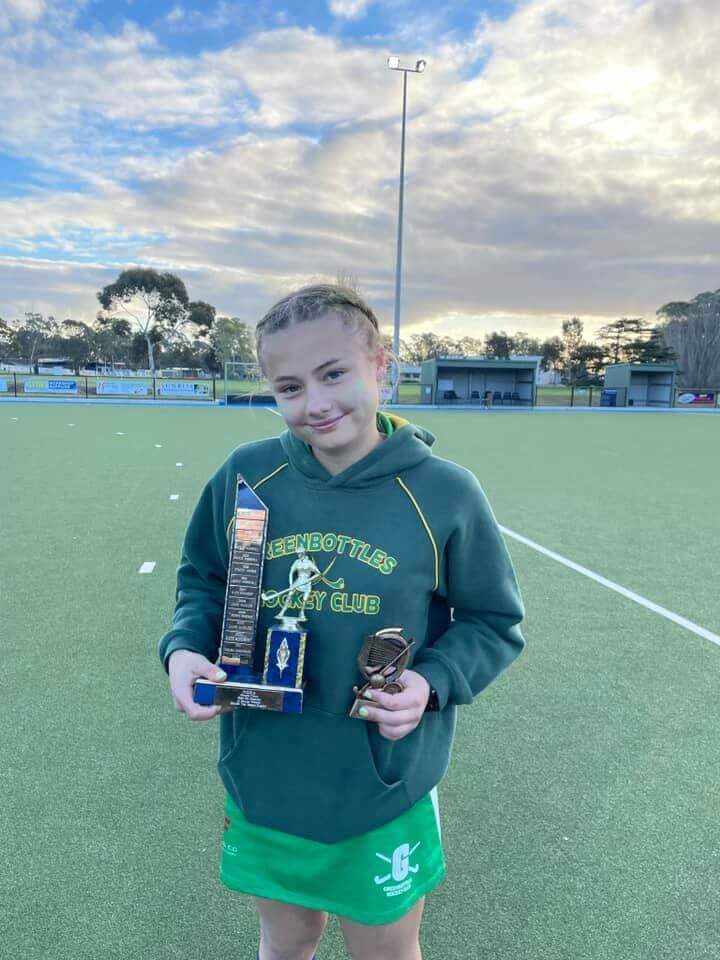 Women's Best on Ground winner
Zoe James (Greenbottles)
Click here for more Women's Grand Final photos (thanks to Lis Champion)
Tatiara v Greenbottles – Men's Grand Final
The Men's Grand Final between Tatiara and Greenbottles was always going to be close, and it did not disappoint!
First quarter felt like an intense warm up. Back and forth, lots of pressure and nerves, both teams trying to find their rhythm. Danny Verrall looked like he might score early, only to be thwarted by the Greenbottles strong defence. Cameron Taylor for Greenbottles had a magnificent run straight down the field that resulted in a short corner, but Tatiara's strong defence was just too good.
End of first quarter was 0-0, and Clarry Martin could be heard pepping up the teams with her tuneful bugle playing.
Second quarter turned into a cricket match with raised balls by both teams. Good touches by Tatiara's Hamish and James Verco saw Tatiara's first corner. Rohan Longbottom had a strong hit in, but too many Weet-Bix for breakfast saw it soar over the nets!
Jonah Williams in Tatiara's defence stayed cool as a cucumber as Greenbottles applied pressure. Derek James quickly stole the ball from Tatiara and slowed down Tatiara's attacking streak. A goal for Tatiara…. if only it had not already been called against them just outside the circle!
Defender Karl Dahlitz controlled the ball in Greenbottles attack, but Henry Boord too strong and gets the ball free. Tatiara being one down after a green card given did not seem to make any difference. 0-0 at half time.
Greenbottles played a tactical game, with the young, and fast players in attack, and more experienced players in defence working well. The combination of Alex Waters, Callum Murray and Cameron Taylor keeping the play moving fast for the entire game.
Quick runs from both Hamish Verco and Cameron Taylor further demonstrated the equal playing field, and Tom Couston putting his body on the line for a brilliant tackle. Nathan Pietsch running like a gazelle back to help Tatiara's defence proved to be too strong yet again. Both teams were revving up and tensions were high. Still no score at three quarter time!
A big tumble by Riley Saunders and a strong attack from his Tatiara teammates led to another short corner. Clarry had picked up the bugle again, but could not distract the focus of the Greenbottles goalie Harry Drew who was playing a fantastic game.
The ball moved quickly down to the Greenbottles end, and a short was awarded; however, no goal resulted. Adrenaline was running rampant as the ball goes long and Tatiara had another attempt, but again smothered by Gavin Boord and Trent Waters.
The seconds ticked down as both teams give their 100%. Another short for Greenbottles was smothered by the determined Jonah Williams. Tempers and sheer desperation were beginning to show as players threw themselves into the last few minutes of the game. Greenbottles had a few chances, but just could not connect the stick accurately.
Full time – but no result.
Time on- 10 minutes each end. It was the fast and the furious. A pile up of Greenbottles players in Tatiara's goal circle saw a short, then a second and a third. Greenbottles defence were spot on, and Tatiara were just feeling the pressure. Greenbottles had the chance fora goal off a short, but still no result. Full time called on a short for Tatiara. Tatiara supporters were unable to breathe as three shorts in quick succession after the siren, but still no goals. What a game!
1 on 1's
After the first round of 5 one-on-one's the score remained even – 1 all. Goals being scored by Alex Waters and Connor Williams. Sudden death – with Alex Waters for Greenbottles going first and shut down by Tatiara goalie. Connor Williams up next, and despite immense pressure got it skilfully to the back of the net securing the win for Tatiara.
Goalies were the backbone of both teams, and certainly were the stars of the whole game.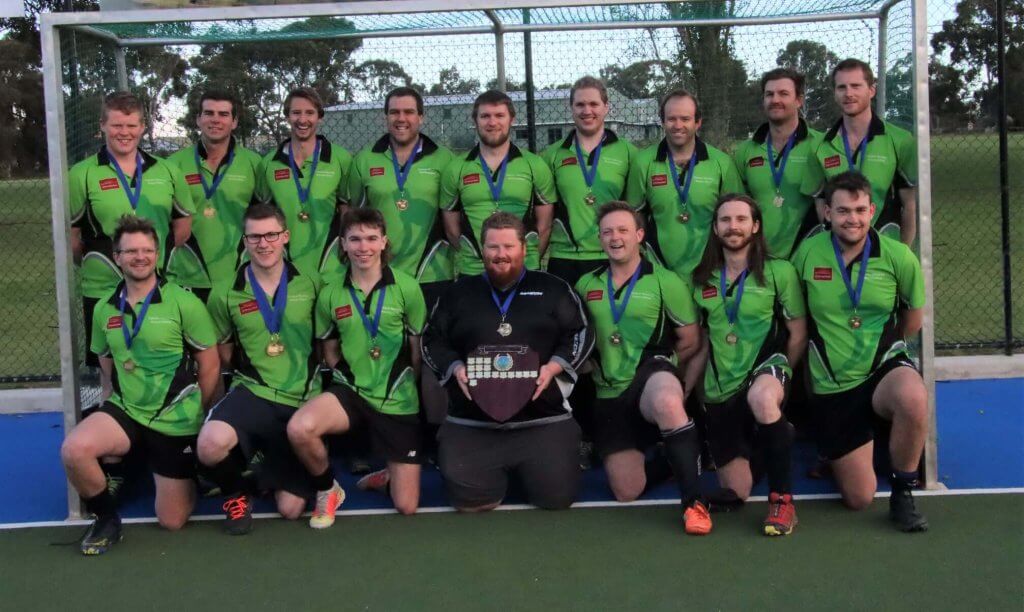 Men's Best on Ground winner
Connor Williams (Tatiara)
Click here for more Men's Grand Final photos (thanks to Lis Champion)
---